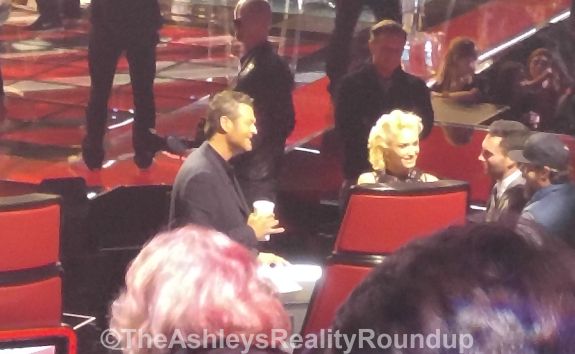 The 10 remaining contestants on this season of The Voice brought the heat last night as they battled it out for a slot in next week's shows. The Ashley was in the audience of last night's Top 10 taping, gawking at coach Gwen Stefani (as you do) and keeping an eye out for interesting things that went down between the coaches when the cameras weren't rolling!
And, to answer your next question– yes, Gwen and her beau Blake Shelton were adorable together.
Here are a few things that didn't make it on the air of last night's episode….
1. Gwen couldn't stop giggling at the mention of Blake Shelton's man-parts.
Coach Adam Levine commented that his friend/rival Blake had "no balls," and that comment caused Gwen to giggle like a school girl until the commercial break. The mention of her new boyfriend's, um, equipment, made Gwen, at one point, put her head down and collapse into laughter.
2. The audience ate up every Gwen/Blake reference.
At one point, the studio announcer (who chats with audience members during commercial breaks) happened upon a young girl from Orange County, California, who said her favorite coach was Blake. The announcer took the opportunity to point that out to Blake, stating "This girl is from Orange County. We know how much you like those OC girls," an obvious reference to Gwen being from Orange County. The audience got a big kick out of this comment.
3. Blake wasn't actually wowed by Gwen's performance…
…at least not during the live taping, anyway. While Blake may have enjoyed his girlfriend's performance of her new song "Used to Love You," the segment was actually pre-taped. (This was, of course, much to The Ashley's dismay.) Blake and the other coaches watched Gwen's performance on a TV screen just like everyone else.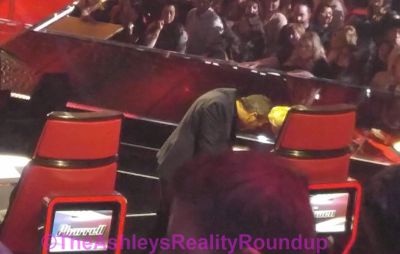 4. Blake couldn't stay away from Gwen.
At the beginning of almost every commercial break, Blake made a beeline for Gwen's chair. They chatted, took photos together and socialized with Adam and Pharrell, with Blake looking like a big, lovesick puppy any time he was near Gwen.
5. The lovebirds snuck off stage together for a quick break.
After Team Gwen contestant Korin Bukowski's performance, Gwen and Blake made a beeline off-stage together. Obviously, there was no way to see where they went, but they returned together before the commercial break ended, and both had huge smiles on their faces!