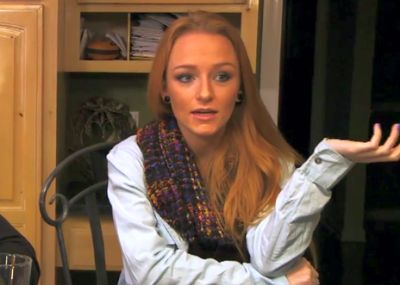 Last week, Teen Mom OG star Maci Bookout surprised her fans during a Facebook Q & A session when she revealed that she had graduated college since we saw her last on MTV. Maci, who graduated from Ooltewah High School in Tennessee back in 2008, has been taking college courses throughout the entire time she starred on 'Teen Mom.' (Her extra-long college career has even provided some fodder for The Ashley's 'Teen Mom' recaps!)
Anyway, during the Facebook Q & A, Maci didn't go into specifics about her graduation, except to say that she graduated.
"[It was a] huge obstacle for me for so long, glad to have finished," Maci said of her schooling.
Since Maci didn't go into specifics about her college graduation, The Ashley figured she'd fill in the blanks. Back in July, The Ashley did a series of exclusive interviews with Maci, during which she talked more about her college graduation.
"I got my AA [degree] in media technology," Maci told The Ashley exclusively this summer.
Maci was originally due to graduate from Chattanooga State Community College in December 2013, but she didn't actually obtain her degree until the spring of 2015.
During her interview with The Ashley, Maci also explained why she changed her major from Creative Writing to Media Technology.
"Before I studied Media Technology, I had started my four-year degree at a two-year school for Creative Writing," Maci said. "So I've been thinking that I don't want to wait too long where the credits I got for that will no longer be valid. But I also don't want to go back to school and study something I'm never going to use. It's all kind of being figured out right now."
In July Maci told The Ashley that she was not sure if she wanted to continue with school to get a Bachelors degree.
"I want to go back to school at some point," Maci said. "I'm just not sure if I want to go get a higher degree than I have, or if I wanted to get something totally different. Right now, I'm definitely enjoying not having homework or discussion boards!"
Maci told fans during her Facebook Q & A that she is working as a social media specialist. From what The Ashley can gather, Maci does indeed have a job (and has since last summer), doing social media duties for a loan company. She appears to have her own freelance social media company as well.
Maci's graduation will likely be discussed on the upcoming sixth season of 'Teen Mom OG.' To see what else will likely make it on the air next season, click here! 
(Photo: MTV)