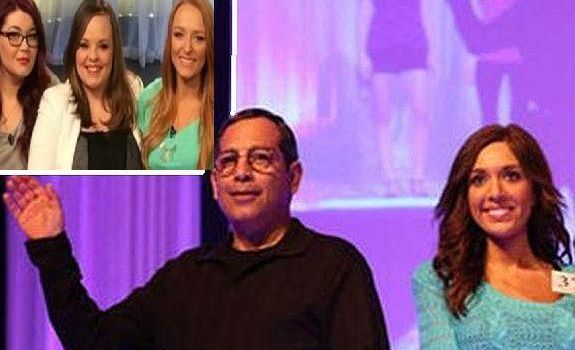 UPDATE (Jan 6, 2016): Michael Abraham has responded to The Ashley's story via an interview with Real Mr. Housewife. In the interview, Michael denied making the statement, despite the fact that The Ashley has a screenshot of the Facebook conversation that clearly shows him making the statement (even though he did spell 'financially' wrong, as you do.)
"We all cried together. We all shared our lives together," he told Real Mr. Housewife. "I still pray for them. I never said we financially supported them. I think my words are being misconstrued.However, it should be noted that without Farrah and my family, there wouldn't have been a show last year, as the ratings would not have been there without us."
When asked if it was true that Michael did support her financially at some point, she replied, "Absolutely not."
The battle between Farrah Abraham and her Teen Mom co-stars rages on– and now Farrah's father, Michael Abraham, is adding more fuel to the fire by making some interesting claims about his daughter's co-stars.
As The Ashley previously reported, Farrah has been at war with Amber Portwood, Catelynn Lowell and Maci Bookout ever since she saw a Snapchat video in which Catelynn calls Farrah a "f**king hoebag" and a "bitch." Farrah flew into a rage on social media, and the girls traded jabs.
On December 18, Michael posted a video of the Snapchat in question, along with the caption, "Hateful people …. Yes the perfect ones …. Really are…. Shame on you!" (The Ashley just caught wind of these comments; otherwise they would have been posted sooner.)
In the comments section of the post, Michael made some interesting claims about the girls of 'Teen Mom OG,' telling fans that he had financially supported some of them over the years. 
"The issue is this– they publicly called my daughter a 'Ho' or 'Whore' publicly," Michael wrote. "Understand these are people Farrah and our family have supported both emotionally and in some cases [financially] (yes the teen moms)."
He did not specify which girls he helped out financially, or if he meant that Farrah participating on 'Teen Mom' gave the other girls the opportunity to earn money. (If he did give one or some of the other 'Teen Mom' girls money, let's hope he reveals who!)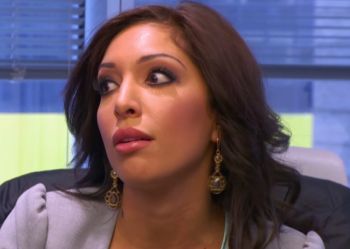 Michael went on to defend his daughter, as well as her infamous "Backdoor" adult film and other choices, some of which he admitted were not "morally perfect" decisions.
"If she was a prostitute or was charged with any crime Sophia would have been taken away from her long ago," Michael wrote. "That never had happened. Fact Farrah sold the rights to one adult video (she did not make two and that company made two out of it against her wishes). And for her adult toy line … This or the video are not illegal. No one is morally perfect here. And we never started any of these arguments. It's the press, the TV blogs, the [foolish] haters, and some TV networks."
Michael admitted that Farrah's decision to put her, um, backdoor and other parts on display in an adult movie was a mistake.
"Farrah has publicly said that video was a mistake and publicly apologized," Michael wrote. "It's like someone that had a drug problem that overcame that mistake and stopped… But then family and friends keep calling them a druggy … After they stopped … That's cruel and what people are doing to Farrah regarding her mistake is cruel and not called for."
Catelynn Lowell recently stated that she didn't think there was any hope of her and Farrah mending their (yet again) broken relationship.
"I think she likes the drama too much [to call a truce]," Catelynn told WetPaint. "People are saying that I started it in that video but no, she would say little things in her podcasts and stuff…
"The thing with Farrah is I don't really care, we don't have to be friends or anything, we don't even talk at all," Catelynn added. "But I can be civil and be an adult…But she's just mean sometimes, honestly."
MTV: Get these people on The Jerry Springer Show ASAP!
(Photos: Twitter, MTV)