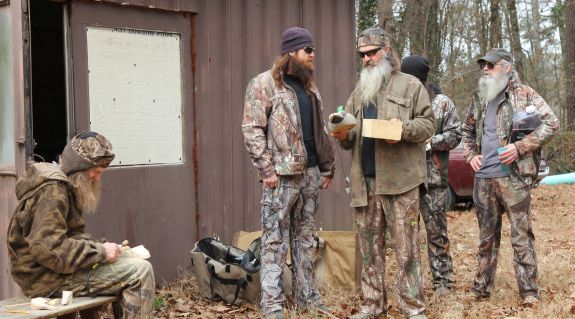 By Holly Rasmussen
Get your favorite sweet tea cup and redneck-to-English dictionaries out because A&E's Duck Dynasty is coming back! After a hiatus, the controversial show about a family of duck call makers has been picked back up by the network, with new episodes beginning in January!
The new season will be full of changes, as the Robertson family prepares to send two of their teenagers off to college. Matriarch Miss Kay will open a new bakery with the help of her hillbilly family members, Willie and Alan. Jase, who gave us such quotable lines as, "I don't do high school reunions. If I haven't seen you in 20 years, there's a reason," will be dealing with his overbearing in-laws. Willie and the gang get together to settle an old dodge ball score and a professional wrestler is brought in to help the ladies challenge the men in a "frogging" competition…whatever that is.
The family will also be doing a lot to help wounded veterans this season. The season will follow the Robertsons as they host a color run to raise money to fund a trip for two wounded vets.
Although not mentioned in the press release put out by A&E earlier this month, fans of the show are hoping the cameras were rolling as Reed Robertson pop the question to his long-time girlfriend, Brighton. Reed (and his man bun)  proposed to his girlfriend in Central Park on Christmas Eve. The couple has been together since they were sophomores in high school.
Some viewers are surprised to see that A&E renewed 'Duck Dynasty.' As you may remember, the family has made headlines in recent years for their controversial comments. Phil Robertson, one of the stars of the show, was temporarily suspended from the show in December 2013 after he made comments condemning homosexuality.  Phil also made headlines in 2014 when he encouraged men to marry girls as young as 15 or 16.
Anyway, the new season will premiere Wednesday, January 13 with back-to-back episodes on A&E. The season will wrap up with a special one-hour episode in which the family takes John Luke and Mary Kate to Liberty College. The episode will mark the series' 100th episode.
(Photo: A&E)