'Member back a few weeks ago when The Ashley reported on a physical fight that went down between two cast members of Little Women: LA? Show star Christy McGinity Gibel spent days in the hospital after the brawl, recovering from head injuries that she claims were caused by her castmate, Terra Jole.
After the brawl went down, a rep from Lifetime refused to comment on the situation. Today, however, the network released footage that was filmed on that fateful night. The clip begins with Terra and Christy (dressed in cowboy gear, naturally) screaming at each other.
Christy denies talking trash on Terra, and Terra accuses Christy of lying.
"Once a liar, always a f**king liar!" Terra screams. "Everything that comes out of your mouth is a f**king lie!"
Christy then turns it around and accuses Terra of being the liar.
"You lied about my drinking, you bitch!" Christy, who has been sober for years, screams. Terra then promptly throws a drink in Christy's face.
That starts the 'Little Women' brawl. Soon, drinks, tables and glassware are flying everywhere, and the rest of the cast is scrambling to get away from the water glass warzone. (At the 22-second mark you can see a glass hit Christy in the head.)
"We have been friends forever and you are such a witch!" Christy screams as she leaves the scene.
"Bye, wet cowboy!" Terra screams back. (As you do.)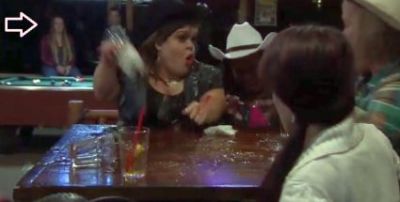 Christy is later shown crying in the corner, stating that Terra hit her in the head with a glass. She would later go on to file assault with a deadly weapon charges against Terra.
Was the scene staged? It's hard to tell; however, Terra and some of the other cast members appear to be smiling at various times during the fight. Also, no one in the background seems to be wondering why the hell these women are throwing stuff at each other. However, Christy really did file charges against Terra, so who knows?
Either way– it makes for damn good entertainment.
The new season of 'Little Women: LA' premieres tonight on Lifetime! A rep for the network confirmed to The Ashley that the cowboy catfight will not be part of tonight's episode, however. Watch the clip of the fight below: