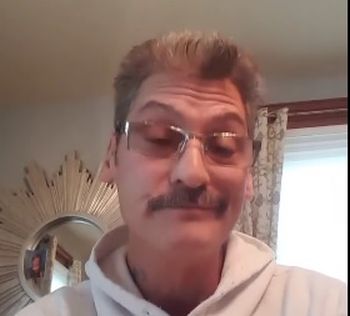 MTV has finally come through and given Teen Mom OG star Butch Baltierra his own Facebook Q&A session with fans! Every week, another one of the show's stars answers questions asked by fans on the official 'Teen Mom' Facebook page. This week, MTV gave The Ashley a very special treat by giving Butch his own time on the 'Teen Mom' Interwebs!
Of course, Butch isn't much for the writin' and such, so he answered questions via a webcam instead of typing them out like the rest of the cast has done. However, he was able to tackle some major topics in his session, including how he feels about his ex-wife, April, how he's managing to stay sober, and what really went down between him and his granddaughter Carly (and her adoptive parents, Brandon and Teresa) at Catelynn and Tyler's wedding.
Here are Butch's answers to the questions asked by fans….
On his relationship with his ex-wife, April:
Butch was married to Catelynn's mother, April, for several years before domestic violence finally put an end to what may have been the most toxic marriage ever created. April has since remarried, but Butch says that he is not jealous.
"I'm very happy for her. I don't know how happy she is," Butch said. "[Ours] was a toxic relationship, it just couldn't work. I kind of sent her the divorce papers when I was in prison, and she handled the rest. I think her new husband's a really nice guy. He's quiet, he don't say much."
Butch added that the law requires that he have little to no interaction with his ex-wife.
"We don't have no relationship," he said. "We got a no contact thing through my parole. They put it on again so, no, we don't mess with each other. But we don't hate each other, we're not mad at each other, you know. We don't do dirty things to each other, none of that! But I'm happy for her, because right now I'm happy. I'm happy as hell!"
On how he's stayed sober:
Butch spent many years doing drugs and drinking (pick up The Ashley's book Teen Mom Confidential to learn more about Butch's difficult childhood and what started him down the road to using.) However, when he was about to go to prison yet again, he decided to make a change in his life.
"I made my mind up September 8, 2011 when I was in that bullpen [for the hearing for his domestic violence charges against April]. I said, 'It's over, it's done, it's finished.' I knew I had a hell of a journey to go on, and I didn't want nothing to do with alcohol, drugs or cigarettes, none of that. I stayed true to it, and I'm still true to it now. I'm not going to use, I'm done. I've got 54 months [clean] or something like that. I feel good, I look good—I think I do anyway!
"It's mind over matter," Butch added. "You've just got to not want to use. I do not want to use nothing. I enjoy my family, and enjoy the rest of the years I've got left. When I die, I'm going to die a clean and sober man, not a using guy."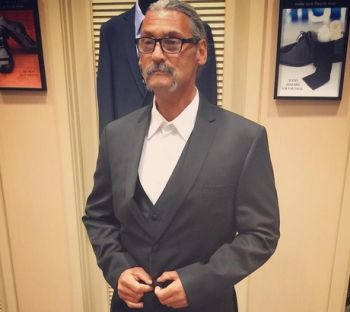 On his interaction with Brandon, Teresa & Carly at the wedding:
Carly's adoptive parents, Brandon and Teresa, made it clear that they had no desire to meet Butch, due to how he treated Catelynn and Tyler in the past regarding Carly's adoption. However, all three ended up in the same room together during Cate and Ty's wedding, and Butch said that, even though we didn't see it on the show, Brandon did eventually introduce himself.
"I was walking across the courtyard and Brandon came and intercepted me," Butch said. "I think he kind of thought I was going to see Carly but he came and introduced himself to me. I asked him if I could meet Carly and Theresa and he goes, 'Yeah, yeah, OK' and then he walked away and it never happened. That's probably one of the reasons that I went and introduced myself to her. I never did get to meet Theresa but Brandon was nice enough to come up and shake my hand. I appreciated that. Next time, Brandon!"
Butch also justified his introducing himself to Carly at the wedding, even though her parents didn't want him to talk to her.
"The reason I went to see Carly after I was asked not to was because I feel that I deserve to see her, at least meet her and introduce myself to her," Butch said. "I know that she don't know that I'm her grandfather, but I felt that I had to do that."
On his daughter Amber's speech about him at the wedding:
Tyler's sister, Amber, held nothing back during her wedding speech! She called Butch out for not being there for her and Tyler, and for him constantly being in prison. A fan asked Butch how this speech made him feel.
"I thought [her speech] had nothing to do with the bride and groom," Butch said. "I don't know where she come up with that, or why she thought that was relevant to whatever was going on. I didn't feel too good about it but I love her unconditionally and it doesn't matter what she does or says, I still love her the same. She's got some problems and so do I and we just have to try to work on our relationship and we'll move on from there. I'm OK with it."
On his future plans:
Fans wanted to know what's next for Butch now that he's clean, sober and out of prison.
"My career goals? I don't know," Butch said. "Being a counselor, that was one of my thoughts. I'm a fence contractor by trade, and I'm still busting my ass really hard at 53…I think I'd make a good counselor but I'm still learning. Once I come on five years clean, I'll reconsider maybe trying to help…
"That's a lot of work…that counseling thing, but maybe I could work in a sober living house or do some talks or something like that," Butch added. "That's definitely in the works."
The Ashley is still holding out hope that Butch joins up with Teen Mom 2 star Barbara Evans and does a talk show! Make it happen, MTV!
If you'd like to read the recent Facebook fan Q&A sessions done by other 'Teen Mom OG' stars, you can click here for Maci's, here for Taylor's, here for Amber Portwood's, here for Catelynn's, and here for Debra Danielson's.
(Photos: Facebook, Instagram)