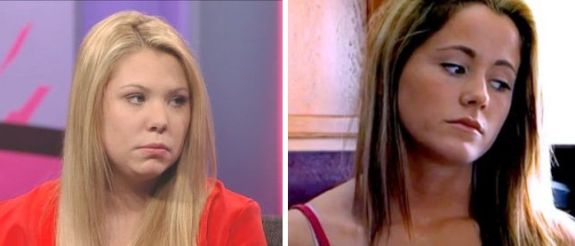 Jenelle Evans says she's not getting a chin job–or any other plastic surgery– from Dr. Miami like she had previously planned. In fact, the Teen Mom 2 star is screaming from the rooftops that she's against the plastic surgery procedures that her co-star, Kail Lowry, just got from the Good Doctor, and her comments have royally pissed off Kail, who's still in Miami recovering from her recent tummy tuck and Brazilian Butt Lift.
Jenelle seemed to be eager to take advantage of the slick deal that Dr. Miami gave Kail and Teen Mom 3 stars Briana and Brittany DeJesus (free surgery in exchange for letting him post it to his SnapChat), but Dr. Miami turned Jenelle down for her requested chin job, stating that the extensive surgery would require a chin specialist.
After Jenelle realized that didn't want to have to pay for get the chin job she was seeking last week, she took to her Instagram and Twitter accounts to tout her new position on plastic surgery.
"Anyone can work hard enough to get the body they deserve if they work hard enough for it," she posted to her Instagram today. "Honestly to everyone out there, I backed out [of the surgery]. I'm staying the way I am."
Kail did not initially respond to Jenelle's comment, despite the fact that it was obviously a nod toward Kail's extensive body plastic surgery. It wasn't until Jenelle did an interview with Us Weekly in which she talked about how pointless having plastic surgery on your stomach and butt is that Kail finally spoke up.
"I work out at the gym," Jenelle told the magazine. "If I want a bigger butt, I'm going to work for it. I'm going to build it up with muscle, not implants or injections. If I don't like my stomach, I'm going to go work out, stay active and healthy, because honestly, you can go get all this work done, but in a couple years, gravity is going to pull all that down, and it's not going to look that great."
'Teen Mom' fans seemed to think it that it was strange for Jenelle, who currently has fake breasts, lip fillers and hair extensions, to be talking about remaining all-natural, and they sounded off on Twitter.
"You say no to plastic surgery but you have fake boobs and lips," one Twitter follower wrote. "Had it been free, you would've shaved that chin."
Jenelle also addressed her co-star's plastic surgery directly in her interview.
"[Kail] looks great, and I'm happy [for her]," Jenelle told Us. "Whatever makes her happy. That's her choice. It's just not mine. It's her decision. It's her body. No one can tell her what to do."
Kail, however, was not amused.
"When your cast mates subtly throw shade at you…" Kail tweeted. "It's cool though."
Jenelle later responded to Kail's tweet.
"Sometimes you just have to block people in life that you once believed to be your friend," Jenelle wrote.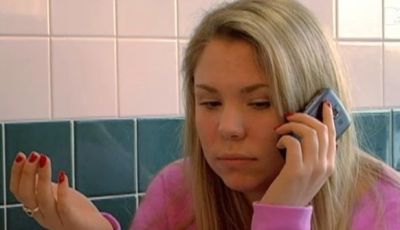 From what The Ashley hears, the battle between Jenelle and Kail continued off-line this afternoon, with Jenelle angry that Kail tweeted about her. Kail was angry that Jenelle's comments implied that she took the the easy way out by having surgery. Kail has stated that the surgeries helped get rid of stretch marks and extra skin, which she could not sweat off in the gym.
Jenelle later took to Twitter to proclaim that her 'Teen Mom 2' cast mates never liked her anyway.
"I've always been the black sheep of the group, it's all good. I'm used to it now," she tweeted.
This is not the first time that Jenelle and Kail have gotten into it. Back in June, The Ashley told you that things got super-tense while the girls were filming the Season 6 after-shows in New York City. (Click here to read all about that fight!)
Who was in the wrong here? If you're really bored, you can vote using the poll below!
(Photos: MTV)