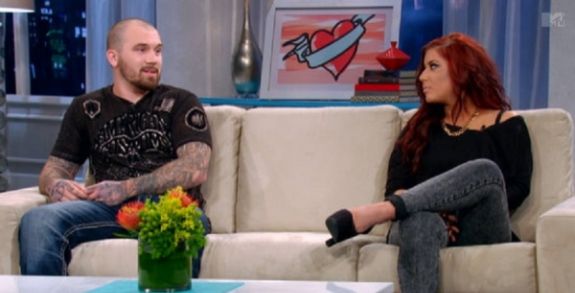 The Teen Mom 2 stars are certainly keeping their producers on their toes this week!
Adam Lind is the latest of the show's cast member to go on a social media rant this week. (A few days ago, Jenelle Evans and Kail Lowry got into a spat after Kail joked about Jenelle's "medical issues." Jenelle responded by posting Kail's phone number, as you do.)
Anyway, Adam went postal on his Instagram account last night, lashing out at the show that made him rich and famous, as well as his ex, Chelsea Houska. During his rant, Adam decided to let 'Teen Mom 2' fans in on how much he and Chelsea make for appearing on the show. He also announced that he is quitting the show following the taping of the Season 7 Reunion.
The Ashley has commented on which of Adam's claims are actually true. Her comments are based on information she has gotten from her show sources.
Adam claims that Chelsea made $250,000 for filming Season 6.
TRUE. The Ashley can confirm, via her sources with knowledge of the cast's contracts, that Adam is telling the truth here. All four of the 'Teen Mom 2' girls made about $250,000 for doing this season. (Their paychecks go up every season.)
"Last year was 250k for lil princess," Adam wrote in an Instagram comment regarding Chelsea's salary. "Chelsea's contract will be up to 300k plus for new seasons."
Adam says that his salary as a father on the show is close to what Chelsea makes.
TRUE.
As one of the "original" dads on the show, Adam does, indeed, make about what Chelsea is making for doing 'Teen Mom 2.' The girls make more money than the dads, however, and always have.
"Mine is close," Adam wrote of his show salary, adding that he won't be signing on for Season 8. "It's not worth the money anymore. I just want away from this fake ass s**t and drama.
"They already have been offering me more money…and also they are also wanting to do another show just for the fathers [as The Ashley told you recently]. It don't matter the amount of money anymore. I'm so much better than being bribed by money. I wasn't raised to be greedy and sucked into this evil world."
(While this is all well and good to say, keep in mind that Adam has been cashing those giant MTV paychecks for years.)
Season 8 is up in the air right now, by the way. At least one of the girls is totally over filming the show, and MTV is looking at all of its options, such as doing the show without her, or finding a replacement, or finding four new girls.
Adam says that Aubree has made over $50,000 from her appearances on MTV.
TRUE.
All of the 'Teen Mom 2' kids are paid separately from their parents. Babies that were born after the show began, but appear regularly on the show (such as Kail's son Lincoln or Leah's daughter Addie) are also paid. (The Ashley is not sure about Adam's daughter Paislee, however, or kids born to the dads.)
"Aubree is up to 50k plus [from the show] right now…that only Chelsea can get at," Adam wrote.
Chelsea's father, Randy Houska, later commented about this on Twitter.
"Hard to address this much stupid," Randy tweeted of Adam's rant about money. "Aub's money is in an account that only can be used for her. For college."
Adam claims that Chelsea keeps trying to get more child support.
TRUE, according to tweets later posted by Randy.
"Chelsea won't respond or cooperate without a lawyer," Adam wrote. "And she's also trying for more child support. She feels $975 a month is necessary. Guess her lil pig, 6 dogs, new Jeep and house just isn't enough and needs more extra money. Court it is."
Randy later tweeted the specifics of what Adam pays each money in child support for Aubree.
"Child support isn't set by Chelsea, it is set by income," Randy wrote. "[Adam's] been paying $170/mo for 6 years, same as an unemployed dad…Someone paying lowest allowable child support for 6 years and making 'big bucks' complaining about having to man up and pay? [Adam] invested more in a Corvette in one month than he has paid in child support for his entire child's life."
Adam responded on Saturday (via Instagram) claiming that he has invested a lot of time and money into getting custody of Aubree.
Interestingly, Adam's other baby-momma, Taylor Halbur, found Randy's statement amusing. In fact, she retweeted what Randy wrote about Adam investing more money into his Corvette than his kids, and told Randy that his statement was "glorious."
Adam says he will not appear on any more seasons of 'Teen Mom 2' and that he will not allow Aubree and Paislee to appear either.
TRUE and FALSE.
Obviously, Adam can bail out of the show at any time after completing Season 7, as each cast member contracts only one season out.
"I'm sick of being known as the guy from 'Teen Mom,'" Adam wrote. "But instead I'm going to be known for bodybuilding and fitness…I will not be filming…I fly out to NYC for Season 7 Reunion Show with their 'stars' and after that I'm done…I will be milking out for a free trip to NYC one last time so [my girlfriend] Stasia has the opportunity to see NYC for free. And then I'm out."
(Adam is actually required to take part in the Season 7 Reunion Show, per his contract.)
Adam stated that he will not be signing consent forms for his daughters to appear on further seasons, either.
"I have to sign a contract for the both my kids to film, which I will not be doing anymore," Adam wrote.
The Ashley is not sure of Adam's exact custody situation with his daughters, so she can not confirm or deny this particular claim. However, as far as she knows, Chelsea still has full custody of Aubree, therefore Adam's signature wouldn't be required for Aubree to film. He would be required to consent to Paislee being filmed, if he has some sort of legal custody of her.
Adam claims that he'll get in trouble for posting this stuff.
TRUE…Kind of.
"I'll probably get a call or long text from the maker of the show saying I'm not [supposed] to release any of this information," Adam wrote. "But I really don't give a s**t anymore. F**k MTV, f**k 'Teen Mom'."
There's no doubt in The Ashley's mind that Adam did get a text or call from one of the higher-ups from the show asking him to remove the post. (It still remains up as of Saturday, though.) Normally, when one of the show's stars goes off the rails, a producer or even Morgan J. Freeman will contact them and request that they remove the offending post. Revealing salaries is probably the biggest "no no" a cast member can commit, though, so Adam may face a more serious punishment than just a scolding text. (The Ashley is doubtful, however.)
(Photo: MTV)