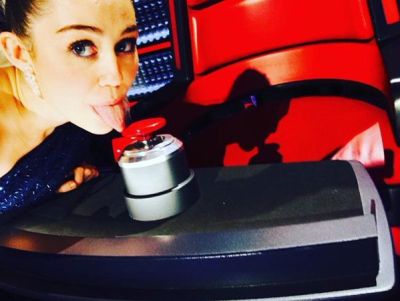 Miley Cyrus is about to "wreck" The Voice full-time!
According to TMZ, the "Wrecking Ball" singer will be settling into one of the show's coveted Big Red Chairs next season! The site just broke the news that Miley will serve as a coach for Season 11!
This will mark the first time that Miley has snagged a full-time coaching role on 'The Voice,' but she is not new to the show. She is currently serving as the Season 10 key adviser.
TMZ states that Miley will join mainstay coaches Blake Shelton, Adam Levine.
Miley's addition to the coaching panel may surprise many of the show's fans, who expected to see Gwen Stefani fill the female coach spot for Season 11. Gwen was replaced by Christina Aguilera for Season 10, but it seemed likely that she would return as a coach for Season 11. (Gwen is currently dating Blake, and served as his team adviser this season). However, Gwen just released an album last week, so it's possible that she may be planning some sort of tour and would be unable to fulfill coaching duties on 'The Voice.'
The only other woman to ever serve as a coach– Shakira— seems to be off the show for good, but it's no surprise. After all, in 2014 she stated that she had "no plans" to return to 'The Voice.'
UPDATE: Miley has since confirmed on her Twitter account that TMZ's report is true. She will be a coach on 'The Voice' for Season 11. TMZ's story was incorrect, however, when it stated that Pharrell Williams would be back as a coach for Season 11. NBC has confirmed that he will not be coaching on Season 11. Singer Alicia Keys will be rounding out the coaching panel for the upcoming season. (Blake and Adam will both be back for Season 11.)
(Photo: Twitter)