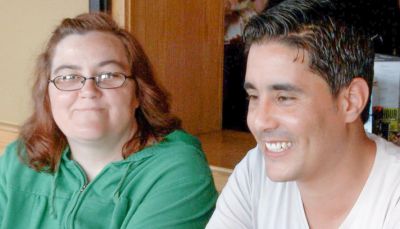 By Holly
90 Day Fiancé has proven to be a big hit for TLC, and now the network is hoping to cash in on the reality show's popularity by introducing a spin-off show!
TLC announced at its "Upfronts" presentation on March 31 that it will be soon introducing 90 Day Fiancé: After the 90 Days, which will catch viewers up with some of the most memorable couples from the show's past seasons.
The network said the new show will follow the couples as they face the next chapter in their lives—married life.
"The panicked countdown to the altar may be behind them, but the true drama is just starting to unravel as these newlyweds face life's challenges with someone they barely know," the network said in a press release that described the new show's premise.
"At TLC, we want to give our viewers more of what they love, and more of what we do best- we tell stories of big, fascinating characters and we tell them without judgment," said Nancy Daniels, President of TLC & Discovery Life.
The network did not release the names of the couples that will be starring on 'After the 90 Days,' but according to an inside source for Starcasm, the cast will likely include Alan and Kirlyam and Russ and Paola of Season 1, as well as Chelsea and Yamir and Danielle and Mohamed, from Season 2.
We're still holding out hope that some of the Season 3 couples are included in the spin-off show, particularly Mark and Nikki (the 56-year-old man and his teenage bride), and Melanie and Devar (the nurse and the lifeguard).
We know it's not all roses and butterflies for at least one couple from the show, however. Mohamed has mentioned on Facebook that, since appearing on the show, he has left Danielle and plans to move back to his native Tunisia. However, Danielle isn't giving up on him. She frequently rants on her Facebook page about her relationship with Mohamed, and how she feels appearing on '90 Day Fiance' ruined her marriage.
"We never had these issues till we did show and we let rumors, lies and people get into our marriage and life," she posted on her public Facebook page in February.
'90 Day Fiance' fans can also look forward to meeting new geographically challenged lovers! TLC just announced that it is currently casting for a fourth season of the show.
(Photo: TLC)