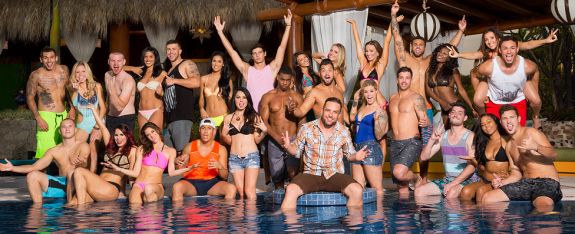 You know it's going to be a good season of The Challenge when host TJ Lavin starts things off by telling the contestants, "Welcome to your worst nightmare!"
Earlier this week, People released the first trailer for The Challenge: Rivals III, which premieres May 4 on MTV, and it looks good! Just as with the other two "Rivals" seasons, contestants will be partnered with someone they've had conflict in the past. Unlike the previous "Rivals" seasons, however (which aired in 2011 and 2013), "Rivals III" will pair contestants with their rival of the opposite sex.
Once again, stars from MTV's Are You The One? will be filtered into the cast.
"I am putting all of my faith in my enemy!" Sarah Rice says in the trailer. (Obviously Sarah's "retirement" from the show in 2015 didn't last very long…)
Also back (again) this season is Johnny Bananas (who will probably be on this show until he reaches actual retirement age). He will be paired with Sarah, who was one of his closest friends from the show until she "backstabbed" him during "Battle of the Exes II."
The new season, which was filmed in Huatulco, Mexico, will feature other show "regulars," including Wes, Camila and Nany. Absent from this list, however, are frequent 'Challengers' Cara Maria Sorbello and Aneesa Ferreira.
The male/female rival teams are:
Johnny Bananas & Sarah Rice
Brandon Tindel & Briana LaCuesta (who clashed during 'Are You The One?' Season 2)
Cory Wharton & Ashley Mitchell (who didn't get along during "Real World: EX-Plosion")
Dario Medrano & Nicole Ramos (who met–and clashed–during "Battle of the Bloodlines")
Devin Walker & Cheyenne Floyd (who disliked each other during 'Are You The One?' Season 3)
Jamie Banks & KellyAnne Judd (who got into a big argument during "Battle of the Bloodlines")
Johnny Reilly & Jessica McCain (who fought during 'Real World: Portland')
Leroy Garrett & Averey Tressler (Leroy called Averey a liar during "Battle of the Exes II")
Nathan Siebenmark & Christina LeBlanc (Nathan was hurt by Christina during 'Are You The One?' Season 2)
Thomas Buell & Simone Kelly (Simone threw a bunch of drinks in Thomas' face during "Battle of the Exes II")
Tony Raines & Camila Nakagawa (who got in a screaming match during "Battle of the Bloodlines")
Vince Gliatta & Jenna Compono (who couldn't stand each other during "Battle of the Bloodlines")
Wes Bergmann & Nany González (who have never really gotten along during any Challenges)
The Ashley's 'Challenge' source tells her that one team will be sent home for medical reasons, while another is kicked out for disciplinary reasons. (She's not revealing which teams, however, because she doesn't want spoil the season!) TJ hints to an elimination in the trailer when he tells one person, "I've warned you before. You're outta here. Don't take care. Hope to see you never!"
Watch the first "Rivals III" trailer below:
(Photo: MTV)