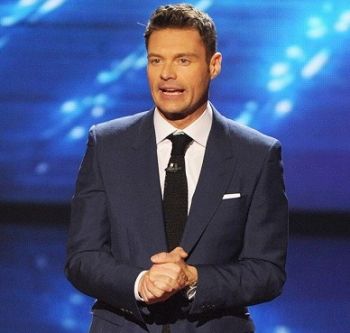 Ryan Seacrest left all of America hanging last night during the American Idol series finale. As he closed the show for what was supposed to be the final time ever, a choked-up Ryan dropped a bombshell on the 13.3 million viewers watching the two-hour, former-contestant-filled finale last night.
"And one more time – this is so tough – we say to you from Hollywood, goodnight America," Ryan said, as the lights went down on the stage.
"For now…"
The show ended with no explanation of what Ryan meant by those last two words, but the show's creator, Simon Fuller, gave Billboard some insight on the future of the supposedly shuttered show.
"There will no doubt be another format or refinement or elevation of the format," Simon Fuller told Billboard. "Now I can actually revamp it and come up with a new version. And we can look back on 15 seasons and think of some legitimate ways to allow people to enjoy them again, maybe adding another dimension to it."
He added that the new-and-improved 'Idol' will be meant for "a new generation" of fans.
It's no secret that 'American Idol' has suffered in the ratings over the past few years. Once the industry ratings giant, the show began to plummet in the ratings starting somewhere around Season 11 in 2012. Simon Fuller said that, now that the show is officially off the air, he actually has time to think about how to revamp it to become the ratings giant it once was.
"Now we can catch our breath. It allows me to rethink the show for the first time," he told Billboard. When you're a No. 1 show, it's hard to be too bold and brazen about changing the format because it's working and succeeding. Also, you're always rushing to get the next season completed. Now we start with a clean sheet of paper."
The Ashley was thrilled with last nights' series finale, which brought back nearly 50 of the show's former contestants for a series of star-studded performances.
To read about The Ashley's favorite moments from the finale, hop on over to Today.com by clicking here!
Watch Ryan drop the bombshell in the Instagram video below. (The Instagram user, MaryLee, had the same reaction that everyone else watching probably had!)
(Photo: FOX, Video: Instagram)