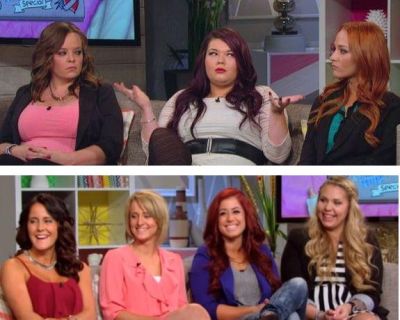 It's time for another installment of The Ashley's rumor breakdown! Every once in a while, The Ashley wades through the muck of Teen Mom-related stories that are floating around the Internet and separates the true from the false. Obviously, The Ashley can't tackle every rumor that's circulating regarding the Teen Mom OG and Teen Mom 2 casts, but she will comment on the ones she can verify confidently. 

As faithful readers know, The Ashley holds off on reporting on most stories until she can personally confirm or deny their legitimacy. (Otherwise, she will file it under "rumor.") The Ashley is well aware of some of the major rumors circulating about the 'Teen Mom' franchise girls, but she is not commenting until she can get more info.
Let's get started….
Rumor #1: Kail recently spent time with her ex-boyfriend Jordan Wenner while in LA for the 'Teen Mom 2' reunion. 
FALSE! Fans went crazy when Kail's ex Jordan (whom she dated before meeting her current husband, Javi) tweeted to her stating how great it was seeing her and catching up with her. When a confused Kail responded that she wasn't even at home and was actually in Los Angeles during that time, Jordan stated that he, too, was in LA and that's where they hung out.
This never happened, guys. Jordan was not in Los Angeles, nor did he ever hang out with Kail. When The Ashley spoke with a friend of Jordan's to get the details, the friend told The Ashley that Jordan was just saying that to be funny.
"He recently went through a breakup and I guess he wanted attention or something. I know that he even talked to some of Kail's friends to see if he can get back on the show," the source told The Ashley. "Kail was pissed and contacted Jordan to let him know that she was angry about what he did. Jordan thought the whole thing was funny."
The Ashley can confirm that there was no meet-up.
Rumor #2: Leah is no longer with T.R. Dues.
FALSE! Despite Leah recently tweeting that she and T.R. have decided to "just be friends" (even though she had previously denied even having a boyfriend, during the time she was living with T.R.), The Ashley's West Virginia source tells her that Leah and T.R. are still together.
"He may not be living with Leah full time but they are still together and is seen at the house all the time," the source tells The Ashley. "Leah is actually about to move (again) but she hasn't really talked about whether or not T.R. will live with her at the new place."
Rumor #3: Amber is no longer with Matt.
FALSE! Fans began to question whether 'Teen Mom OG' star Amber was still engaged to Matt after they noticed that Amber had not mentioned him on social media for a while. The Ashley can confirm that Matt and Amber are still together. Amber recently confirmed to a fan on Twitter that she was still with Matt, but The Ashley has more proof. According to the open court cases Matt has filed against him, he is still living with Amber in Indianapolis. If he moved out of her home, he would be required to notify the county court so his court docs could be amended.
In addition, Amber recently posted photos of her trip to Cape Cod, Massachusetts, which is very close to Matt's hometown, and only 30 minutes from where his teen daughter goes to college. Coincidence? Um…no.
Rumor #4: Kail is "obsessed" with plastic surgery and planning to get a nose job.
FALSE! Kail actually responded to this recent rumor, which was started by In Touch Weekly. She tweeted to the magazine that the story is "completely false."
"Kailyn has told friends that she really wants to fix her nose," the story claims. "She actually wants to have her whole face contoured, which would include the thinning of her nose and plumping of her lips."
The magazine's source added that Kail also underwent a "secret" tummy tuck and liposuction session.
Kail did undergo a tummy tuck and lipo session in January but it was hardly done in secret. In fact, Kail's doctor, Dr. Miami, blasted the procedures on his Snapchat.
Rumor #5: Jeremy is planning to sell his wedding ring from his marriage to Leah on eBay.
TRUE! Jeremy has been listing items for sale on his Instagram account (which is currently the only social media site he uses). On Thursday night, he posted that he was planning to put the wedding band he received from Leah up on the auction site eBay on Friday. Jeremy stated that the starting bid for the ring would be $500.
Fans started to criticize Jeremy for selling the ring, and he ended up deleting the post, but not before defending his actions in the comment section.
"You all should know what she done with her wedding set so kiss my white ass!" Jeremy wrote, but did not go into detail and explain what Leah did with her ring set.
Jeremy has not, however, posted the ring to the auction site…yet.
Got a 'Teen Mom ' rumor you want The Ashley to clear up? Leave a comment below!
(Photos: MTV)