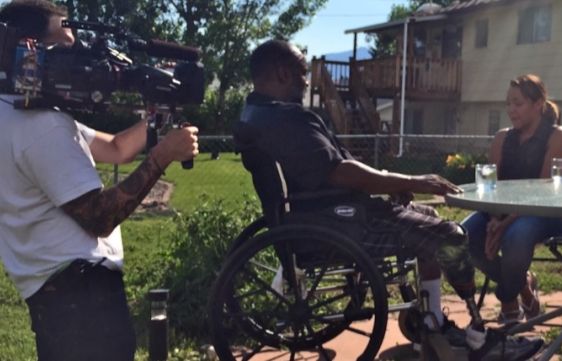 A disabled man featured on the new A&E and LMN series 24 to Life is now homeless, and the show's producers are doing their best to raise money for the man.
In a video made for their GoFundMe page, the show's producers tell viewers that Raphael Hameed has hit hard times since he filmed the show last year. Raphael was featured on '24 to Life' because he was struck by a car driven by a woman who was speeding. Raphael lost his leg, as well as his young son Ish in the accident, yet he chose to forgive the woman, Xyrjah Goldston, who had caused the accident.
Xyrjah was convicted of vehicular manslaughter and vehicular assault, and '24 to Life' documented her last 24 hours of freedom before prison. She used some of that time to apologize to Raphael for what she had done. He forgave her, despite the fact that her actions left him without his leg and without his son.
"The compassion I witnessed [from Raphael] while we filmed was the most amazing thing I've ever seen," Adam Linkenhelt, the show's senior producer says in the video. "He had no hate, and he meant it. He said, 'I forgive you…it was the truest thing I've ever filmed and been a part of."
Adam, along with producer Pat McGee, set up the GoFundMe page after they learned that Raphael is now homeless and living in a shelter.
"We're trying to raise some money to help Raphael get off the streets, or just assist his life," Adam says.
Watch the full GoFundMe video below to learn more about Raphael, or click here to make a donation.