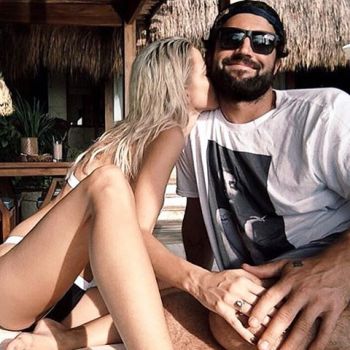 Sorry fangirls: Brody Jenner is officially engaged!
The former reality TV playboy, who has starred on reality shows including The Hills, Sex with Brody and Keeping Up With the Kardashians, used his Instagram account on Friday to announce his engagement to longtime girlfriend Kaitlynn Carter.
"On May 4th 2016 I got engaged to my lover and my best friend Kaitlynn Carter," Brody captioned a photo of him and Kaitlynn on vacation. "I couldn't be more in love with this woman and I can't wait to spend the rest of my life with her."
Kaitlynn used Instagram to announce the big news.
"This trip has been memorable for a number of reasons," Kaitlynn captioned a photo of her kissing a smug-looking Brody. "Happiest girl in the world."
Brody is the son of Caitlyn Jenner and Linda Thompson, and former stepson of Kris Jenner. While Caitlyn has yet to comment publicly on the engagement, Brody's mom tweeted that the engagement makes her "very happy!"
None of Brody's former stepsisters, the Kardashians, have commented on the engagement, even though they have known Kaitlynn for years. Even Brody's half sisters, Kylie and Kendall Jenner, have yet to publicly congratulate the couple.
It's no surprise, though. Last year, Brody publicly dissed his former family members in an interview.
"Everybody ties us in together as the Kardashians and the Jenners, but now what's interesting is [Caitlyn and Kris] got a divorce so they're not even technically my family anymore," Brody told Yahoo Style of Kim & Co.
Brody and Kaitlynn have not announced any wedding details yet.
(Photo: Instagram)