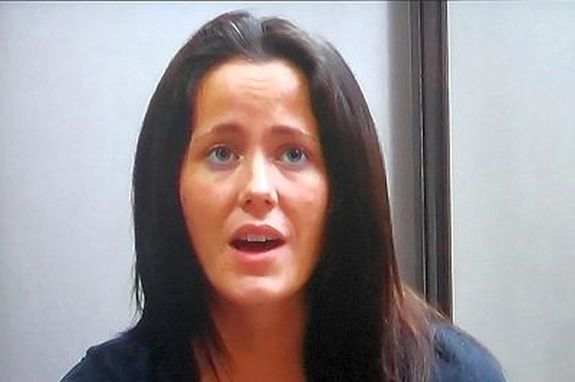 It's Mother's Day, and what better way to celebrate than to check in with some of our favorite not-so-teen moms, the gang from Teen Mom 2!? There really is no better example of parenting than watching Leah let her youngins run loose while she slumbers, or seeing Jenelle use her baby as a pawn in her custody/legal battle.
Unfortunately, this episode was a complete snoozefest, but The Ashley will do her best to make it sound halfway amusing. Don't expect any 'dramastic' miracles or anything, though.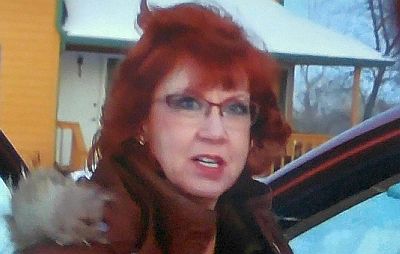 We kick off in South Dakota, where Chelsea is preparing to go look at venues to hold her upcoming wedding to Cole. Aubree will not be going along, so Chelsea's mom, South Dee-ko-tah Mary will be watching her while Chelsea's away.
In Delaware, Kail is adjusting to being sans-Javi, who left for deployment the week before. Thanks to The Internets and whatnot, Javi is still able to beam himself into the living room every night to talk to Kail and the kids.
Sterling makes her first appearance this season (that's not via-cracked iPhone), to talk to Kail about how much she's missing Javi…which isn't much. Isaac, however, is missing Javi big time, and is having a hard time adjusting to him being gone.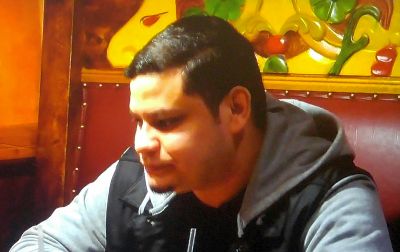 Meanwhile, Jo has actually put on real pants to take Vee and their baby ViVi out to dinner. Jo says that he can't believe it's been four months since Vivi "popped out."
Ew…must we picture the baby literally popping out of Vee's nether regions? That's a frightening visual that won't be leaving my head anytime soon. Thanks, Jo.
Jo tells Vee that, while Javi being deployed is making Isaac sad, it has given Kail something else to worry about besides what kind of dirty pants Jo wears on Sundays.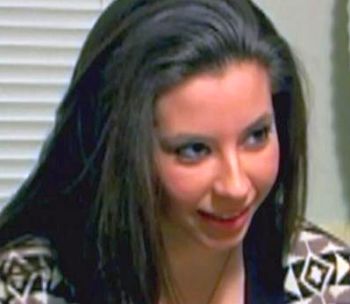 Vee discusses how hard it is for Isaac to be at Kail's now that Javi is gone.
"When he's 'wit' us, he's not thinking about it but when he's over 'der he's probably reminded Javi's not 'der," she says.
Vee obviously went to the same school as Nessa, that host of the After Shows that MTV keeps trying to make "happen."
Over in Carolina, Jenelle is feeling all proud of herself because she allowed her former soulmate, The Nathan, to see his son for a whole hour recently. (No doubt she headed down to the Party City to see if they had some sort of "World's Best Co-Parent" ribbon that she could buy herself and wear in Instagram photos that day.)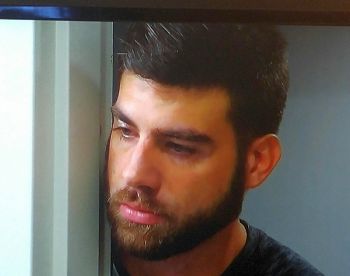 Unfortunately for The Nathan, his time at Chuck E. Cheese's with his son was somewhat ruined because Jenelle's current soulmate, Lurch, was sent along to make sure Nathan didn't try to smuggle Kaiser out of the place in a pizza box, or something. Imagine trying to enjoy the singing rat show with your kid while Lurch just stared at you with a glazed-over look on his face, pizza sauce dripping from the corner of his lip.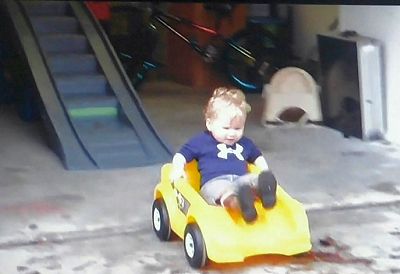 Jenelle is really feeling like Parent of the Year the next day because Barb allowed her a few hours with her son, Jace. Poor Kaiser is sitting in some sort of car thing, which Jace pushes down a dangerous-looking slide. It's literally a co-pay waiting to happen.
Kaiser looks disappointed to find out that the car is not actually equipped to allow him to motor away from these crapnozzles and find a more stable living environment. Jace gives the kid a knowing look, almost as if to say, "I tried to escape too, don't even bother."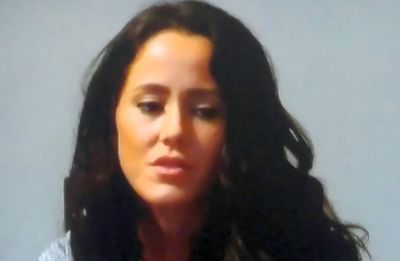 Meanwhile, Jenelle is pumping Lurch for info on Nathan (whom she is obviously so totally over, dude). Lurch reports that Nathan played with Kaiser and that he talked about himself a lot.
Lurch tells Jenelle that she shouldn't have to go through the "anxiety" of seeing Nathan, after what he's put her through.
Um…she's the knucklehead who chose to get knocked up by some dude she had only known a few months, despite the fact that together they had a combined IQ of 12.
Lurch volunteers to be the go-between between Jenelle and Nathan, because he feels it's his job to be the "muscle" who watches over Jenelle's feelings.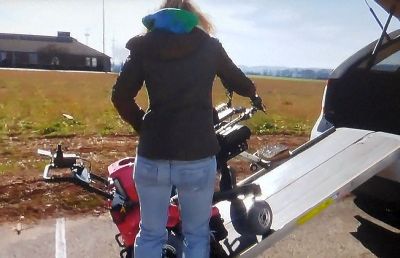 Finally, we see what (or who) Leah's been doing since we last saw her. Apparently, Ali's wheelchair, which has been missing in action for months, has finally been fixed. (I guess ol' Mama Dawn finally had a chance to "set down" with her screwdriver and fix the goshdern thing!)
Leah loads it up into her car.  (Somewhere in a nearby field is all of the crap that Leah had to throw out of her car to make room for the chair.)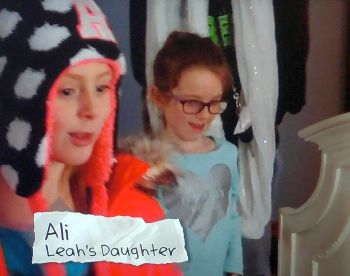 Leah and her sister Victoria talk about how hard life for Ali has been without the wheelchair, so it's no surprise that everyone in the house– Ali, the rest of the youngins, the feral cats, etc.– are thrilled to see the wheelchair arrive. Ali tries out the chair and is excited to be able to have more mobility.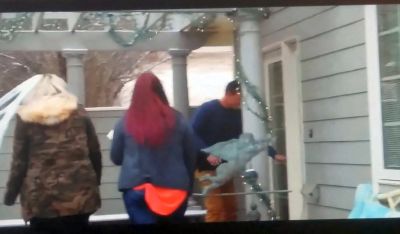 In South Dakota, Chelsea, Cole, Other Chelsey and Logyn the wedding planner head out on the road. They finally arrive at a reception hall, which kind of looks like Leah's house during Christmas time. There are weird angel statues thrown on the porch, and lots of cheap Christmas lights wrapped around everything. All they need is Mama Dawn sitting on a chair out front, pluckin' a banjo and it'd be the perfect site of the Messer Family Christmas!
The owner takes them out back to a clearing in the trees, which is one of the places that Chelsea and Cole could get hitched. It's nice enough (although it still looks like someone's back yard), so they go check out the reception area. Chelsea and Cole take a spin around the dance floor, while the producers surely sneak off to see if there are any places around the room where they can sneak hidden cameras in to secretly film the wedding for 'Teen Mom 2.'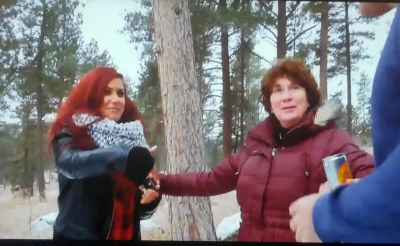 Think of the ratings they're going to miss because their "bitch of a star" Chelsea won't let them film her big day! Their heads must be exploding! The Ashley, who is a self-proclaimed TeenMomologist, predicts that the Chelsea/Cole wedding special would have been the highest-rated episode of the show ever! I'm sure Leah will allow MTV to film her next two weddings, but it's just not the same!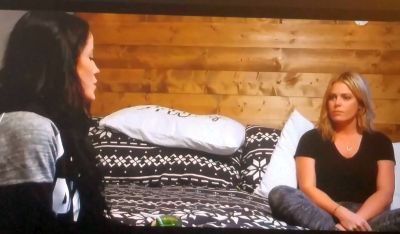 In North Carolina, Barb has fetched Jace so Jenelle can go over and chat with her (way too normal-looking) friend Jamie. Jenelle brags that she sprung Lurch on Nathan at the last minute before his visit with Kaiser, and Jenelle's friend has to try to pretend that what Jenelle has said doesn't make her sound batsh*t crazy.
Jenelle is still hoping that Nathan's girlfriend drops the assault charges against her. She says that if Nathan's new squeeze doesn't drop the charges, she plans to make the custody battle as hard as possible on Nathan. That's healthy.
Meanwhile, Nathan is going to see a lawyer to talk about getting custody of Kaiser (the child, not the German emperor).  Nate squeezes into the doorway (while also squeezing into a much-too-tight sleeved shirt).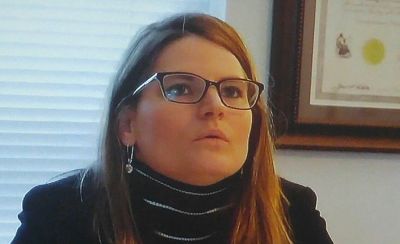 The lawyer, Megan, asks Nate how old Kaiser is, and Nathan has trouble remembering, so he gives her a ballpark figure. He's pretty sure that Kaiser is somewhere between eight months and 18 years. (Surely Nathan has Kaiser's 18th birthday already marked off and circled on his calendar. That's the day that he will no longer have to deal with Jenelle and what will certainly be her 109th fiance ever again.)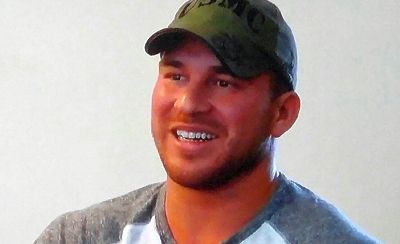 Nathan tells the lawyer that he doesn't have Jenelle's phone number, so he has no idea how to get in touch with her if he wants to check to make sure his son is still alive. He then regales the lawyer with the tale of how Lurch was hovering over him while he tried to play skeeball with his son over at the Chuck E. Cheese's.
"What a mess," the lawyer says.
Well that basically describes this whole show, doesn't it?
The lawyer encourages Nathan to go for full custody of Kaiser, stating that no judge would give Jenelle and her soulmate-of-the-month the ability to take Nathan's child away from him for no reason.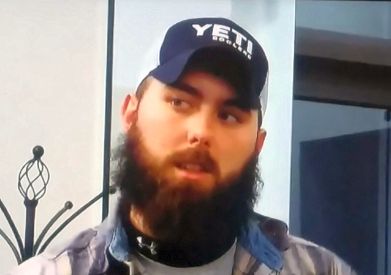 In West Virginia, Corey heads over to see his lawyer, trusty Rusty Webb. Corey's beard is basically so big that it needs its own torn piece of paper thingy to introduce it. For this scene, Corey is sporting a hat that says "Yeti." I mean, that joke basically writes itself, no?
Rusty tells Corey that Leah is hoping that the courts will flip the custody situation back to the way it was, and Corey says that he's tired of dealing with Leah's drama and the tension the court hearings have created. Corey knows that if he doesn't give Leah what she wants, she will make his life miserable.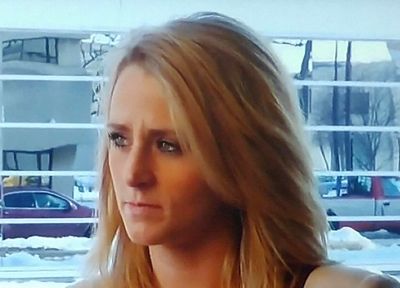 Leah, meanwhile, is doing everything she can to prove how stable and improved she is. She is even brushing her hair, y'all, so we know she means business!
While Leah attempts to untangle the snarls of hair on the back of her heard, Mama Dawn rings her up. Leah asks her mother to go to the court hearing with her, but Dawn says that she can't attend. While she won't be there to face off with that dern Corey Tyler in person, she'll be with Leah in spirit, screaming "MONKEY!" randomly to show support of her daughter.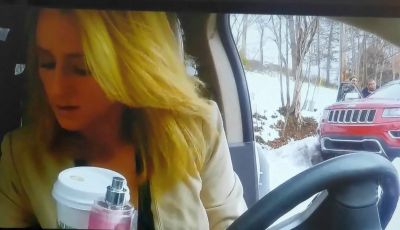 Leah grabs up some coffee and some body spray (because, ya never know when you'll meet a man and you'll need to smell good, y'all!) and heads over to the courthouse.
Corey Tyler and Rusty Webb arrive, and Leah's sister (who done got herself some fresh purple tips on her hair for the occasion) comes to support Leah in her quest to be able to serve her youngins Lunchables.
MTV cameras aren't allowed in the courtroom (dang-gammit!) but Leah comes out smiling with her lawyer. We learn that Leah was given an additional day each week with the girls, in exchange for giving Corey an extra weekend with them.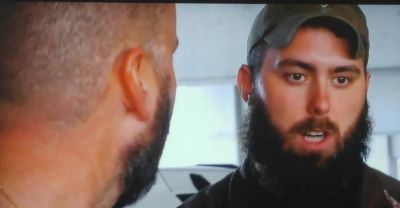 Corey calls up his dad to let him know that he feels good about the new shared parenting plan. He admits that Leah has stepped her Lunchable game lately, but says that if she doesn't keep it up, he's planning to take her danggone butt back to court.
Later, Leah drops her litter off with Corey on the side of the road. They discuss how ridiculous all of the "courting" they've been doing is. They agree that they disagree, and Corey tells Leah that he wasn't trying to keep the girls away from her. They agree to work together as a team. Luckily, they don't cap off their good day in court with a quick bang in the back of Corey's truck, for old times sake.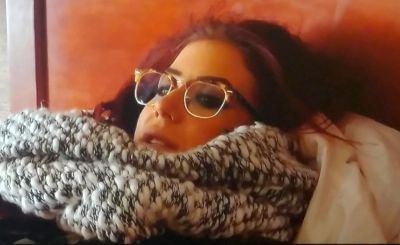 In South Dakota, Chelsea is piled under a heap of blankets and scarves as she tells Other Chelsey about her upcoming hearing with Adam. She, too, is battling for custody of her kid.
(Does anyone else feel like we've heard this same record over and over again? I liked it better when people were beating the BeJesus out of their friends with drumsticks and/or cheating on their husbands. This show was so much more entertaining then.)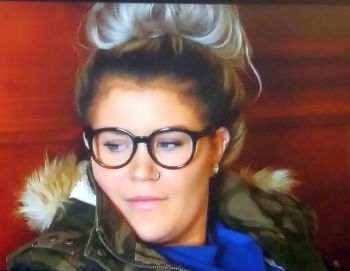 Chelsea is upset that she has to think of Adam's creepy mug during a time when she should be totally happy, planning her wedding to Cole.
Speaking of Adam and his creepy mug….Adam and his random friend are having pizza with Paislee. (Wait– where's Justin, Adam's trusty Skeletor-like friend? It's been a few episodes since we've seen him. Did he go on vacay with the Crypt Keeper or…?)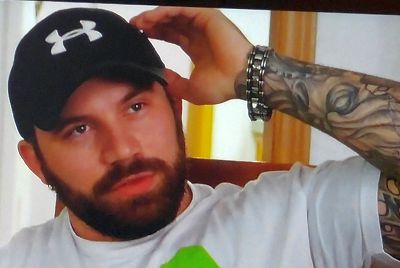 Random Friend asks Adam the producer-required questions about Chelsea, and Adam states that Chelsea is trying to hound him now that he "has money." Now that Adam is helping people sweat to the oldies at the gym, he's apparently rolling in the cash.
"The judge is going to laugh at Chelsea!" Adam proclaims.
Later, Chelsea goes to the child support hearing. When she comes home, she tells her mom what happened.
"Whatdya have ta do? I don't even know!" Mary asks.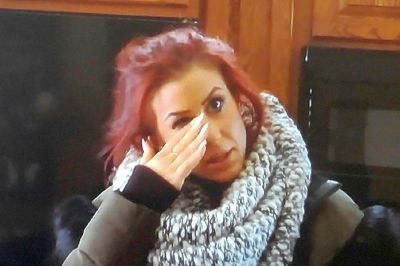 Chelsea explains that a neutral person looked at both her and Adam's MTV paycheck stubs and then decided how much money Adam would have to pay to help support Aubree. The person recommends Adam pay about $800 more a month than he's currently paying.
Adam better start hawking those Jazzercise lessons!
Apparently, Adam couldn't be bothered to show up, which didn't surprise Chelsea.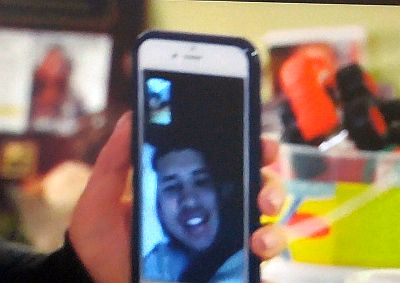 In Delaware, it's time for Javi to take a break from saving the world to beam himself into Kail's living room and talk to the kids. Javi comes bearing great news this time; he tells Kail that he will be dodging ISIS terrorists when he goes out later that evening. (Perhaps he can borrow Jenelle's drumsticks to protect himself?)
Kail tells Javi that he's not to talk to strangers while he's out there. (Apparently terrorists try to strike up a conversation with someone before they capture them?)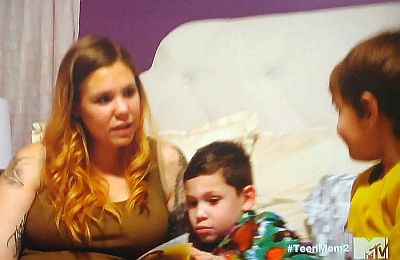 Later that night, Kail reads the boys a weird story about how other kids' fathers have to go overseas and avoid ISIS when they go to Middle Eastern nightclubs…or something. The book makes Isaac feel sad, which is heartbreaking. Isaac is also worried that Javi will be eaten by alligators, but Kail reassures him that Javi will not become gator chow any time soon.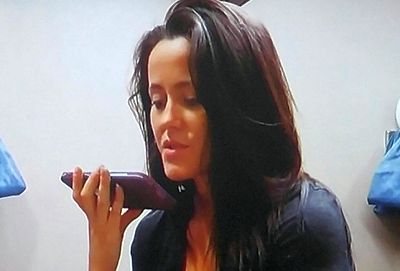 In Carolina, Jenelle puts Kaiser in his crib cage so she can go call her lawyer. The lawyer tells Jenelle to focus on keeping Kaiser alive and unharmed for the time being, and not to worry about The Nathan. Lurch grunts in agreement, and tells Jenelle that Nathan recently asked to see Kaiser. She hovers over Lurch as he texts everything she tells him to text to Nathan.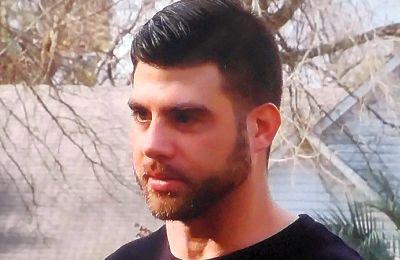 Nathan texts Lurch and says that he has necessities for Kaiser, but he's terrified to let Jenelle and her henchman know where the hell he lives.
CAN YOU BLAME HIM!? I could totally see Jenelle recruiting Lurch and Trashbag Tori to go stand in Nathan's driveway and hurl a complete set of china at Nathan and Jessica.
"What if he lives in a whorehouse or somethin'?" Lurch says. "We can't let Kaiser go over there without knowing."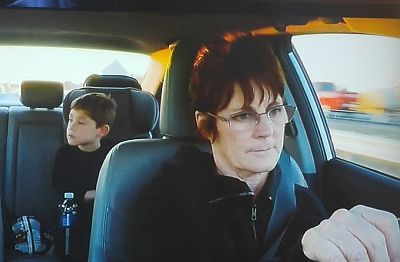 Um…we?! Lurch, you are merely a placeholder. If Jenelle found out that The Nathan wanted her back, she'd drop your oafy ass quicker than you could say "dramastically!" David is basically the equivalent of a soulmate cardboard cut-out.
Jenelle and Lurch feel proud of themselves for "standing up" to The Nathan.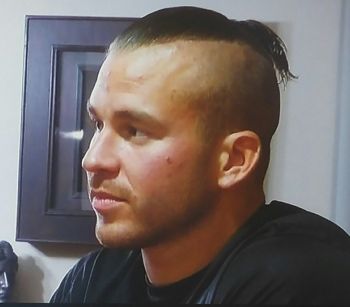 The episode ends with everyone thinking over their court cases/lawyer visits. Oh, and Nathan gets yet another ridiculous and embarrassing haircut.
This episode sucked. MTV, do better.
To read The Ashley's recap of the previous episode of 'Teen Mom 2,' click here!
(Photos: MTV)