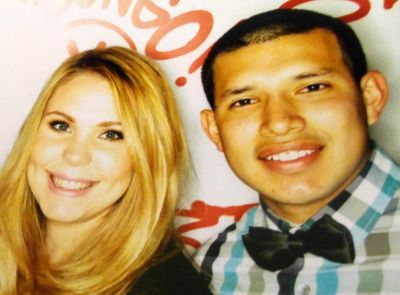 Rumors that Teen Mom 2 stars Kail Lowry and Javi Marroquin are going through a divorce have been circulating the 'Teen Mom' universe for several months, but the reality stars have stayed (relatively) quiet on the subject…until now. Although Javi and Kail have not confirmed that they are, indeed, splitting, they randomly decided to speak out to hint that the rumors are true.
Javi, who is currently out of the country on deployment, seemed to confirm that he and Kail are divorcing in a series of tweets posted today.
"And if you wanna know about my marriage.. We're on TV. You'll find out eventually," Javi tweeted in response to the many fans who have been tweeting to him asking if his marriage is over.
A fan tweeted back to Javi telling him that if he and Kail are divorcing, he should feel bad for Kail's son, Isaac, who loves Javi like a father, and Javi responded in a very telling fashion.
"Wasn't my decision."
Javi later deleted the tweet, but he did leave another telling tweet up.
"That's my best friend [I'm] hurting just as much as he is," Javi tweeted of Isaac.
Kail also spoke out about the many rumors floating around about her and Javi.
"This is really getting sickening. I can't take a breath or a step without people claiming it has something to do with a divorce," she told Real Mr. Housewife. ""I acknowledge the fact that I'm on TV and this comes with the territory to an extent, but at this point there are some things I want to keep between my family. Due to that, I would really appreciate this over-analyzation of every move I make stopping, as it's simply getting ridiculous.
"I have a lot of stuff going on in my life," Kail added. "Big things are coming. Changes are happening."
All of these 'big changes' will be playing out on the upcoming season of 'Teen Mom 2.' As The Ashley exclusively told you last week, the show has been picked up for another season (that will either be called Season 8 or Season 7B).
The Ashley will update this story when she has more information.