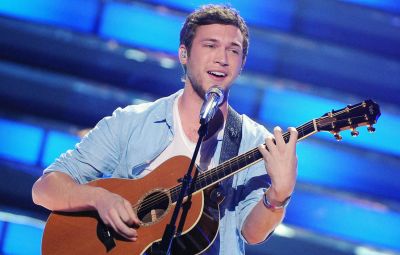 American Idol launched the lucrative career of Phillip Phillips— and now the production company wants the money they say Phillip owes them!
19 Entertainment, which filed for Chapter 11 bankruptcy in April, filed a complaint on Thursday against Phillip, stating that the singer has been holding on to about $1 million of the production company's money, and that Phillip should have to pay an additional $5 million for breaching the contracts he signed with them.
According to The Hollywood Reporter, 19 Entertainment's complaint states that Phillip, who won 'American Idol' back in 2012, "has been holding on to somewhere between $850,000 and $1 million based upon the 'anticipation' that his agreements (which include a recording and publishing deal) would be voided."
According to the complaint, Phillip has flat-out refused to perform where the company has told him to perform.
"Phillips has refused and insists that he will continue to refuse to perform pursuant to the Agreements, thereby causing Plaintiffs additional damages," states the complaint, according to THR. "The amount of the additional damages from these continuing breaches is not presently calculable with precision but will be presented at the time of trial and will exceed $5,000,000."
Phillip's attorney Howard King responded to the complaint.
"19's new complaint is a blatant attempt to evade California's jurisdiction and thwart its fundamental public policies crafted to protect artists. 19 cannot murder its parents, then seek mercy as an orphan," he said in a statement to the website.
Many former 'Idol' winners, including Phillip, have spoken out about the contracts they were forced to sign to participate on the show. In January 2015, Phillip even filed a petition with the California Labor Commissioner to get out of his contracts with 19 Entertainment. Phillip claimed that the company forced him into accept unwanted post-show jobs, perform for free for 'Idol' sponsors, and that they even kept him in the dark on important things such as the name of his own album.
Before a decision could be reached in terms of Phillip's petition to cut ties with the production company, 19 Entertainment filed for bankruptcy. Shortly afterward, according to THR, the Labor Commissioner stated he was closing the book on Phillip's petition.
Even though Phillip appeared on the 'American Idol' finale in April, it's rumored that he only did it as a favor to the show's executive producer Nigel Lythgoe. Even though Phillip was in the middle of his legal mess with the show's production company, he still took to Twitter after the finale to express his gratitude for 'American Idol.'
"All I want to say is, no matter what, I would never miss this," Phillip tweeted. "I will always be grateful to 'American Idol,' its cast and crew."
(Photo: FOX)