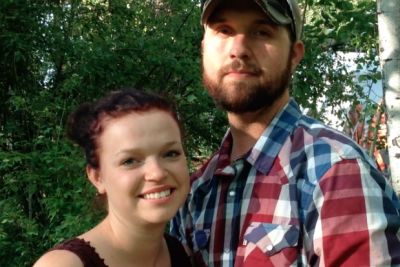 Sister Wives star Maddie Brown is a married woman! She got hitched to Caleb Brush today in Montana.
Maddie is the first of the Brown family's 18 children to get married. The 20-year-old, who is the daughter of Kody and Janelle Brown, wore a strapless gown (which she shopped for on last week's 'Sister Wives' episode) and veil, while Caleb wore a vest and khakis. The bohemian-themed celebration featured homemade decorations. (Meri Brown finally got to put her craft skills to work, apparently!) 
"I just wanted something unique, so we steered away from classic and Caleb liked the bohemian idea a lot," Maddie told Us Weekly.
"I can cut a rug on a dance floor in khakis better than a monkey suit," he told Us.
The entire Brown clan made the trip to Montana to celebrate Maddie's wedding. Four of Maddie's sisters served as bridesmaids, while Maddie's father, Kody, was front and center for the affair– he officiated the ceremony. (Anyone else not surprised that Kody managed to worm his way into the ceremony somehow?)
The wedding was filmed by a TLC film crew, so we will likely be seeing footage from Maddie's big day on an upcoming episode of 'Sister Wives.'
No photos of the wedding have been released yet– other than this one which was published by Us Weekly.
This is the first marriage for both Caleb and Maddie. The couple has stated that they will not live plural marriage as Maddie's parents have done.
(Photo: TLC)