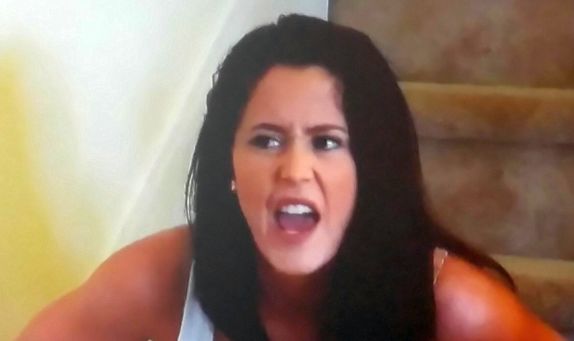 Oh, hi Juh-nelle! It's time to catch up on what's been going on with the Teen Mom 2 gals since we last checked in. Those of you who sat through last week's crapisode know that the girls seem to have all kinds of problems– from marital trouble, to heavy backpacks to absentee baby daddies and even sweaty legs! It's a disaster!
This week, we kick things off with Leah, who is basically eye-balling her pal Kayla's baby and trying to her friend to leave the baby with her. It's been a while since Leah's put her baby chute to use, so she's got herself a case of the baby fever. (She does not, however, have itchy legs or the ability to see 'molecules' like Jenelle.)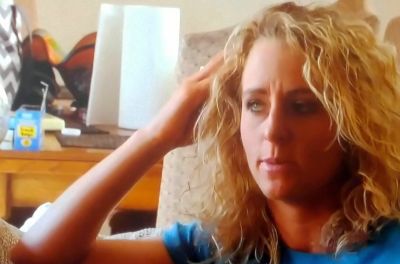 Leah asks her pal if it would be OK if she watches her baby. ("I done bought a whole new package of them generic Sweet 'n' Lows up at the Walmart, so he'd have something to eat!") Kayla looks at Leah like she'd rather leave her baby in a cardboard box on the street rather than let Leah watch him.
As per usual, Leah quickly starts bitching about that dern ex-husband of hers (the first one), talking about the BackpackGate video from last week. Leah says she had a chance to talk to Corey about her Ali, the backpack and the video.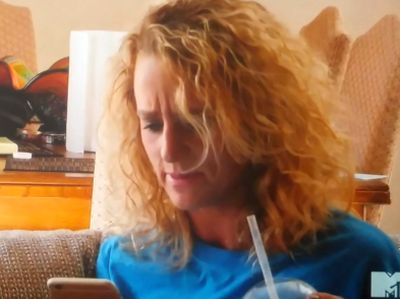 Wouldn't you know it, though, that Corey Tyler didn't find it shocking that his wife Miranda chose to carry their newborn baby instead of the backpack. All of a sudden, Leah gets a text on her iPhone and she scurries over to see who's blowing up her phone. Wouldn't you know it, it's THAT BITCH MIRANDA!
Apparently Miranda has heard that Leah is off telling every hillbilly west of the Feed 'n' Seed that she's a lazy, non-backpack-carrying bitch. Miranda texts Leah to let her know that she doesn't appreciate Leah's kinfolk sending her weird, creepy videos in hopes of getting Miranda "in trouble" with Corey Tyler. Miranda also says that she rarely makes Ali carry her own backpack, but sometimes it's unavoidable unless she wants to just leave her baby in the car or something. (Obviously, we know this is A-OK behavior for Leah but I guess Miranda isn't down with that. Go figure.)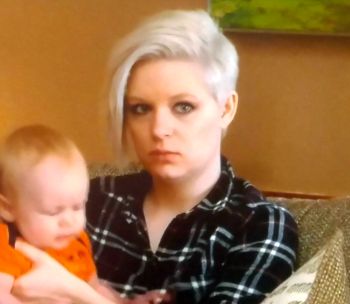 While Leah rattles on and on, Kayla is just sitting there with a sad look on her face. It's almost like she had hoped that– after she went and had a baby (and got a snazzy asymmetrical haircut), she'd at least be able to be the center of one conversation she has with Leah. But…no….
In Delaware, everyone is carrying their own backpacks and whatnot, but there's still trouble brewing. Isaac is still missing Javi, who has been off on deployment for a month now. He asks Kail how she feels about Javi being gone. (Jesus God Leah, please tell me the producers aren't starting to make the kids ask their moms the questions they usually make the moms' friends ask on camera. That's just too much.) Kail tries to sidestep Isaac's question and it's obvious that Kail is quite happy sans Javi.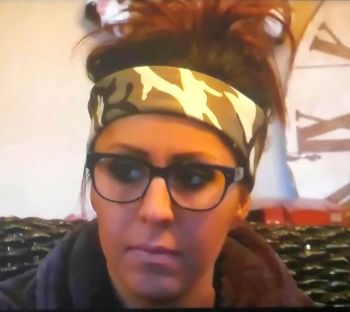 In South Dakota, Chelsea is hanging out with her pal Brittany (who, for some reason is wearing a bathrobe and looking like a cross between Chelsea circa Season 3 and Richard Simmons). Chelsea is (once again) talking about changing the amount of child support that Adam pays. She must be as bored with this conversation as we are, because she's had to draw her eyebrows into an "interested" position to make it look like she cares.
Adam wasn't thrilled when he heard that Chelsea wanted more money to pay for his kid's food and clothing and whatnot. (Adam must have figured that instead of money, he could just send extra protein powder or PowerBars to Aubree. Every kid loves to find a protein shake in their lunch box, duh!) He is appealing the child support ruling so that he can pay less money.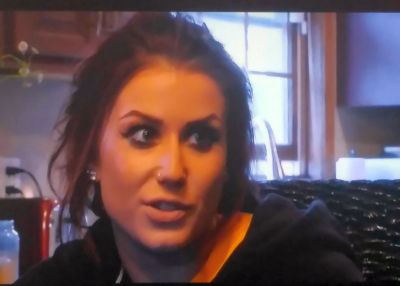 Even Adam's parent's seem to know that their son is a power-lifting piece of poop. When Chelsea tells them about the father/daughter dance that Adam missed, they tell her that they're glad that Cole was there to pick up their son's slack. (Imagine how red and veiny Adam's face and head must have been while he watched this scene play out. That kind of makes me giggle to think about…)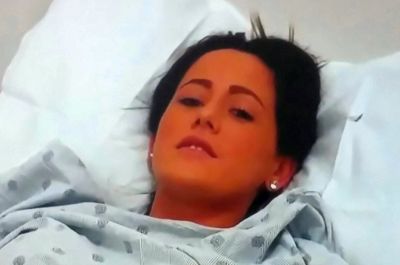 Finally, we check in with the sweaty mess that is Jenelle. She's still in New York "seeing doctors" (aka looking for anyone with a prescription pad who can write her and Lurch an order for some happy pills). Since she's not having any luck getting her clammy mitts on some benzos, she's upped her list of symptoms to include…well, everything.
She's dying, you guys, and nobody even cares!
Jenelle and Lurch are pounding the pavement in NYC, visiting doctors and Jenelle has herself hooked up to all sorts of machines, hoping that some doctor will eventually get so creeped out by Lurch that he'll write her any prescription she wants as long as she promises to make Lurch stop staring at him. (That's actually a pretty solid plan.)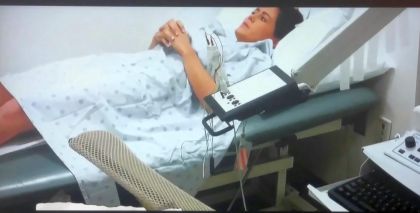 We get to see some "undercover" footage that was filmed on Lurch's cell phone in which Jenelle is all sprawled out on an exam table. (She did, of course, manage to put on a full face of makeup– fake eyelashes included!– before crawling out of her death bed to see the doctor.)
Hey– she may be on death's door but she still has Instagram photos to take, y'all! She can't be looking like Leah after a bender!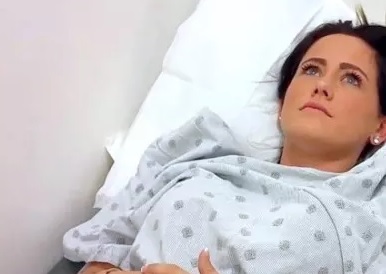 Lurch assures Jenelle that she has no reason to be scared because, "I'm here witcha!"
Later, Jenelle (the former heroin addict, mind you) is mad that she had to be stuck with a bunch of needles for "some sort of acupuncture." The nurse injected something into Jenelle's sweaty knee, and it caused her to double over in pain. She's even madder because the nurse later told her that she had no clue what is wrong with Jenelle.
Wait– so this nurse just started sticking things in Jenelle without having any idea what she was doing? (Then again, she wouldn't be the first person to stick something in Jenelle and have no clue what they're doing. Surely that was the case every time Jenelle and ol' Nathan got their lovin' on.)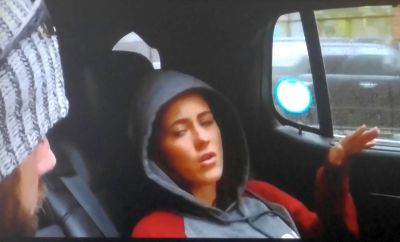 Jenelle moans and groans in pain as she and Lurch head to the airport. Jenelle reports that her nervous system and muscles are all OK. Lurch suggests that maybe it's Jenelle's birth control that is making her all hot and bothered, but Jenelle, ever the medical expert, flat out denies that it's the birth control that's making her body go haywire.
It's obviously anxiety. And MS. And restless leg syndrome. And the bubonic plague. And possibly rabies.
Unsuccessful at getting any type of prescription drug, Jenelle cries her way to the airport, stating that she doesn't know how she will cope with things.
Um…you're probably going to do the same thing you always do when you're stressed out: scream "Leeeeeave me alooooone!" and then hit your friend on the head with a drumstick.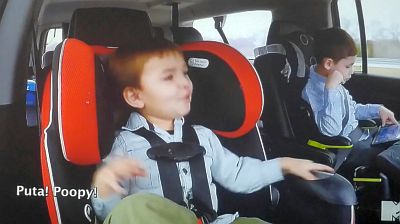 In Delaware, Lincoln's screaming that everyone is a puta while Kail and the boys go out to paint crap at a store. Kail asks Isaac if he thinks that she and Jo should hang out more, and Isaac says yes.
Later, Kail goes up to New York City, but, unlike Jenelle's voyage to the Big Apple, Kail's not there to prove that her legs are sweaty. Kail is actually there to meet up with someone about "working in TV" as a career.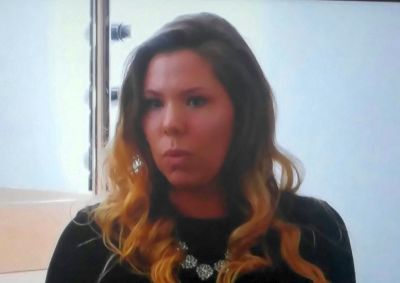 Wait…isn't that what she's been doing for a job for like six years now? You have to give her credit, though. At least she realizes that there will be a point in her life where MTV is not paying her to let them film her birthing babies.
Kail is brought into a TV studio control room. (This has to be MTV studios, right?) Kail says she wants to do on-air hosting, and that she doesn't really know what to do to get there once she graduates.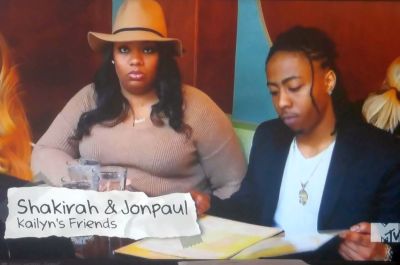 Later, she goes to meet up with her uniquely-named pals Shakirah and JonPaul. They are kind of confused why Kail came up to New York to see what it's like to work in the television industry, when she literally has a television crew following her around. Shakirah wants Kail to know that it will be hard for Kail to have a career while being a mom and a wife to a guy in the military.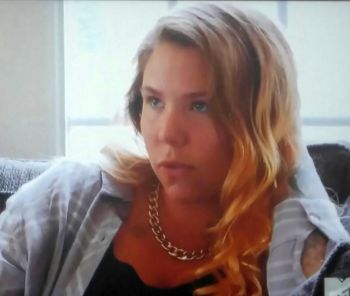 Kail's friends quiz her about how things with Javi are going. Kail says that things between them are "rough" because she's living her life while Javi is gone. Shakirah gives Kail some interesting life advice.
"If you're not where you want to be in life, for real-wise, you're not going to have anything important to him," she tells her.
Kail seems to know what the hell Shakirah was talking about, because she agrees that, married or not, she has to follow her dreams.
You guys see where this is going, right?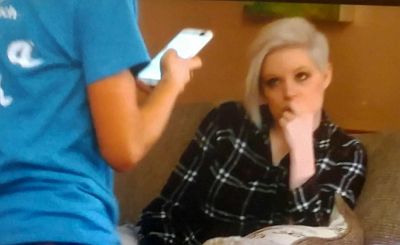 In West Virginia, Leah's trying her best to figure out a witty way to respond to Miranda's text. (We could be here all day, folks. You better "set" down.)
Leah says that thoughts of BackpackGate have consumed her, but she's trying to remember what she learned in "treatment" about staying calm and not calling up your ex-husband's new wife and screaming like a dingdang banshee at her. Leah says that pre-treatment, she would have texted Miranda a bunch of mean things and stated that, "Ali is not going to lie."
Wait…what? Didn't Leah herself literally call Ali a liar like two episodes? Leah needs to keep better notes in her Trapper Keeper phone.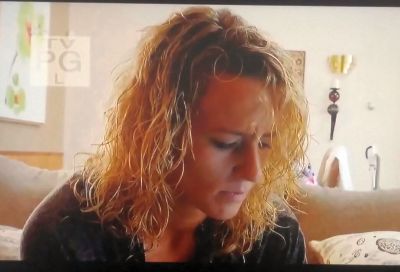 Leah is still hoping that she can someday be friends with that bitch Miranda, but she doesn't know how to handle it. She breaks down and cries, and Kayla forces herself to ask Leah why the hell she's crying. Leah says it's because she's realized that she's been knee-high in chaos her whole dang life.
"I grew up the wrong way and I didn't know that," Leah says. "You only know what you're taught."
Basically, Leah is starting to realize that her mama didn't "learn" her to handle situations correctly, and that she gravitates toward drama over the smallest issues. We could have told her that in, like, Season 2. If only Leah had realized this sooner, she might have a few less ex-husbands right now. Maybe she is making progress, y'all!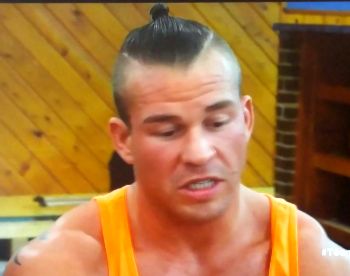 In South Carolina, Nathan is bowling with pals and has somehow managed to make himself look more douchey than ever before. He's all suited up in a bright orange muscle tank and has his head shaved up into a tiny mini ponytail at the top of his head. It's a haircut that has only been previously seen on TV on shows such as Cops.
As he bowls, the little ponytail flaps like a white trash flag waving in the breeze. It's mildly amusing/horrifying.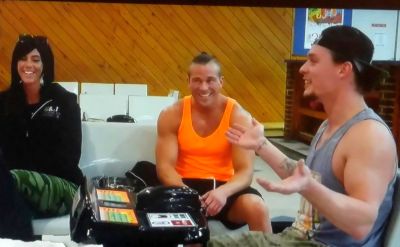 Nathan's pals bring up the fact that Jenelle has been jetsetting all over the country and that Kaiser has not been accompanying her on all of her vacations. Nate says he has no clue where the hell his son is while his ex-soulmate is out traveling the country with her booooyfriend. For all he knows, Jenelle may have FedEx'd their son to Chelsea to have her watch him. After all, kids are a drag to bring on planes, dude, so there's no way Jenelle would bring Kaiser with her.
"I have no clue what's going on with my son," Nate tells his friends.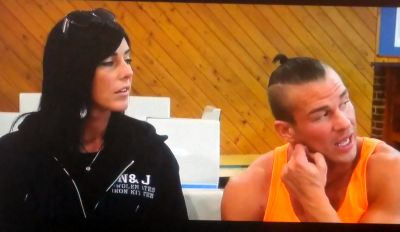 Nate's girlfriend Jessica has pulled herself out of Hot Topic long enough to attend the bowling festivities. She gives an update on the assault charges she has filed on Jenelle. She does this while wearing a sweatshirt that she's had embroidered to say "N&J Swole Mates."
No, seriously. You can't even make this crap up.
The swolemates state that they are going to continue to pursue the assault charges, even though Jenelle is trying to use Kaiser as a pawn in the fight.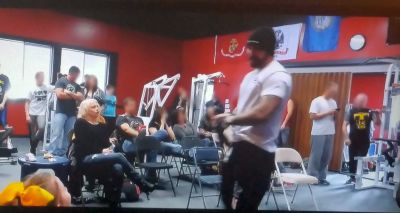 Over in South Dakota, Adam is busy battling Nate for the title of biggest douche on this show. He's all fired up because he has a lifting competition. For some reason, the competition is taking place in someone's parent's basement…or something. I'm pretty sure that they just found a basement full of old exercise equipment, set up some folding chairs and invited every meathead in South Dakota to come lift crap.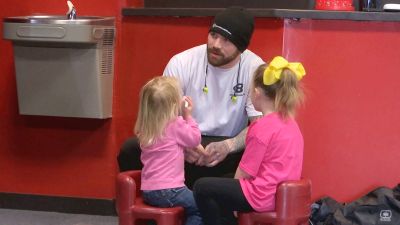 Adam has both Paislee and Aubree there to watch him lift stuff, but he seems bothered by the fact that his daughters are cheering loudly for him. Aubree is being completely adorable as she proudly cheers for her dad, but Adam seems embarrassed that he got stuck "babysitting" the kids during an important lifting competition.
After Adam is awarded first place (for being the meatiest meathead in all the land), Aubree decides to confront him about standing her up for her father/daughter dance. She asks him where the hell he was, and Adam tells her that he was busy "doing this."
Um…do they make the meatheads all line up a day before the competition? Why would him lifting on Saturday have anything to do with him taking Aubree on Friday?
Even Aubree thinks Adam's answer is lame. She tells him that all her friends had dads who actually showed up for them, and Adam promises that he'll come eat with her at her school soon. She basically gives him a dirty look, probably knowing that if Adam ever were to show up, he'd start powerlifting teachers on the playground in an effort to show off his muscles.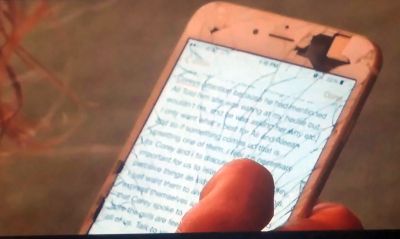 In West Virginia, Leah is still trying to figure out what to say to that dern Miranda. It's taken her a day to respond (most likely because she couldn't see what she was writing due to the ding-dang glass on her phone's screen being so splintered.)
After reading the text aloud, Leah sends it off to Miranda, letting her know that if her youngins tell her something, you better bet your britches she's gonna listen to them. Leah actually handles the situation fairly well. (She doesn't run over to Corey's house and start throwing backpacks full of Sour Patch Kids at Miranda, so there's that…)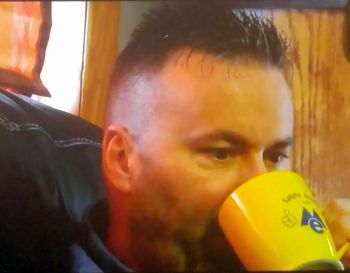 Corey, meanwhile, is chatting with his dad about his ex-wife's latest complaint. Corey says he has no clue what the hell Leah was even mad at. All he knows is that it had something to do with a backpack and a video, and that luckily, he didn't have to set up his deer cam to make sure Leah and her kinfolk weren't creepin' over to their house late at night to attack Miranda or anything.
Corey seems surprised that Leah and Miranda were able to communicate like adults.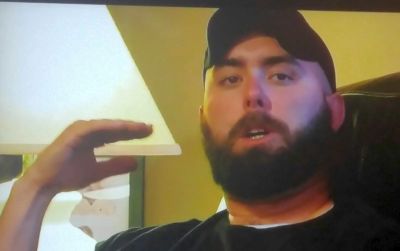 Corey states that he and Miranda want to eventually go to co-parenting counseling with Leah in hopes that it will help them communicate even better.
Meanwhile, Jenelle is continuing her quest for benzos, despite the fact that she is on death's door. She and Lurch have collected Kaiser from whatever highchair he was stuck in while they were in NYC, and are heading to yet another emergency room.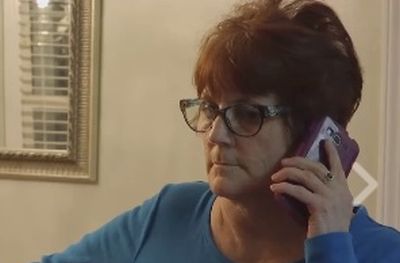 Barbara hasn't heard from her corpse of a daughta in a while, so she calls up Jenelle to see if she's still alive. Jenelle tells her mom that she's still in the hospital, but that she's been having night terrors and bad dreams where Lurch dies. She also talks about a dream that she had in which Kaiser had to have brain surgery. (Maybe it was that 'dye in the baby's head' procedure Leah was talking about a few seasons ago?)
Barb suggests that the bad dreams may not be caused by Jenelle's assorted deadly illnesses. Instead, she thinks that Jenelle may just be watching too much "of that Walkin' Dead movie!"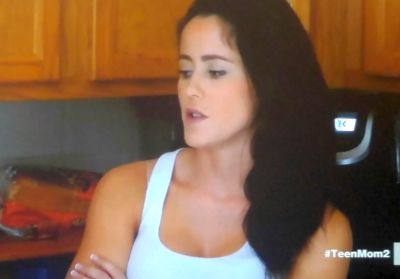 Jenelle says that she did manage to get her claws on some anxiety meds, so Barb is now free to bring Jace over to her Castle Chaos whenever she wants.
"I thought ya were real sick?" Barb asks.
Jenelle confirms that she is, indeed, dying but she still wants to see Jace.
Once she's home, Lurch leaps at the chance to go pick up Jenelle's bounty of pills. Jenelle, meanwhile, reads online that the anxiety meds may cause addiction. She is worried because she was once addicted to the "purest form" of pain pills, heroin. Lurch doesn't like to hear that his soulmate was once addicted to heroin.
"I'd rather you be a crackhead," he tells her.
It's nice to have goals….
Well, maybe if Lurch waits a season or two, he'll get his wish?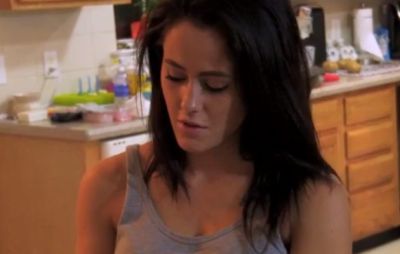 In a slightly horrifying clip shown during the commercial break, Lurch explains to Jenelle what kegel exercises are. In case you are wondering what those are, they are things you can do to "strengthen your gooch," according to Lurch.
The thought of Jenelle squeezing her um, 'gooch' is now permanently burned into my brain forever. Thanks, Lurch.
"That's where you flex your cooter or your penis to stop your pee," Lurch advises a confused Jenelle.
After Lurch finishes giving his hillbilly hard-on tips, it's time to once again check in with Leah who, undoubtedly, knows all about flexing her cooter and whatnot.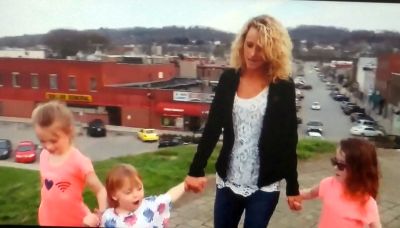 She has her entire litter with her, but soon it's time to drop the twins off with Corey. They talk about the stupid video again, and Corey states that he doesn't see what the big deal is about the whole thing. He does, however, say that Leah is now in a better place than she was the previous season, when she was doozing off on baby's heads and stuff.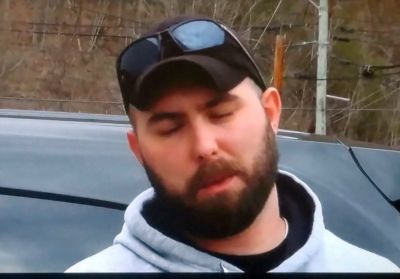 Corey says that he filed the new court paperwork because he disagrees with the wording used in the order, not with Leah getting more time with the girls. They both agree to look into co-parenting counseling.
In Delaware, Kail is bringing Isaac to Jo's house. They talk about how they can get along better. Jo says that he and Kail have managed not to fight for the time that Javi has been gone, and he's hoping that once Javi reappears, things don't go back to them screaming at each other like they're in an episode of "Jerry Springer."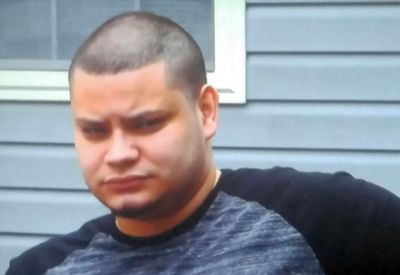 Kail admits that she and Javi aren't doing all that great in their marriage, so she doesn't know how he'll react to finding out that Kail is getting along with Jo and Vee. She vows to get her relationship with Vee and Jo squared away, and then "deal with the rest" when Javi comes home.
You guys see where this is going now…right?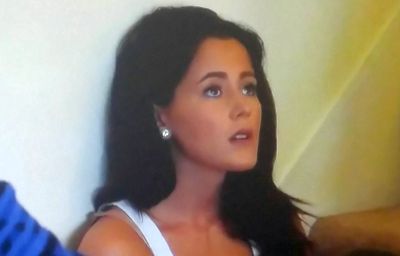 In North Carolina, Barb is dropping Jace off at Jenelle's. As soon as Babs walks in, we can see that Jenelle is just waiting to start screaming at her. Barb compliments Kaiser's new haircut (which is creepily cut in the exact same style as Lurch's moptop.)
Barb tells Jenelle that she'll need to pull it together and act like a mom for one day to cover for Babs while she goes to see Jenelle's sister in New Jersey. Jace will be participating in a soapbox derby on March 5, and Jenelle will need to take him.
But…wouldn't you know it!? That's the day of Jenelle's Spring Break trip! How can Barb expect Jenelle to go slum it at a Boy Scouts event when she could be funning and sunning with Lurch for Spring Break!? COME ON!
Jenelle screams at her mom to stop talking. (Anyone else agree that if we'd talk to our moms like that we'd have a backpack full of Sour Punch Kids hit us in the face? Just me? OK.)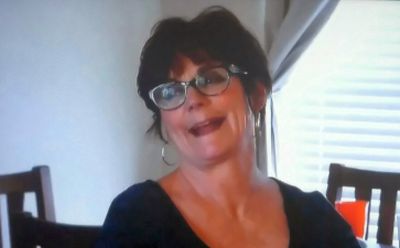 Barb just laughs at her bitch of a daughta, knowing that it's probably better that Jenelle doesn't go to the Boy Scouts event because she'd just bring Lurch and he'd creep everyone there out.
Jenelle is angry that Barb is daring to go to New Jersey to help her sister. She claims that Barb is never there for her (except, you know, to raise her son and whatnot). Barb hasn't even made a fuss about all of Jenelle's medical issues! How dare her not take Jenelle's sweaty limbs seriously!
Barb has seen her daughter jet-setting around the country over the past few months, with her ailments magically disappearing at the sign of a good vacation.
"Every day you're at a hospital!" Barb finally screams. "You're takin' a plane heeeah or theeeeah!"
Barb reminds Jenelle that when she needed to go to the hospital, Jenelle (that "little bitch") wouldn't even take her.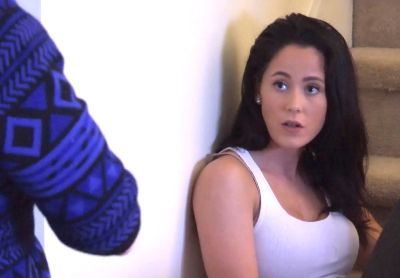 Jenelle then busts out the big words she must have recently learned via her "Word of the Day" app on her phone. She yells that Barb wasn't there to "nourish" her and give her love.
Oh, Jenelle…you were so, so close. I think the word we're looking for her is "nurture." Nurture. It was a nice attempt though.
With that, Babs can't help but crack the hell up. Who can blame her? Jenelle is truly the gift that keeps on giving.
"You're laughing? You're sick, dude!" Jenelle screams.
Barb insists that she's not sick. Well, that makes two of you then.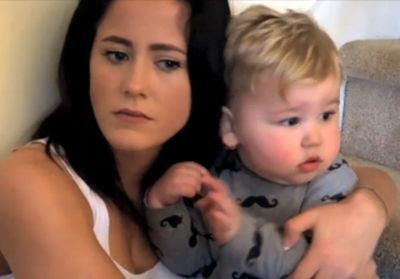 Jenelle then starts singing her classic hit, "When I Get Jace Back," stating that she's taking her mom to court to fight for Jace and this time– she's not on heroin or benzos or anything!
Ha! Take that, Babs!
The episode ends with Jenelle scream-crying and Lurch giving off that creepy, dead-behind-the-eyes stare that we've come to expect from him. Babs drives home like a freaking boss.
Next week, Chelsea and Cole get their wedding rings, and Leah gets her first glimpse of Jeremy's new boo, Brooke.
To read The Ashley's recap of the previous episode of 'Teen Mom 2,' click here!
(Photos: MTV)