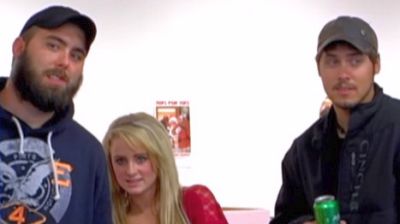 Last weekend, The Ashley posted about the devastating flooding that has ravaged parts of West Virginia, particularly the parts of the state that several Teen Mom 2 stars reside in. Elkview (hometown of Leah Messer), as well as Clendenin (where Corey and Miranda Simms live, and Leah just bought a home) were among the worst areas hit by the flooding. Jeremy Calvert's family was personally affected when his grandparents lost nearly everything they owned in the floods.
Elizabeth Walters, wife of West Virginia Senator Chris Walters, exclusively tells The Ashley that Leah, Corey, Jeremy and members of their families have all pitched in to help people in their hometowns.
Senator Walters organized a supply distribution center in Clendenin for those affected, and Elizabeth says that Leah has been helping there nearly every day since the flood.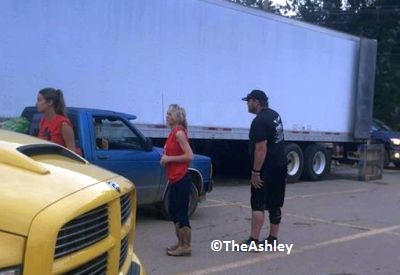 "She has helped run items to cars in the car line, organize items, and she went to a house with a crew of people and cleaned," Elizabeth said. "She has received addresses of those in need and helped us send people their way, and Leah rode with my husband and I to deliver goods in Clay County. She's donated several loads of items as well."
Elizabeth reports that Leah's pregnant sister Victoria and brother-in-law Brian Jones have also been pitching in, as has Leah's mother, Dawn Spears.
"Victoria and her husband Brian worked tirelessly in the heat on Sunday to help unload items and organize," she said. "I had to yell at Victoria to make sure she wasn't doing too much so her baby would stay safe inside. Even Dawn has delivered a ton of stuff to distribution areas."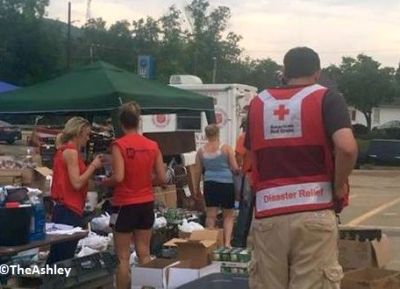 Leah, who just bought a home in Clendenin, reportedly saw no damage to her home, due to it being up on a hill, a source tells The Ashley.
"[They] have been incredible during this recent tragedy," Elizabeth told The Ashley of Leah, her family, and Leah's exes Corey and Jeremy.
"Corey has been working tirelessly to repair the water lines so that people can have water. He and Miranda have offered their home and pool for people to cool off and take a break. They are incredibly lovely."
Elizabeth reports that Corey recently helped out with a WV American Water donation drop-off at Elkview Middle School.
Jeremy, who had been in South Dakota on business when the flooding occurred, flew back home last week to assist his grandparents, but has also been helping other residents, Elizabeth reported.
"Jeremy showed up to the distribution site that my husband, Senator Chris Walters, set up and immediately asked how he could help," she said, adding that one of Jeremy's friends also helped. "He loaded up his Jeep and drove to communities within the area that were hit the hardest and not easily accessible to get to in order to deliver supplies and food. He is also working on fundraising efforts."
Elizabeth, who says she is a fan of 'Teen Mom 2,' stated that the cast members have been working for no other reason but to help. They have not been trying to get publicity or anything for their efforts. (For the record, The Ashley is not writing this for any other reason except to get more help for the flood victims.)
"I just felt compelled to let everyone know how awesome these guys have been," she told The Ashley. "No one is perfect, but sometimes, even the good things need to be reported. Clendenin and Elkview were both significantly damaged. It looks like the end of the world. That's the only way to describe it."
Here's how you can help:
The people in the flooded areas are struggling, as many were already living below the poverty line before this disaster. It's being estimated that  1,500 homes and 125 businesses have been destroyed in the area so far due to the floods.
This GoFundMe page was set up by West Virginia native and country singer Brad Paisley to help the victims of the flood, so if you'd like to donate, this is a legit fund to donate to.
If you'd like to help out Jeremy's grandparents, you can do so by clicking here! (The Ashley has verified that this GoFundMe page is legit, by the way.)
If you'd like to purchase supplies to be donated to the flood victims, you can do so on Amazon by clicking here!
(Top photo: MTV, Bottom photos: Courtesy of Elizabeth Walters)