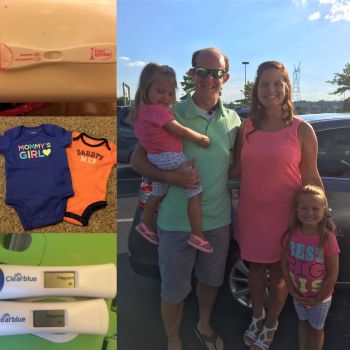 Sarah Roberts will soon join the small group of 16 and Pregnant girls to have a third child. The 22-year-old mom-of-two announced yesterday that she is pregnant with Baby  #3!
"Well, unexpected, but welcome! We are growing our family. Can't wait to see what our future holds," Sarah tweeted, along with several photos of positive pregnancy tests and a family photo.
Sarah, who is the mother of five-year-old Tinleigh and two-year-old Tessly, is currently engaged to Justin Fine. Sarah and Justin (who is the father of the new baby as well as Tessly) are planning to get married in September.
Sarah's oldest daughter's father is Blake Thomas, who was featured on her '16 and Pregnant' episode. Last month, she tweeted about Blake's disregard of his daughter.
"Am I wrong that even after 5 years it still hurts that Blake acts like Tinleigh never existed? #HonestQuestion," she tweeted in June.
Sarah announced this pregnancy, unlike her second pregnancy, in which she kept hidden until after Tessly was born. She even purposely kept the pregnancy a secret from '16 and Pregnant' producers, who filmed a "Where Are They Now?" special with Sarah when she was about six months pregnant.
Sarah told a fan that Tinleigh and Tessly are both "so excited" about their new baby brother or sister.
"Tess will be a bit of an adjustment because she's glued to me!" she told a fan.
Once the new baby is born, Sarah will become one of nine girls from '16 and Pregnant' who have gone on to have at least two more children. Currently, the girls from the show who have three children include Season 1's Ebony Jackson and Maci Bookout; Season 2's Lori Wickelhaus and Leah Messer (who had twins) and Jenelle Evans (who's pregnant with Baby #3); Season 3's Jennifer Del Rio (who had twins); Season 4's Mackenzie Douthit (who's pregnant with Baby #3) and Kristina Head.
(Photo: Instagram)