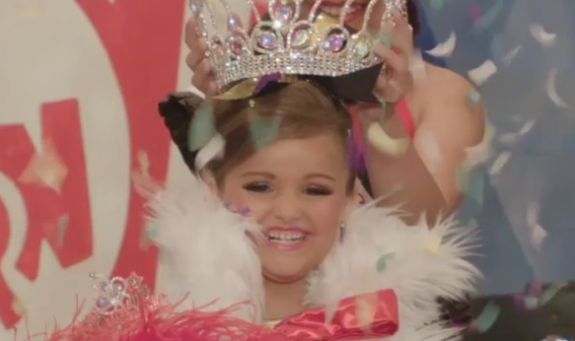 It's been three years since we've watched little girls parade around wearing glittery costumes and a boatload of makeup on Toddlers & Tiaras, but TLC has just announced that it is resurrecting the reality show for a new season!
This season, there's a whole new group of spray-tanned tots and the competition is apparently fiercer than ever!
"How pageants used to be with the fake tans and the hair and the teeth, that's just baseline now. You have to be talented and you have to have a good body even when you are five years old," Pageant Coach Cambrie Littlefield says in the just-released trailer.
We'll give you a second to vomit, if you feel the need to after hearing that last quote…
The trailer shows us exactly what they mean by 'fierce.' We see one glammed-up preschooler getting crowned with a crown bigger than the one presented to Miss America, while the mother of one of the losers breaks down in sobs. (Get a grip, lady!)
We learn that singing "Twinkle Twinkle Little Star" and wearing a JC Penny dress no longer cuts it in the new world of beauty pageants. These new girls are being trained with acting lessons, gymnastics classes, music instructions and more, all in the name of becoming "Little Miss…Something-or-Other."
From the trailer, we also learn that the way to keep your preschooler youthful is through collagen sprays and hypnosis. No…seriously.
"Some people think that collagen spray is crazy, but I wish when I was three years old someone had given me collagen spray so I wouldn't have to worry about wrinkles from happy eyes all day," Pageant Coach Cambrie says.
Gone are the days of driving over to a pageant held in a local community center in your mom's minivan. These girls take private jets!
The trailer is full of other somewhat disturbing scenes: from one mom breaking down in tears when her daughter accidentally messes up her routine, to moms literally trying to physically fight each other after one mom accuses another mom of cheating.
'Toddlers and Tiaras' returns August 24 at 9 p.m. on TLC. Watch the full trailer below: