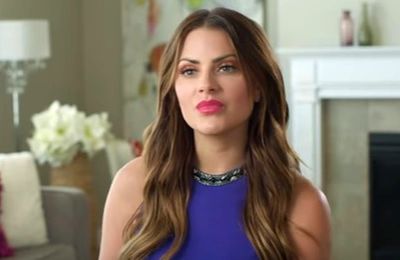 In the years before MTV's 16 and Pregnant made it more socially acceptable to be a pregnant teenager, many teen girls surrendered their children for adoption to escape the social stigma of being an unwed mother, and never discussed the experience of giving birth to their child. Reality TV star Michelle Money is coming forward as one of these women. In a new interview, Michelle, who has starred on The Bachelor, Bachelor in Paradise and Marriage Boot Camp, reveals for the first time that she gave birth to a child at the age of 15.
In a promotional video for the skincare tool PMD, Michelle recounts her experience of being a teen in the mid-1990s who placed her baby for adoption. It is the first time she's spoken publicly about the life-changing event.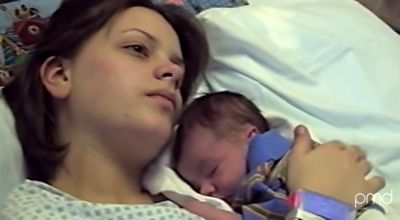 "I'm kind of known for being very real and upfront, but there's a big part of what makes me me that I've never shared before," Michelle, who's now 35, says in the clip.
Michelle says that when she was 15, she discovered she was pregnant and everything "was a whirlwind from there."
"You go through all the options in your head of how to deal with this," Michelle says. "The decision to place this baby for adoption was not an easy one, but it was the right one."
As video clips of her holding her newborn son play, Michelle explains that the baby's birth was "bittersweet."
"Feeling love that I had never felt before, that rocked me," Michelle says, adding that saying goodbye to her son was the hardest thing she's ever done. "Moving on with my life after the birth of my son was really hard. I was always trying to prove myself to everyone…really trying to overcompensate from this 'mistake' I made."
Michelle would go on to get married and have daughter Brielle, who's now 11. (She and Brielle's father eventually divorced.) For the last few years, she has been dating Cody Sattler, whom she met on 'Bachelor in Paradise' and went through 'Marriage Boot Camp' with.
Michelle says that she would love to reunite with her son eventually.
"I am very hopeful that one day I will get the chance to reconnect with my son," Michelle  told Us Weekly. "I know I will never take the place of his adoptive parents, but I would absolutely love to have some place in his life if he will have me!"
(Photos: PMD YouTube)