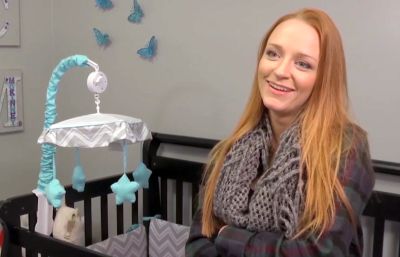 Maci Bookout welcomed her third child, son Maverick, nearly two months ago, but the Teen Mom OG star has yet to show off any photos of her new baby, except for one taken while Maci was holding him after his birth. Since his birth, Maci and her fiance, Taylor McKinney, have kept Maverick out of the public eye, but Maci's mom, Sharon Bookout, finally gave us a glimpse of the tot via her Instagram!
In a photo posted on Thursday, Sharon is seen holding Maverick, while Maci's father, Gene holds Maci and Taylor's one-year-old daughter, Jayde.
"Hands and hearts are full! #grandbabies," Sharon captioned the photo, which appears to have been taken at oldest grandson Bentley's baseball game.
There are several explanations for as to why Maci and Taylor have not shared any photos of their new baby boy. They may just want privacy, but it's most likely due to Maci's 'Teen Mom OG' contract. Many of the girls have been restricted by their contracts with MTV to post photos of major events in their lives, until it is done in conjunction with MTV. (This can come via an MTV-generated magazine spread, or an appearance on the actual show, etc.)
Several girls have gotten into trouble with the network for posting photos of an event in advance. (Back in 2011, Teen Mom 2 star Leah Messer had to frantically beg her family and fans to delete the photos she posted of her wedding to Corey Simms, as posting the photos was against her MTV contract.) A similar thing happened last year when Maci posted the first public photos of her daughter Jayde, but soon deleted them off of her social media pages.
There have been rumors floating around the 'Teen Mom' fan world that Maverick is suffering from medical issues, due to Maci drinking frequently while pregnant. However, there is absolutely no proof that these rumors are true, and The Ashley is certainly not confirming them.
The new season of 'Teen Mom OG' premieres August 22 (check out the trailer here!), so it's likely we'll get to see more of Maverick soon enough!
See Sharon Bookout's photo of Maverick and Jayde below:
(Photos: MTV.com, Instagram)