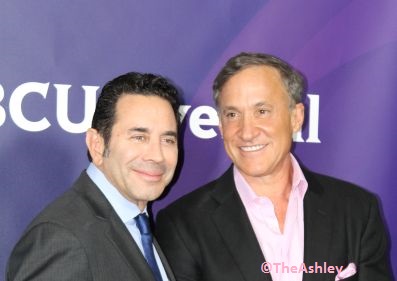 Botched doctors Terry Dubrow and Paul Nassif have seen their share of bad plastic surgery. The docs, who have made a career out of fixing other surgeons' mistakes, recently talked to The Ashley about the seriousness of plastic surgery, and stressed how important it is for anyone who is considering plastic surgery to ask the right questions before going under the knife.
"Plastic surgery is real surgery," Dr. Dubrow told The Ashley during an interview Wednesday on the red carpet of the 2016 TCA Press Tour. "It's like cardiac surgery, or brain surgery. Even if you do everything right, there are real risks involved."
Dr. Dubrow and Dr. Nassif offered up three questions anyone considering having plastic surgery should ask their doctor.
"First, ask the doctor this question: Are you allowed to do this procedure in a hospital?" Dr. Dubrow said. "Ask them if they have hospital privileges for the specific procedure [you are going to have done]. The hospitals vet all doctors and don't allowed them to do things that they are not board certified to do."
Next, Dr. Nassif advised a potential patient to ask their doctor about his or her qualifications to do the specific procedure, not just cosmetic surgery in general.
"You should be asking [your doctor] 'Are you a specialist in this specific type of procedure? How many of these have you done?'" he said.
Finally, patients need to be realistic and upfront with the doctor about the risk of complications.
"Say to them, 'Tell me the truth, what can really go wrong with the procedure, and how often does it happen?" Dr. Dubrow advised. "If something happens, what's the worst case scenario and what [will the doctor] do, or where am I going to go?"
Of course, if a procedure goes horribly wrong (like this, for instance), all hope is not lost.
"There's a place where you can go now if it's really bad," Dr. Dubrow said. "and that's 'Botched!'"
The doctors' new spin-off show, Botched by Nature, is currently airing Wednesday nights on E!