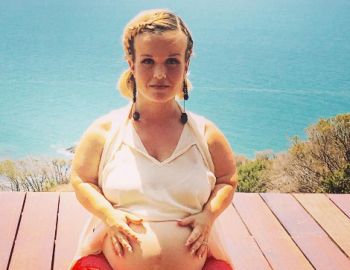 The Little Women: LA baby boom continues!
Terra Jole and her husband Joe Gnoffo welcomed a son on Monday in Los Angeles, making her the latest of the show's cast members to give birth. (Her castmate Elena Gant recently welcomed twin boys, and Renee Manson also became a mom again when she gave birth to a baby boy in June.)
Terra and Joe, who are also parents to daughter Penny, named their new son Grayson Vincent Gnoffo.
"Joe and I fell in love with the most perfect baby boy," Terra told People. "It's especially wonderful to have the first male child in the family that will carry on our last name."
Baby Grayson weighed in at 7 lbs., 10 oz., and measured 19¾ in. long.
"Grayson is the perfect addition to our little family, and I'm already excited about what the future holds!" Terra told Us Weekly, hinting that she's not done having children yet. "I now live for being a mom and can't wait to keep our family growing. Too soon? Lol."
Terra and Joe waited until Grayson's birth to find out his gender. She shared her thoughts on her pregnancy on Instagram just days before giving birth.
"There is no doubt that Penelope will have an instant best friend no matter baby sister or brother. Either boy or girl, this baby will grow up to be loved, with an awesome big sister and the best parents we know how to be," she wrote.
Terra shared a photo of her son on her Instagram on Thursday:
(Photos: Instagram)