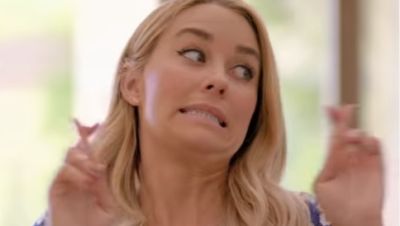 Last week, MTV celebrated the tenth anniversary of the premiere of The Hills with a special featuring show star Lauren Conrad. LC spilled behind-the-scenes secrets from the show's six seasons and talked with her parents, co-stars and former producers of the show. "The Hills: That Was Then, This Is Now" originally aired on August 2 but has been airing frequently since then on the network because…well…it's MTV, and that's what they do.
Anyway, we finally got a chance to watch the anniversary special. Although it wasn't as juicy as we had originally hoped, the special did reveal a few interesting tidbits.
Here are 11 things we learned from watching "The Hills: That Was Then, This Is Now"…
Lauren never liked being on camera. While Lauren threw shade and said that some people on the show "thrived on" being on camera (cough, Heidi and Spencer, cough), Lauren said didn't enjoy being filmed. Of course, she liked it enough to stay on reality television for six years…so…
Audrina Patridge was a hired friend. The producers met Audrina before Lauren did and hired her to be a friend to Lauren and Heidi. This fact was confirmed in a quote from the bio section of Audrina's official website: "Living a stone's throw away from the MTV production of 'The Hills,' Audrina was spotted sunbathing by the pool and asked by a producer if she would like to join the cast. She happily accepted her role as the dear friend of Lauren Conrad and Heidi Montag in what was sure to be the beginning of her enticing career."
A door lock caused the infamous Audrina/Lauren fued. Speaking of Audrina, we finally found out what started their short-lived feud: a door lock. Yeah, that's right. Lauren got angry when she found out that Audrina installed a lock on the door in the house they shared together.
Despite the rumors, Lauren did NOT make a sex tape.  Sure, Jan.
Lauren and Heidi don't hate each other anymore. While the former rivals are no longer feuding, they still "can't be in each other's lives."
Lauren got her Teen Vogue internship because of the show. The show's creator, Adam DiVello, tells Lauren's parents that Lauren had no clue that it had already been arranged that she would get the internship so that it could be filmed for the show. "It was so cute," he says. "She was so naive."
The producers tried to get the girls to brawl. "Confrontation was encouraged," Lauren said, adding that, although all of the arguments on the show were real, the producers put them in situations that would purposely bring out the drama.
The fights may have been real, but the relationships weren't. Lauren says the relationship between her and Brody Jenner was totally "made for TV." According to Lauren, she and Brody had "zero chemistry" and she only fake-dated him to get everyone off her case for not having a boyfriend.
Jason Wahler was wasted the whole time he filmed 'The Hills.' We saw a never-before-seen clip of Lauren confronting Jason about being "messed up on something." In the years after the show ended, Jason has opened up about his substance abuse issues, and has made amends with Lauren. During the anniversary special, Lauren said Jason's story had a happy ending because he is now happy, sober and married.
Lauren is now a do-gooder. After her stints on reality TV, Lauren became a fashion designer, running a very successful clothing line. On the special we learned that Lauren also  runs a company that gives women in third world countries the opportunity to sell their fabrics and goods. So humanitarian.
Lauren is still boring as hell. Well…someone had to say it!
Watch the first 15 minutes of "The Hills: That Was Then, This Is Now" below: