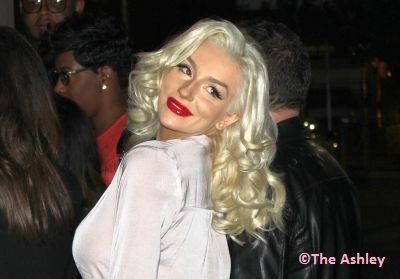 Courtney Stodden has buzzed of her beloved blond locks!
On her social media accounts, Courtney explained the reason she pulled a "Britney Spears 2007" move. The reality TV star has stated that it is the start of a "new chapter" for her.
As we've previously reported, the past few weeks have not been kind to Courtney. After joyously announcing their pregnancy to the media, Courtney and husband Doug Hutchison revealed that Courtney had suffered a miscarriage.
The 21-year-old has been vocal about her grief over the loss. On July 21 she posted, "Numbing myself of the deep loneliness I feel." And on July 27 she added, "My heart is broken but I love you angel."
On Sunday night, Courtney posted a video to Twitter in which she told her fans about her plans to shave her head.
"Hi everyone, she said, "As you all know, I recently suffered a miscarriage and it's had a huge impact on me emotionally. I've been thinking and I have decided that I want to give back to my angel with a symbolic gesture, and that to me is shaving my hair off. I want to step into this chapter in my life fresh and with a new….so I wanted to share it with you because you're a huge support system to me and I love all of you so much."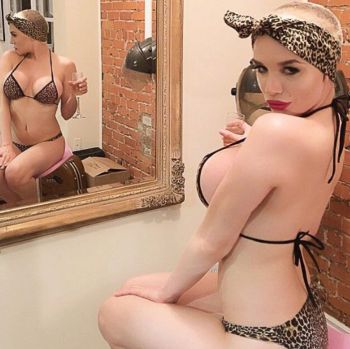 Later that night, Courtney posted photos of her new 'do. In the photos, she's clad only in a leopard print bikini and matching head scarf. All of her of her long blonde hair, which she had previously styled to resemble the hair of her idol Marilyn Monroe, is gone. She captioned the photo, "new chapter."
On Twitter, Courtney revealed her feelings about her new look.
"Yes my head is shaved and I feel free," she tweeted.
She did have some second thoughts, initially, though.
"I was absolutely resolute in my decision, but — once the clippers turned on — reality took hold and I was extremely terrified," she told TooFab, adding that her husband likes her new 'do. ""Doug completely supported me in this decision. He loves me and, after the haircut, he hugged me and told me that I'm beautiful."
While Courtney may have her husband's support, she is still at odds with her mother, Krista Keller, whom appeared alongside her on Lifetime's The Mother/Daughter Experiment recently.
(Bottom photo: Instagram)