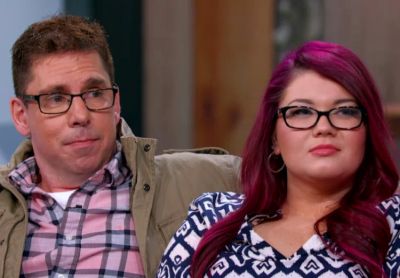 There will be one less Teen Mom franchise star walking down the aisle this October!
Teen Mom 2 star Chelsea Houska, as well as Teen OG stars Maci Bookout and Amber Portwood were all scheduled to say "I do" to their respective fiances this fall, but Amber Portwood has just confirmed that she is no longer planning to marry her fiance, Matt Baier… at least, not right now.
"Everything got thrown on the back burner when stuff happened," she told People magazine. "You'll see us working through certain things together and you'll see us talking about marriage and what we're going to do."
That "stuff" Amber is referring to is basically her finding out that her fiance has a cornucopia of illegitimate children, spread out all of the country. The Ashley was the first to tell you last year that at least a half a dozen women had filed child support cases against Matt. (Click here for more info on that.)
On the last season of 'Teen Mom OG,' Amber got very defensive when her ex, Gary Shirley, brought up the fact that Matt had way more children than he had originally disclosed to Amber.
"Honestly, I tried to stay neutral in the whole situation because I didn't know what was going on yet," she said. "I didn't know what the truth was. I didn't want to make a rash decision on something that everyone else was saying. You will see in this season me making my decision on what I was going to do with me and Matt."
Amber's reluctance to discuss her relationship with Matt may be due to the criticism she's gotten from fans for staying with him.
"There's been so much talk about me and Matt the last season that we kind of stay a little private, but it's hard to stay private when everything is out in the open," she told the magazine.
The new season of 'Teen Mom OG' premieres on August 22! Click here to watch the trailer!
UPDATE! Amber just clarified the status of her engagement to Matt, as well as a few other things. Click here to read the update!
(Photo: MTV)