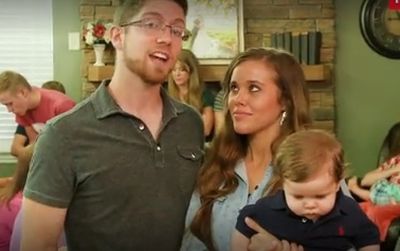 Surprise, surprise…. a Duggar girl is pregnant again!
We'll give you a moment to get over the shock….
Jessa Seewald, the third-oldest daughter of the ever-fertile Duggar clan has announced that she and her husband, Ben, are expecting their second child. The announcement comes just nine months after the birth of the couple's first child, the unfortunately named Sprugeon. 
"We are overjoyed to announce that Spurgeon has a new title in life as 'big brother!' " the couple said in an exclusive statement to People. "We are so thankful that God is adding to our family."
Jessa is due to give birth in February, making her about 3.5 months pregnant, currently.
Just as they did when Jessa was pregnant with Spurgeon, the couple is already hinting that they may be having twins.
"Having Sprugeon has been such a wonderful blessing and we cannot wait to see the face of this sweet new baby (or babies!)," the wrote on their family website.
In a video posted to their site, Jessa and Ben say that they think they're expecting another boy, but have not confirmed the baby's gender via an ultrasound yet. With Spurgeon, they did not tell anyone that they were having a boy until the baby was born.
"We haven't decided yet if we're going to share that news with everybody or keep it a secret again," Jessa said.
"We really have no idea for names at this point," Ben added. "I think we'll have to get some suggestions."
Here's one: Something better than Spurgeon!
Watch the couple's announcement video below: