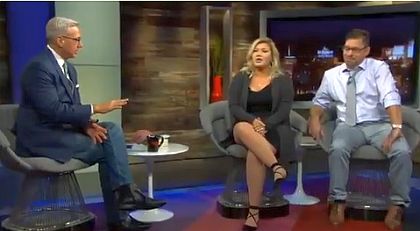 Teen Mom OG star Amber Portwood is sitting down with her old pal Dr. Drew Pinsky to address some of the nasty rumors circulating in the media about her. Amber will appear on Dr. Drew's HLN Show on tonight and, of course, she brought along her fiancé, Matt Baier, to discuss the "online bullying" the couples says they've been subjected to by 'Teen Mom' fans.
In a preview of tonight's episode, Amber and Matt say they felt compelled to come forward after certain Internet rumors "pushed them over the edge."
The vilest rumor, Matt said, was one that stated that Amber suffered a miscarriage due to drug use. Amber flatly denied this story.
"That's not true at all," Amber said, adding that she couldn't be popping the pills again because if she was good ol' Dr. Drew would be calling her out.
Earlier this month, Amber told various media outlets that she has been sober for about three years now.
It was the rumor that Amber had miscarried, however, that made the couple the most upset, according to Matt.
The Ashley has traced that rumor back to click bait site TeenMomDaily, which claimed in its article that an anonymous "Teen Mom lawyer" (whatever that is?) revealed that "a prescription drug addiction is the cause of the miscarriage" and that "Matt has been treating Amber horribly ever since it happened although he is the one who enables her problems." (Just for the record, The Ashley is not confirming any of this to be true.)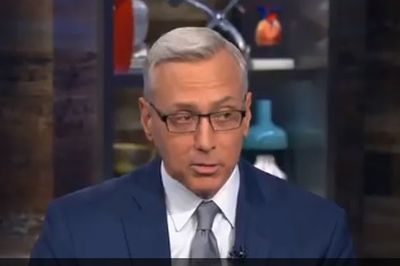 "Dr. Drew, that's actually the reason we wanted to come on," Matt said. "That was the article that kind of pushed us over the edge. Because when you start attacking the sobriety, and talk about the loss of a child, and say that a mystery 'Teen Mom' lawyer is the source, that's when we really decided to speak up about this stuff. We've been quiet about this for about a year, and it kind of pushed us over the edge."
(Apparently Matt forgot about all of the mean tweets he posted about Jenelle Evans' child and miscarriage a few years back. Remember when he tweeted, "In all fairness if I was Jenelle's fetus and had a choice between Jenelle or being aborted. Abort Me!" We do.)
Anyway, Dr. Drew's full interview with Matt and Amber airs tonight on HLN!
(Photos: HLN)