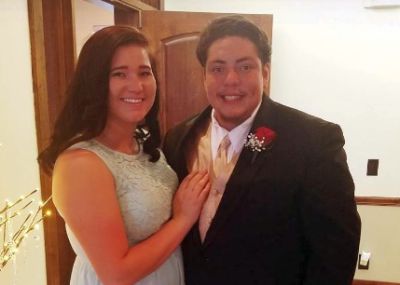 A few months ago, Sister Wives star Mykelti Brown announced that she was engaged to her boyfriend, Tony Padron, but since that announcement, we haven't heard much in terms of the upcoming 'Sister Wives' wedding. Luckily, The Ashley was able to uncover a few details of the impending nuptials.
Mykelti, who is the second-oldest daughter of Brown family patriarch Kody and his third wife, Christine, is still getting hitched, and according to The Ashley's sources, is just months away from saying "I do!"
From what The Ashley hears, Mykelti and Tony will be getting married in St. George, Utah, which is where they have been living. (That means the Brown family will have to load up into the RVs of Doom again and high-tail it up there for the festivities!)
Mykelti will be married by the end of the year, as she and Tony are scheduled to get hitched on December 17.
Although Mykelti and Tony are getting hitched just days before Christmas, they will not be doing a holiday-themed wedding.
"The theme is going to incorporate who each of us is and our family traditions," they told Us Weekly in June. "We are thinking something Mexican vintage because it represents both of us."
Although she hasn't confirmed it yet, it can be assumed that Mykelti's sisters will be part of her wedding. (Mykelti served as a bridesmaid when her sister Maddie got married earlier this year.) It's also rumored that Maddie's father, Kody, will be the officiant for Mykelti and Tony's wedding, just as he was at Maddie's.
The Ashley will update this when she has more details!
(Photo: Instagram)