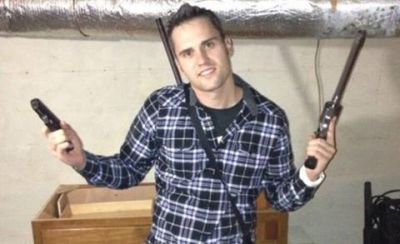 Teen Mom OG star Ryan Edwards may now be facing a felony charge of aggravated animal cruelty after (allegedly) going on a cat-killing spree at his home– and then bragging about it on social media!
Ryan, who lives at his parents' Red Bank, Tennessee, home, is being investigated by police and the Humane Educational Society in nearby Chattanooga, Tennessee, for animal cruelty. According to a statement released by the Humane Educational Society on Friday, there has been a "full scale investigation" launched against Ryan, who got into this mess by posting disturbing photos of dead cats on his Instagram and bragging that he shot them.
Police and Animal Protection Officers executed a search warrant on Ryan's home and property on Thursday, and "gathered enough evidence to continue their investigation," according to the statement.
Bob Citrullo, the director of the Humane Educational Society, told news channel WDEF that evidence photos were taken of things on the Edwards' property.
"Other things that we have found on the property definitely lead me to believe that this was done with intent…at this point it's safe to say that he was luring the animals onto his property to kill them," he said of Ryan.
According to the news station, the Human Educational Society is "now working with the District Attorney's office to gain a broader search warrant."
The Humane Educational Society is not playing around.
"The organization does not take Edwards' claims lightly and has every intention of seeing the former reality star prosecuted to the full extent of the law if his horrific statements are found to be true," it stated on its Facebook page.
Officers told WDEF that if Ryan is arrested, he will be charged with aggravated animal cruelty, which is a felony in Tennessee, the state in which Ryan lives. If convicted of the charge, Ryan will be placed on Tennessee's animal abuse registry.
Ryan, who appears to currently be in Florida, has deleted all the incriminating photos and text from his social media accounts.
(Photo: Instagram)