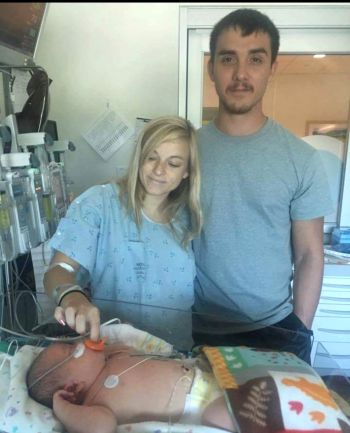 Teen Mom 3 star Mackenzie McKee welcomed her third child earlier this week and, even though Baby Broncs was born at a healthy weight– a whopping 10 pounds, 1 ounce, to be exact!–he is still in the NICU for a variety of problems including a hole in his heart, crowded lungs and a blood infection. Mackenzie's mother, Angie Douthit, has been using Facebook to update fans on the baby boy's condition.
Yesterday, she told fans that they have been told by doctors that Broncs is "a very sick baby."
"The neonatal doctor came in this morning to explain Broncs' condition with a nurse practitioner and a RN," Angie wrote on Wednesday. "[Broncs] has a small hole in his heart, a large heart, and crowded lungs. Now he has a blood infection and they wanted to do a spinal tap to rule out meningitis. They started him on antibiotics for the blood infection and he will have to be on it for 7-10 days in the hospital. We should have the results in a few days."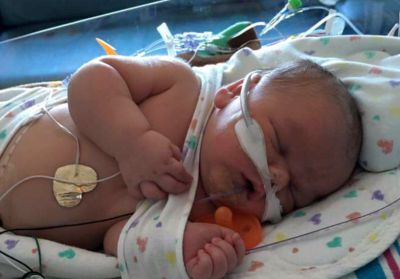 While the update is surely terrifying for Mackenzie and her husband, Josh McKee, Angie wrote that they did get a little good news, however slight.
"[Broncs] is not critical but they said he's a very sick baby," Angie told fans. "His blood sugars are stable. But he still can't be held or fed."
Mackenzie, who gave birth to Broncs via C-section, will be leaving the hospital soon. This is good news, as she has Type 1 diabetes and has struggled throughout all of her pregnancies. (She and Josh are also parents to daughter Jaxie and son Gannon.)
The 'Teen Mom 3' starlet has been understandably absent from her social media accounts in recent days, but she did use her Twitter account last night to update fans.
"Thank you all for you love and prayers," Mackenzie tweeted. "God has control. I have been resting and pretty drugged so keeping everyone updated is a challenge."
The Ashley will continue to provide updates on Baby Broncs as they come in.
(Photos: Facebook)