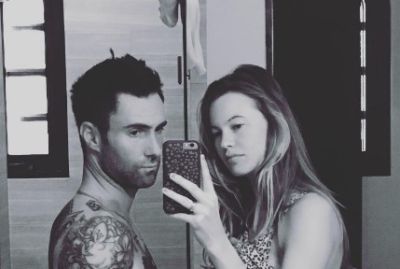 It's a girl for Adam Levine and his supermodel wife Behati Prinsloo!
The longtime coach of The Voice welcomed his first child on Wednesday in Los Angeles. The couple named the baby girl Dusty Rose.
Adam and his wife have not yet released any photos of the baby, but according to a source for Us Weekly, the baby's birth went smoothly.
"Everything went well and the baby is beautiful," a source told Us. "[Adam and Behati] are a very happy couple and excited to start their family. I can tell you they make very beautiful babies together."
A source for E! News provided more details.
"Adam was in the delivery room holding Behati's hands. They both cried when she was born. Both families are there now," the source stated. "She is beautiful. She looks like Behati…They are both speechless on how this moment feels as new parents. Dusty is healthy, sweet and happy baby!"
Adam's former co-star on 'The Voice,' Gwen Stefani, confirmed the baby's cuteness during an appearance on Ellen DeGeneres's talk show on Friday.
"Adam actually has been FaceTiming me all day because he just had his baby," Gwen said. "She's so cute!"
Gwen also stated that Adam has taken some time off from filming for 'The Voice' since his daughter's birth. The show's eleventh season just premiered on Monday (but the Blind Audition episodes were taped in the summer).
(Photo: Instagram)