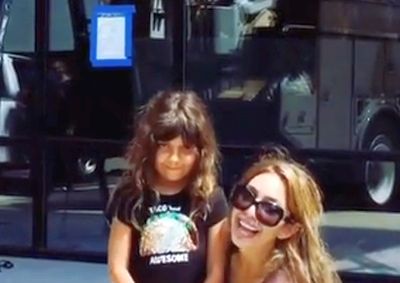 You can't even make this stuff up…
Farrah Abraham is quite the busy bee these days, managing multiple businesses (including her highly criticized yogurt shop). She's also raising her daughter Sophia, and, of course, yelling at people on-camera on Teen Mom OG. Farrah recently announced that she will soon be opening Sophia Laurent Children's Boutique, a children's store in Lakeway, Texas. However, it seems that Sophia will play a much bigger role with the store than just being its namesake– she will also be the boss!
No, seriously…
While employees at Farrah's yogurt shop are working for "one of the top celebrities in the nation" (according to Farrah), employees at the children's boutique will be working for a seven-year-old.
"[Sophia] will be in charge of hiring, firing, picking the best products and clothing to order for the store," Farrah told Radar Online. "Sophia said she may bring her dog Blue in with her while she works."
A few weeks ago, Farrah seemed to confirm on Instagram that Sophia will actually be in charge of the boutique.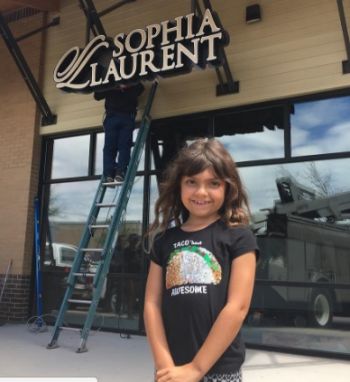 "Seven years old and a boss #BossBaby more exciting news to come," Farrah captioned a photo of Sophia standing in front of the boutique, which is currently under construction.
The boutique is set to open on November 11, but it already has a page on Yelp. It's obvious that the same "top celebrity" who wrote the text featured on the website of Farrah's yogurt shop also had a hand in writing the Yelp store description.
"Sophia Laurent was a born TV star now celebrity whom loves her community and saw a need to bring higher quality clothing lines, accessories and the most innovative new toys and educational games to the community," the description reads.
This will be the third business that Farrah has opened. In addition to her yogurt shop and Sophia's boutique, Farrah also runs a furniture store and service called Furnished by Farrah. On the side, she also hawks her romance novels and adult toy line. (If you are still in the market for a vibrating mold of Farrah's hind quarters, you're in luck because they're still for sale!)