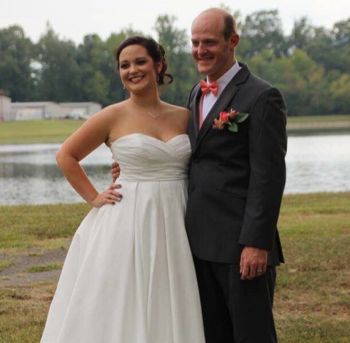 Wedding bells rang for 16 and Pregnant star Sarah Roberts last weekend!
Sarah, who starred on the fourth season of the MTV reality show, tied the knot with her longtime boyfriend, Justin Fine, on Saturday, in front of a small group of family and friends. The wedding took place at Belle Ambiance, an outdoor venue near Lookout Mountain in Georgia.
"Truly so blessed to spend my life with my very best friend," Sarah wrote in the caption of wedding photo she posted on Instagram on Thursday. "It has been a long three years and we have been through so much but I believe it all led us where we were meant to be- right here, together forever."
Sarah's five-year-old daughter Tinleigh (who was born during her '16 and Pregnant' episode) served as a flowergirl, as did Tessly, Sarah's two-year-old daughter with Justin. Sarah is currently pregnant with her third child, which is also a girl. Sarah tells The Ashley that he pregnancy did cause a slight hitch in her wedding plans.
"I had a different dress originally, but returned it when I found out I was pregnant," she said. "The dress I wore was actually my favorite from the beginning though."
Sarah tells The Ashley that she and Justin are currently honeymooning in North Carolina.
(Photo: Instagram)