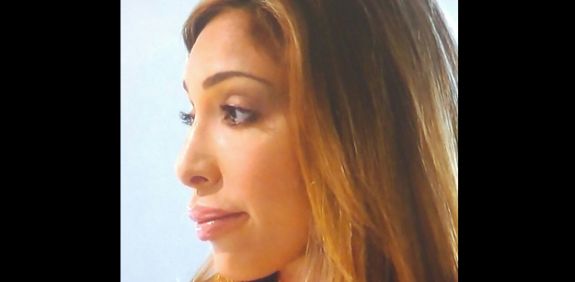 Welcome to The Twilight Zone, trash TV lovers! (Do you hear the creepy music!?) We must be in The Twilight Zone because The Ashley has actually managed to deliver a Teen Mom OG recap almost on time for once! What's next?! Will Taylor put down his beers and declare he's going sober (a la Amber?) Or will Farrah decide to remove the Porta-Pissers from her driveway so that crew members can take a dump inside her house, rather than sit out in the driveway like weird pooping lawn gnomes? Hey– anything can happen!
This episode of 'Teen Mom OG' kicks off in Los Angeles, where Farrah is really searching for story lines. On a "whim" (and by "whim" I mean totally plotted out and arranged via the Higher-Ups at MTV sister network VH1) she decides to drag Simon over to see her old therapist Dr. Jenn from Couples Therapy. (Won't Dr. Jenn be proud of Farrah! This time her fake boyfriend actually stuck around long enough to go on camera! She's making progress!)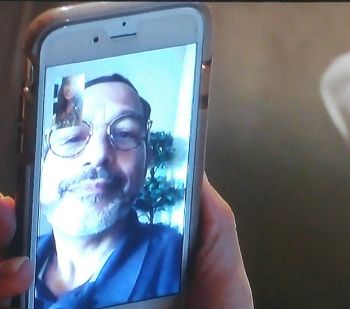 Before Farrah can get her "Farrahpy" (yes…that's unfortunately a thing), she turns to her dad, Michael for some advice. Michael admits that he hasn't given Farrah a stellar example of a healthy relationship to follow.
Wait…this really must be the Twilight Zone: Someone in the Abraham family is actually admitting they did something wrong! Here comes that creepy music again…
Farrah has chosen to wear a glitter bodysuit for her therapy session, as you do. (Why is she wearing this absurd outfit? Who cares! What The Ashley really wants to know is when she's going to break into "Bidi Bidi Bom Bom" and start "washing machining" around her hotel room, stomping a picture of Simon to the beat?!)
Viva Monterrey! (By the way, The Ashley loves Selena and is in no way comparing the greatness that is Selena to the armpit that is Farrah Abraham. Let's make that clear. They just have similar tastes in body suits.)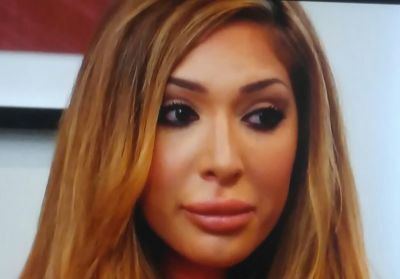 While we are discussing Farrah's, um, "look," we can't ignore those lips any longer. She legit looks like something found in one of those traveling exotic animal shows or something. What the hell does she have in there anyway? It's possible that the contents of Farrah's lips may include (but are not limited to): Simon's suitcase from last episode, the long lost hairbrush of Producer Heather and possibly two or three of Amber's dogs.)
Anyway, Farrah snaps viciously at her father when he tries to talk (except for when he tells her that she looks beautiful. She perks right up at the compliment, of course).
Farrah tells Producer Heather that she is hoping the fake therapy session will tell her if her fake relationship is worth pretending to save. Farrah isn't looking for some guy to just date. She is determined to put that fake engagement ring she bought to good use, and wants to know if Simon will be the sucker that she can strong-arm into marrying her. (Can you imagine being married to Farrah?! Not even the world's biggest masochist would take on that task!)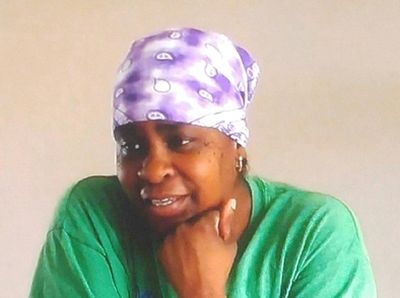 Meanwhile in Indiana, Amber and Matt are visiting with some random neighbors we've never seen before. The man and woman (who is wearing some sort of doo-rag-like-thing on her head while on camera, which I appreciate), are listening to Amber and Matt talk about how they are ready to blow this dump-of-a-neighborhood and move up to where the classy folk live. (You know– the people who don't have to frequently check the Indiana State Police website on the regular to make sure there aren't any warrants out for their arrest!)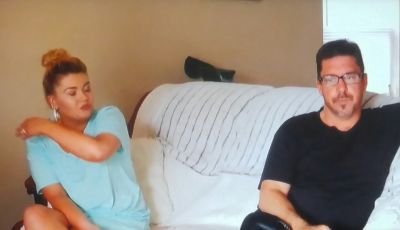 Matt says that they've found a house that they Amber is going to buy, and Amber is thrilled because Leah will be able to ride her bike without the fear of being initiated into any sort of child street thug gang. Matt, of course, is overjoyed to "move on up."
"My suitcase is packed!" he exclaims.
(Did anyone else picture Matt standing there with one of those stereotypical hobo bag-on-a-stick things? Just me? OK…)
Amber is scared, though. She is the first person in her family to get pregnant in high school, get an MTV show and make a grip of money for sitting on a couch. She's scared she's not going to fit in with the affluent people in her new neighborhood. After all, growing up, Amber probably considered anyone who had any jewelry other than a state-issued house arrest anklet to be "wealthy." Oh, how times have changed!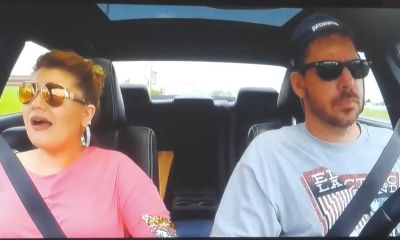 The next day, Ambie and Matt head over to their "house about seven or eight" (Kudos to anyone who caught the Fresh Prince of Bel-Air reference. If you didn't…you probably have a life and don't spend your nights watching Nick at Nite reruns. Good for you!)
Anyway, Amber is hoping that their her offer on the house will be accepted. She's worried that the Neighborhood Watch in the new 'hood won't be thrilled to see Amber, her MTV camera crew and the rest of her white trash crew "Beverly Hillbilly-ing" it into their wealthy area. As long as Cousin Krystal doesn't ride in on a rocking hair atop of the car, you should be OK, Amb. (I mean, save that for the holidays!)
In Tennessee, Maci is all settled in her new giant house, so her friend Keelie comes over to talk about the necessary topics– the "surprise" pregnancy, Maci's wedding and, of course, Ryan.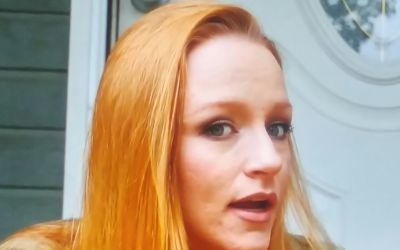 Maci tells Keelie that she wants to get married at the place in Florida, but is reluctant to spend $20,000 on the venue alone. She'd still have to pay for flowers, photos and a DJ. (Why not just have one of her hillbilly friends play 'Red Solo Cup' on repeat and save a bunch of cash? I mean…it's going to happen with or without a DJ, let's be honest.)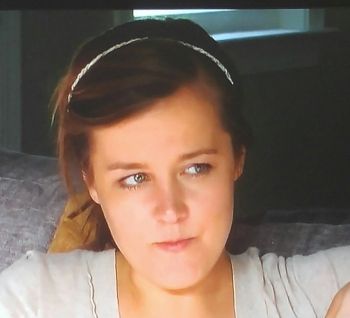 They also have to pay for food and alcohol, and we all know that the beer tab at Maci and Taylor's wedding could cost more than Farrah's first four faces put together!
Finally, we go to Michigan to see how Tyler is faring without Catelynn, who is in rehab. There's not a random friend who can have the necessary on-camera convo with Ty, so Producer Jessica steps in to ask questions. Apparently, Tyler and Nova will be visiting Cate in the 'hab this week.
Tyler can't be bothered to worry about that right now, though. He's stressed because he just bought a new house. Jesus God (Leah), did the MTV checks arrive this week or something? Why is everyone buying houses!? Oh, yes. They are teen parents, and that's what regular teen parents do. Of course.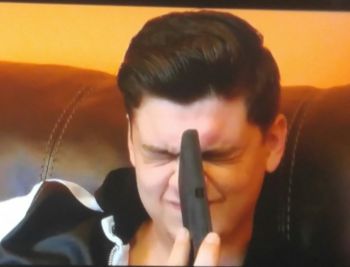 Tyler's been putting in new carpet or something in the new giant house, so he's "frazzled" and "over-worked." And, of course, he's doing it all while holding down a 9-to-5 job at the office.
Ha! Ha! Just kidding!
But at least he's going to school full-time, so his being frazzled is understandable.
Oh…wait….
Yup, this is legit the only thing this guy has to do, other than bring Nova over to April's Casa de Virginia Slims every morning.
Catelynn isn't allowed to leave the facility, but apparently she is allowed to do on-camera phone calls (Thank the Baby Jesus!) She calls up Ty to let him know that she still feels awful, despite having been at the rehab place for two weeks.
Next we check in with Gary, who has taken his wife Kristina and daughters down to Florida for some fun in the sun. He's gone out fishing with Kristina's brother, who is basically just one big ball of redness and bad line delivery.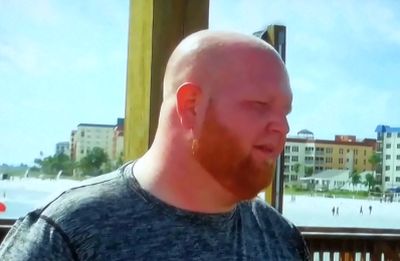 "Did….Amber 'n' Matt…did they get married?" he manages to spit out.
Gary (who has secured a sweat towel to wipe the perspiration from his brow) tells his brother-in-law that he doesn't really keep track of Amber's life anymore. Gary reveals that he's been planning a vow renewal for him and Kristina. Apparently they said "I do" in a quick courthouse ceremony, and they never got the wedding of their dreams– Kristina in a white dress and an affair catered by Cracker Barrel.
Gary is planning a big beach wedding affair. He's even secured a long sleeved button-up shirt to wear for the occasion! Tres chic!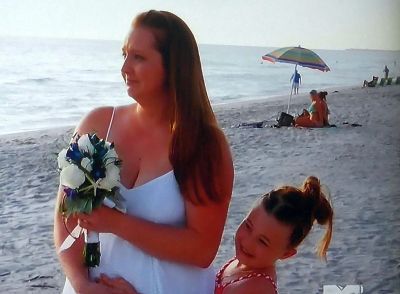 The next day, the whole gang is down on the beach, ready to surprise Kristina. She has "no idea" that she's about to get a vow renewal, but luckily she thought ahead and "just happened" to put on a white flowy dress! What luck!
Kristina sees Gary and their family standing on the beach and instantly breaks into tears. (Was the long sleeved shirt too much? Perhaps she didn't recognize Gary without his trusty T-shirt?)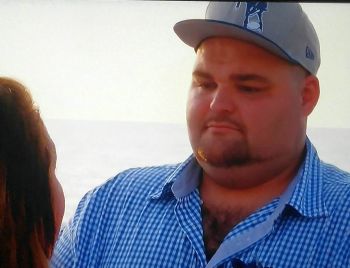 Gary tells her how much she means to her and says a bunch of nice stuff. (I have no idea what he said, though, because I couldn't stop staring at Gar's exposed chest hair.) Kristina delivers some beautiful vows, which is amazing considering she had to do it on the spot. It is a very cute and touching scene as Gary and his family walk off into the sunset together.
Meanwhile in Los Angeles, Farrah and Simon are meeting up for their fake therapy session. Simon sees Farrah in her glitter suit and just gets this look on his face. You can tell that he's just dying to comment on her ensemble but…the check cleared so he knows he has to stay quiet.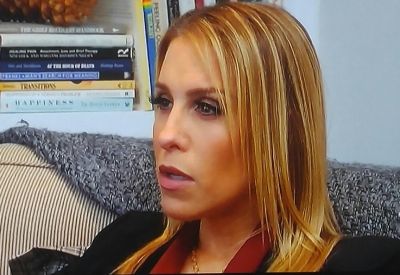 Dr. Jenn, too, ignores Farrah's outfit and tries to pretend that she's really digging deep into Farrah and Simon's "relationship." Simon says that a few months ago, he basically realized what a monster Farrah is. He says that Farrah is always upset, which Farrah of course denies. She struggles to push some hateful words out of her pillow lips. Dr. Jenn tries to tell Farrah that she comes across as a miserable biotch.
"The way that you talk to him, no man in his right mind would stick around for that," Dr. Jenn tells Farrah.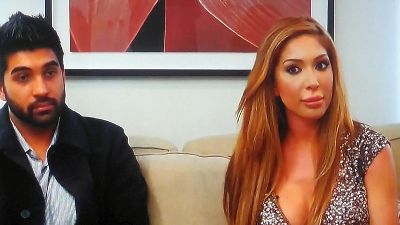 Farrah realizes that she's kind of being cornered into admitting that she is, indeed, a terrible person, so she quickly changes the subject. She brings up the "engagement" ring she bought for herself. Simon, meanwhile, looks like he wants to strangle himself with one of Farrah's horrific hair extensions.
Dr. Jenn (like the rest of us) thinks it's ridiculous that Farrah took it upon herself to design herself an engagement ring and then expect Simon to pay for it and propose. Farrah blames it on Simon, who says he never even had anything to do with the ring, which he says "financially made no sense." (I mean…he could be miserable with Farrah for free!)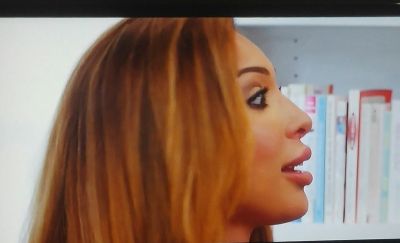 Since she knows that she's licked, Farrah has no other option but to launch into a Classic Ugly Cry. It's her last resort, and with her new giant lips, it's really a sight to see. She can't really move her lips or her cheeks anymore, so she just does that creepy whisper cry thing she's developed over the years. Meanwhile, Dr. Jenn is just staring at Farrah with a look that almost certainly says, "I got my PhD to deal with this crap?!"
Farrah then runs out to use the restroom. (Did she have that colonoscopy or something? Is her butt exploding just like Debra said!?)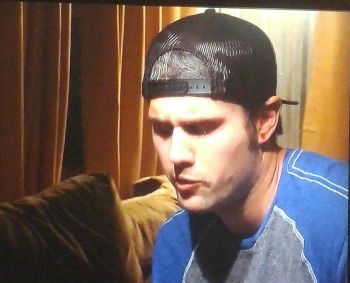 Meanwhile, in Tennessee, Ryan is wondering if he's going to get an invite to Maci's wedding. (Hey, everyone likes a good kegger, right?!) Ryan's mom hopes that her son will eventually get out of bed long enough to meet himself a good woman who he can knock up on the regular and provide them with some more grandkids.
Speaking of the wedding, Maci is mad that the wedding venue hasn't agreed to reduce their fee by half in order for "Maci from Teen Mom" to get hitched there. The nerve! She's so upset that she and Taylor are considering postponing their wedding. Maci says that $20,000 is just too much money for her to spend [at least until she gets assurance that they'll continue this crapfest for another season.]
Here's a question: Why not get married somewhere cheaper?! Maci lives in the Bible Belt for Pete's sake! Surely there is a white chapel by a lake somewhere in Tennessee that Maci and Taylor can have their wedding at! Hell, they can even tell their friends that they're in Florida– they'll probably all be so drunk no one will even know where they are!
In the end, the wedding venue buckles and gives Maci and Taylor their wedding venue for way less money. They celebrate, but soon realize that they just have too many friends and are already over capacity for the venue.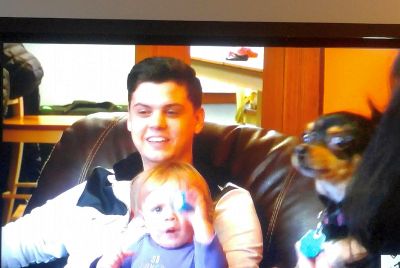 In Michigan, Tyler has called in his therapist, who, for some reason, is just despised by Nova. The baby gives the therapist the stink eye the whole time she's talking to Tyler. For some reason, this makes me kind of happy.
Tyler tells the therapist that Cate is still a big ball 'o' cry, which is hard for him.
The next day, he and Nova head to Arizona, where Cate is getting treatment. Shockingly, the treatment center actually put their foot down and refuses to allow MTV to come in with their cameras and film Cate's therapy. Thank goodness!
In Los Angeles, Farrah is sashaying back to the therapy session, and she's doing her best to work that glitter jumpsuit! She walks past the "peasants" who are filming the show and sits back down next to Simon. Unfortunately, her time in the bathroom didn't help much because the Ugly Cry returns almost as soon as her Backdoor hits the couch.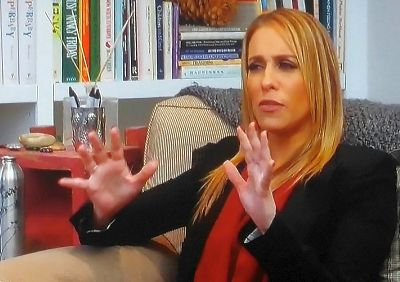 In the end, Dr. Jenn concludes that Farrah and Simon have a shot of making it, but says that they'll both have to make "massive changes" in order to get anyone to like them. She straight-out tells Farrah that she'll never find a man if she keeps being angry and aggressive and awful every time she talks.
After the session, Farrah Facetimes Deb to talk about what happened. Deb tries to switch the convo to something about her and Michael, which, of course, instantly angers Farrah.
"Shut the mouth and please let me f**king talk!" Farrah barks.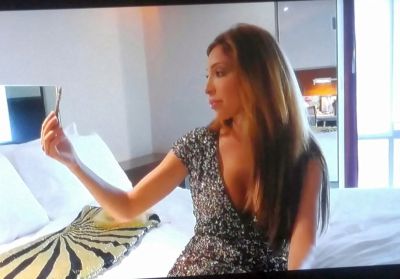 Oddly, Deb doesn't tell her daughter to zip her disgusting fish lips. Instead, she insults Simon's culture and background. As you do.
Somewhere in a ritzy neighborhood of Indiana, Amber and Matt are shoveling their dogs and crap into their new home. Their offer has been accepted, and they've enlisted their fellow poor folk from the old neighborhood to help move them into their new mansion.
Matt is busy moving garbage bag after garbage bag of stuff into the moving truck, while the litter of dogs runs amok through the streets.
"Hey, Wayne," Matt says. "You let the dogs out."
Well…it's nice to finally know who did it.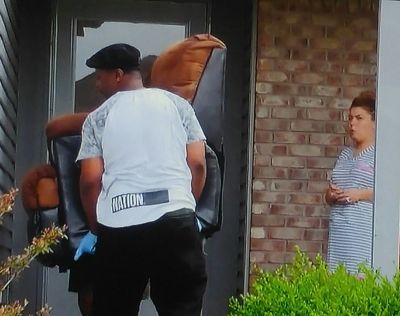 Amber is just standing there, watching everyone work. She does get a concerned look on her face when Matt and the neighbor move her couch. It's no surprise. After all, that couch is Amber's most prized possession.
Once they get to their new house, Amber shows the neighbor how nice her house is.
"This is different than sitting in a cell!" Amber exclaims. "If any of my friends back in there saw this, they wouldn't believe it."
It's amazing what getting knocked up at 16 can do for ya!
Amber, Matt and their neighbors stand around, reflecting on the poor decisions they've made in their lives. They start spouting AA quotes and it's a perfect party for Ambie's first night in a house that doesn't require bars on the windows!
Amber reveals that she's now living across the street from a prosecutor. (Oh, the irony!) Matt actually cracks a great joke, telling his fiance, "Well, we'll keep him in business!"
For that split second, I like Matt. But then…he has to go and ruin everything.
"We've earned this baby!" he tells Amber.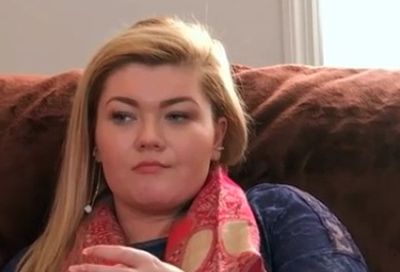 And with that, every record in town screeched to a halt.
I'm sorry now…we!? Matt, you had nothing to do with this. It wasn't your hoo-ha that was put on national TV seven years ago while giving birth. It wasn't you who beat the BeJesus out of Gary and landed in prison. It wasn't you who managed to turn these white trash tragedies into a lucrative career of being an MTV reality star.
COME ON!
Let's end it there before The Ashley punches a wall, Matt-style.
To read The Ashley's recap of the previous episode of 'Teen Mom OG,' click here!
(Photos: MTV)