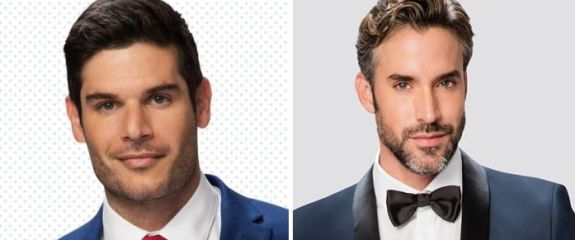 He may have starred on Logo's Finding Prince Charming, but apparently not all of Robert Sepulveda Jr.'s cast mates think he's fairy-tale-worthy!
Chad Aaron Spodick, one of the contestants who had been vying for Robert's heart while starring on the gay 'Bachelor'-esque dating show,  just posted a scathing Instagram rant that accuses Robert of everything from embezzlement to having a "science experiment" of a penis!
Chad (who left the show during the sixth week) also claims that Robert continued to pursue him and other contestants even after he selected Eric Leonardos as the winner.
On Friday, Chad posted a photo of himself with Robert to his Instagram account. In the photo's caption, Chad claimed that, although the word "authentic" was used many times during the show, the show's star was anything but.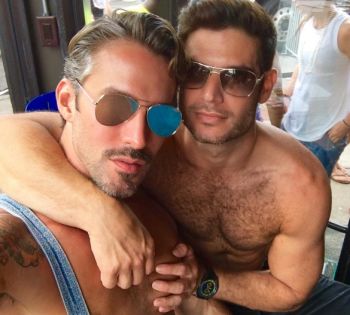 Right before the show premiered, it was exposed that Robert had once worked as an escort. Robert admitted this was true, and eventually spoke out about that time in his life. Logo claimed that it knew about this, although the contestants seemed to be unaware, judging by Chad's rant which is posted below. (The Ashley has broken the rant down into paragraphs to make it easier to read.)
"Reunion Recap.. I just have to get this off my chest. Since the word 'authentic' was used so many times on the show Finding Prince Charming by that fraud of a bachelor. I think it's time that someone takes heed to their own advice. How about being authentic that you're still hooking. It's been proven many times that you are.
Also branding yourself as an 'interior designer' when we all know that is a completely, and poorly, manufactured FAKE business, I mean, your portfolio speaks for itself. How about coming clean that you embezzled over $40K from the Atlanta rainbow crosswalks project. I just happen to be friends with some of the donors. They want their money back! Also, stealing Rolex's off the nightstand of your hookups.
How about being authentic about the fact that you have physically abused your partners in every relationship that you have had, including and not limited to launching blunt objects at their head, like a computer.
How about being authentic about the fact that you actively pursued me, Brandon, Eric and Paul right after the show wrapped. How about being authentic about seeing your Johns just before and AFTER the show finalized shooting.
Oh, and last but definitely not least, how about that time you pursued me a DAY after you were with Eric to try and hook up with me in Chicago during market days after saying you were not with anyone. Just to be very clear, none of us knew about Roberts past and consequently, his present about being a rent boy.
Here's a lovely pic of Robert and I at Market Days in Chicago. For the record, he tried to sleep with me. But even then, without knowing what I know now, I wouldn't go near that science experiment. And by science experiment I'm talking about his penis. I insisted that we should just cuddle. Stop LYING! Peace out you sociopathic ho! #realtalk #thetruth #exposed"
Ouch.
While it remains to be seen if there is any truth in any of the statements Chad made in his post, he may have a reason to be angry. In September, Chad tweeted that he had been fired from his job after it was revealed that Robert had been an escort. He claims that his boss let him go due to his being associated with Robert and the show.
Anyway, Robert has yet to speak out about Chad's claims. The Ashley has reached out to the network for comment and will update this story when more info is available.
(Photos: Logo, Instagram)