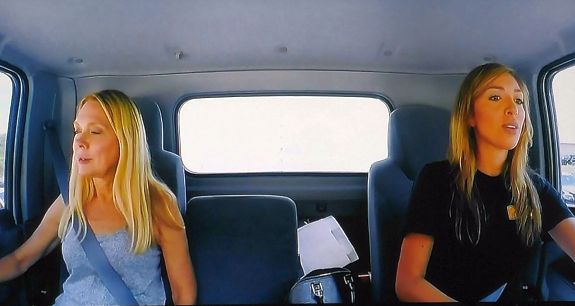 In these uncertain times, there are not too many things we can be sure of. However, MTV makes sure that each week (except last week, due to Halloween), we are given a little dose of familiarity with Teen Mom OG. We may not know what will happen next in our country but, there's one thing we can always count on: Farrah is always going to treat everyone like the stuff that's vacuumed out of the Port-a-Potty outside her house, Matt is always going to offer The Ashley plenty of things to poke fun at him for and Catelynn is always going to be sporting her trusty zebra hoodie. It's the little things, guys….
Let's begin before Farrah runs for President because…why the hell not?! (That's my only political joke, I promise. It's Election Week, and a reality TV star won the race; The Ashley is entitled to at least one political joke.)
Back to what's really important in this great nation of ours: 'Teen Mom!'
The episode kicks off in whatever state Farrah happens to be terrorizing at the moment. It turns out to be Missouri, which is the state that Derek Daddy Derek is buried in. Farrah and Sophia are there visiting Derek's father. (Wait. Didn't we already suffer through one "Daddy Derek"-themed episode this season? Must we really be subjected to yet another segment of Farrah attempting to squeeze plastic tears from her eyes and allowing Sophia to run amok in the cemetery, while MTV films?)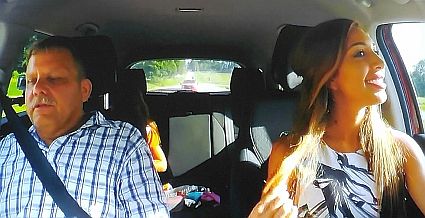 Farrah is driving Derek's dad (and also posing like she just won Miss America, for some reason) around town, and they stop to see the new highway sign that has been dedicated in Derek's memory. I mean, nothing quite says "In Loving Memory" like pledging to remove used condoms, plastic bags and vagrant hobos from a one-mile stretch of highway.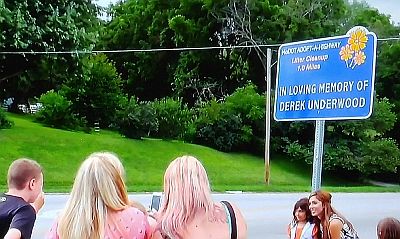 Naturally, this is quite the Kodak moment for Farrah. She poses with the sign in order to get enough pics to post on Instagram, Twitter, Snapchat and whatever other social media site Farrah is inflicting her mug on these days.
Sophia looks confused, but the adults are telling her to be happy, so she does her best to look happy. She seems to really just want to get away from these people with Kool-Aid dyed hair and exposed bra straps, though. (These are the kind of 'folk' that would normally have to use the Port-a-Potty outside her mommy's house, after all…)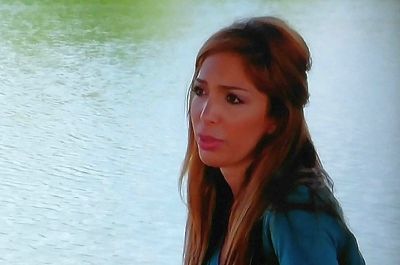 Later, Derek's family take Sophia and Farrah to the park so that Sophia can fish, and Farrah can discuss all things "Daddy Derek." It's kind of creepy, though, because Farrah is actually being mildly pleasant. (She is also speaking incredibly loud. She must think that these people can't afford hearing so she has to help them out.)
Farrah says she wants to make sure Derek's dad has a relationship with Sophia, and then makes sure to do a nice long plug for the furniture store and children's boutique she's about to open. (The editors must have forgotten to have the business' addresses running along the bottom of the screen during this scene. They will be properly lashed at a later date.)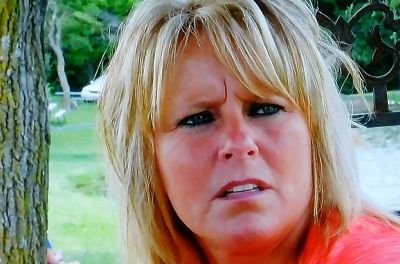 As Farrah's talking about her new furniture, one of Derek's female relatives looks confused. (She also looks like what I imagine Leah Messer to look like in 20…er…two years. You know you see the resemblance!)
Derek's family members tell Farrah how proud they are of her. She's come so far from when she was just Derek's knocked-up cheerleading side dish all those years ago… Ah, memories!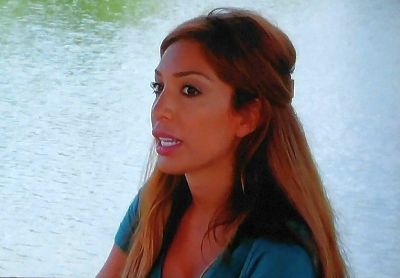 The family says they're scared that Sophia will forget about Derek whenever Farrah finally latches her Froco-covered claws into a man and gets married. Farrah assures them that there will be "Daddy Derek"-themed episodes of 'Teen Mom' for many years to come.
Meanwhile, in Tennessee, the catfight between Ryan and his father Larry still rages. (Too soon for a cat joke?)
Jen is struggling because her son and husband aren't getting along, so Producer Jaala makes sure to get right on in there to have her discuss it.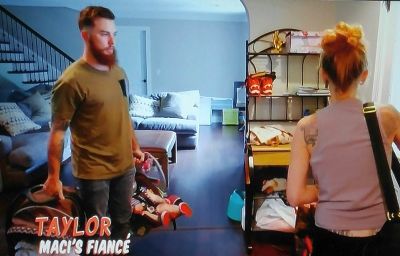 At Maci's, Taylor is double-fisting oopsie babies so that he and Maci can take them to lunch. Maci and Taylor are meeting up with Maci's grandfather to ask him if he'll marry them. (Is this the same set of grandparents that Maci was worried would think she was a great big ol' slut for shooting a bunch of kids out of her unmarried hoo-ha?)
While the gang is shoveling down some "country fried cooking," Maci asks GrandPaPa to serve as the pastor for her wedding. He jumps at the chance to marry his granddaughter and her baby daddy. Maci is relieved, and then they begin talking about the ceremony.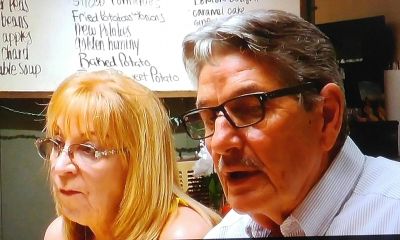 Maci insists that they don't include the part in which someone can "speak now or forever hold their peace" if they object to the wedding. The reason? Because Ryan will be attending the festivities and she doesn't want him to make a scene.
Seriously!? We all know that even if Ryan is there, he's going to be napping on one of the church pews. He won't even be awake until Jen throws water on him and tells him to get his bug-eyed self up to go get him some cocktail meatballs before they're gone. Duh.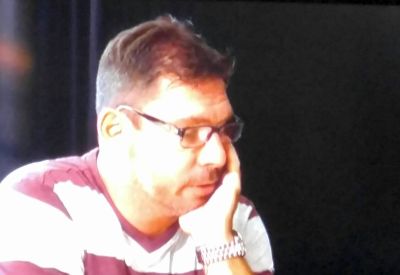 Meanwhile, Amber is still in Los Angeles, living the high life (figuratively only, of course) after filming a segment for Dr. Drew's show. Matt's long-lost addict son, Chris, is still lurking around, and Matt says he's eager to spend some time with the kid.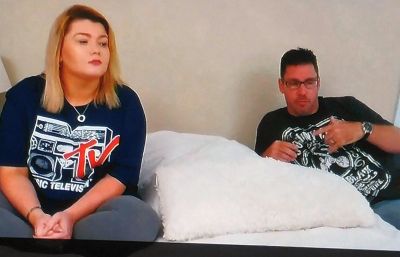 Matt says that he's worried about "Christopher." (Apparently Matt thinks it's more fatherly to call your kid by his full name? He must have seen that on an episode of Leave It To Beaver or something.)
He suggests that he and Amber open their home to Chris so that they can help him get a job.
Um…neither of you two people have jobs. Let's focus on that first, shall we!?
Amber agrees to allow Chris to move in, but insists that there must be boundaries set for the kid. They agree that Chris is not allowed to drink or do drugs, and that he must go to work. Maybe he can get a job at FroCo? I hear a job recently opened up there?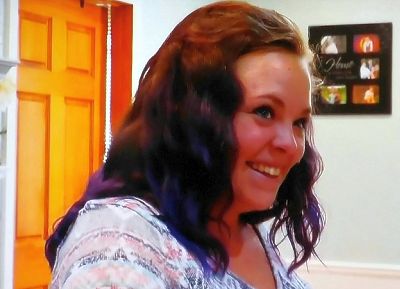 Finally we check in with Catelynn. She's off the couch, is dressed and has even let her hair down out of that sweaty ponytail that it's been in for the last eight months. It's nice to see Catelynn fixing herself up. She even mixed a little of April's Wet 'n' Wild "Passion Plum" eyeshadow into some hair dye and gave herself a new purple hair color!
Now, if Tyler can do something with that wiglet that's sitting on top of his damn head these days, we'd be solid!
We soon find out that Cate had a special reason for getting all dolled up: she and Tyler are celebrating their one-year wedding anniversary.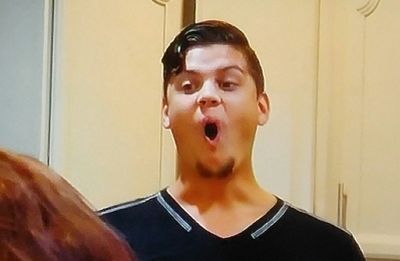 To celebrate, they take the top of their wedding cake out of the freezer and, despite how disgusting it looks, feed each other a piece. (Luckily Tyler refrained from making any more comments about Catelynn "indulging" during the feeding.)
Later, Tyler meets up with his mom, Kim, in a restaurant. That only means one thing, of course: it's time for Tyler to talk mad crap on Catelynn over a plate of something covered in cheese sauce!
Tyler tells his mother that his first year of marriage was no piece of [frostbitten] cake, what with Catelynn's panic attacks, rehab trip and general refusal to wash her hair.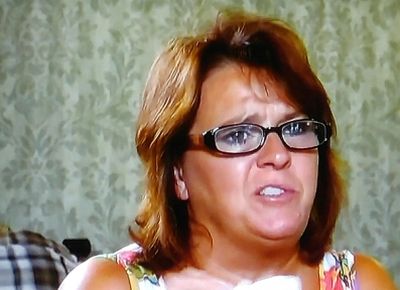 Since the producers seem to be sensing that we're all tiring of the "Catelynn on the Couch" story line, they have Kim randomly bring up Carly. Tyler admits that he and Catelynn have not seen Carly in a long time. Apparently ol' BrandonandTeresa are tired of the MTV game, and don't want their kid wrapped up in all that made-for-drama, even from a distance. Tyler is worried that he and Catelynn won't even get a visit with Carly at all this year.
Back in Tennessee, Ryan has turned his mother's spare house into a love den. Yes, that's right, kids, Ryan has a new girlfriend! Naturally, because this is 'Teen Mom,' the couple is already living together, even though they've only been seeing each other for a few weeks.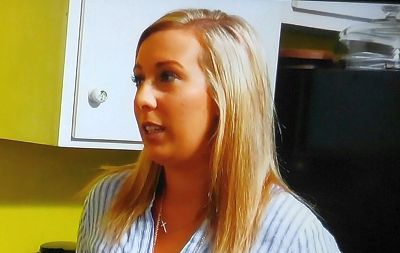 Oddly, Ryan's new galpal, Mackenzie, seems relatively normal. She has all her teeth,  has normal-sized pupils and doesn't even have exposed roots in her hair! What the hell? This is very disappointing for The Ashley…
Mackenzie seems to be a good influence on Ryan. She encourages him to make amends with his father, and Ryan agrees.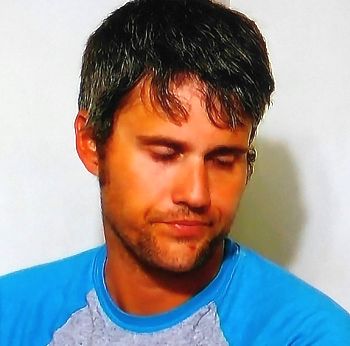 Later, Ryan rolls himself out of bed early to go talk to his dad. He tells his mom that he misses her and his dad, and wants to make up. Jen encourages Ryan to talk to Larry off-camera, and he agrees. Producer Jaala seems disappointed that she won't be able to capture the moment.
Back in Los Angeles, Amber and Matt are sitting Chris down to grill him about "the drugs." (Why didn't they call up Barbara Evans so that she could be in charge of this conversation? Not gonna lie…I wouldn't have minded watching Babs yell that someone was "HIGH! HIGH!" and asking about "da weeeeeed!")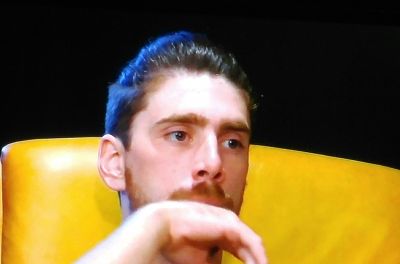 Chris tells his dad and Amber that he drinks but isn't "planning" on using drugs again, but you never know. (So basically, he's on the April  Sobriety plan?) Chris says that life in South Dakota isn't great. If only he had somewhere else to stay…hint hint…
Matt offers to take Chris in, provided that he doesn't get all sauced up on the regular. Chris accepts, of course, and Amber even offers to hang out with him until "3 or 4 in the morning" if he wants. Hmmmm…. Normally, I'd make a "Mrs. Robinson" joke here but…Chris is basically the same age as his future stepmom so it just doesn't work.
Matt starts to apologize to Chris for not being there for him for his whole life, but Amber interrupts.
"Oh, it doesn't matter now," she says. (Chris and Matt's other abandoned offspring may feel differently…)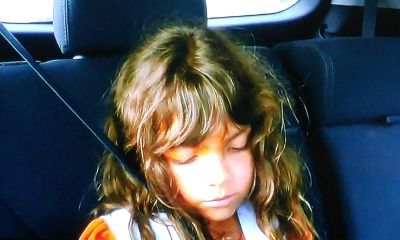 Meanwhile, Farrah is baby-talking Sophia to new levels of awful. Even Sophia appears to be over this crap. When Farrah tells Sophia that she wants to hug and squeeze her and love her, Sophia flat-out tells her mother to back the eff off.
"I don't!" she screams.
Sophia tells Farrah that she misses her Grandma Deb, and is sad that she didn't get to see her while they were in Missouri. Farrah, of course, rolls her eyes. To make Sophia better, though, Farrah Facetimes Debra so that she and Sophia can chat. (I assume they are going to discuss what Deb is allowed to borrow out of Sophia's closet and what she's not?)
Farrah must still be in "Missouri Mode" because she actually treats Deb like a human being during the phone call. She tells her mom all about the furniture store she's about to open.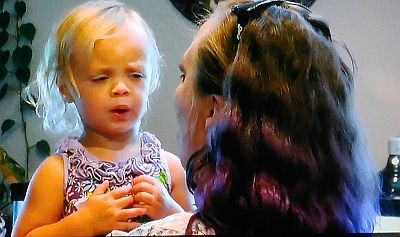 In Michigan, Nova is heading to April's ciggie-smoke-filled abode so that Cate and Ty can celebrate their anniversary. When Catelynn asks Nova to kiss her goodbye, Nova straight-out slaps her in the face. (Nova's probably mad that Cate didn't even bother to put a gas mask on her before bringing her into April's house.)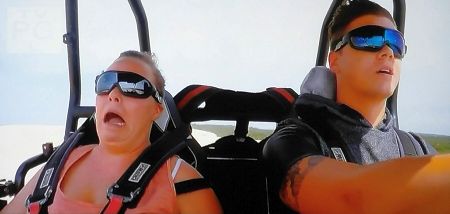 Tyler and Catelynn head out to the sand dunes to celebrate their anniversary. They drive around the dunes for awhile, and then have a romantic picnic on the beach. Things are going well until Catelynn blurts out that she hopes to be knocked up by the time their second anniversary rolls around.
Oh, yes, by all means, squat out more kids! Catelynn is having trouble getting off the couch, and is barely able to handle the baby they currently have! This may be the worst idea any 'Teen Mom' star has had since April decided to marry Butch!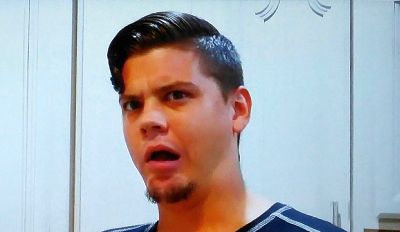 Tyler admits he wants "lots of kids" but Catelynn is worried that she'll get post-partum depression with every kid she shoots out.
They start taking about the Carly situation, and vow to talk to Adoption Counselor Dawn to try to convince BrandonandTeresa to let them see Carly.
They meet with Dawn, who brings a Folder 'O' Fun with her. Inside the folder, she shows Cate and Ty the forms that they signed back when Carly was adopted. She reminds them that they agreed to allow BrandonandTeresa to make the final decision about visits. Catelynn is upset that she signed away rights when she was only 16 years old, and is now regretting it.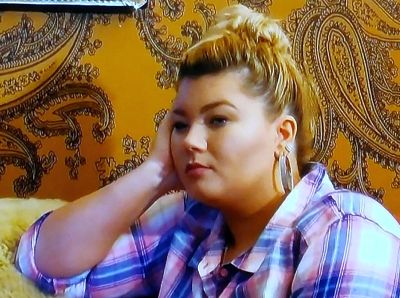 Meanwhile, Amber, Matt and their new houseguest Chris have touched down in Indiana. Chris is in awe of the size of Amber's house. It's probably the first time he's seen a house that big that didn't have a meth factory set up in the kitchen!
Matt reminds Chris that there are to be no drugs or drinking in the house because he and Amber can't be around that.
Wait. Hold up. Wasn't Matt literally drinking a beer in the last episode of this crapshow?! And making jokes about how he was sober despite the fact that he was guzzling beer faster than Maci on a Saturday night?!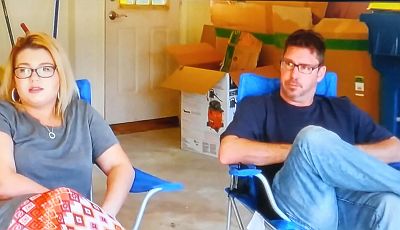 Amber (wearing an MTV T-shirt, natch) tells Chris that this will be no vacation. He will have to get a job, despite the fact that not all local businesses tend to be keen on hiring people who know their way around the prison yard.
Amber tells Chris that she knows a guy who hires assorted felons and degenerates to do manual labor. She vows to try to get Chris a job with him.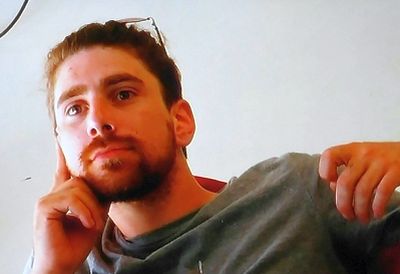 Later, Chris comes home from his first day of work. He tells Amber and Matt, who are maxin' and relaxin' in some folding chairs, all about his fun-filled day of pulling weeds instead of smoking weed. Chris says that he likes that he actually did something with his day.
Amber says she enjoys being able to boss Chris around when she is missing Leah. Speaking of Leah, she will meet her future stepbrother later that week, and Amber is excited.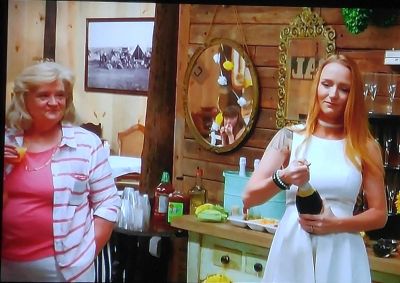 Back in Tennessee, it's time for Maci's bridal shower. It's being held in some sort of barn (naturally), and all of Maci's ridiculously good-looking friends are in attendance. Even Jen is there to watch as Maci unwraps her gifts and guzzles champagne. Jen tells Maci that Ryan and Larry have made up, which makes Maci happy.
Over in Texas, Farrah is hard at work, trying to get her furniture store ready to open. Deb arrives (wearing an open back leather ensemble, as you do). Apparently "Missouri Mode" Farrah is gone because Farrah's back to being a miserable wenchnozzle to everyone she comes in contact with.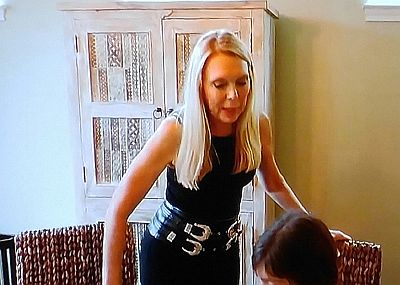 Later, when Deb  (who for some reason is now wearing not one, not two, but three Western belts) dares to tell Farrah that she missed her while she was in Missouri, Farrah explodes, telling her mom that it's normal for people to go visit their families.
"Ugh…life is great," Farrah barks at her mom. "Let's just keep it moving!"
Wait…what?
This is business as usual for Deb, who doesn't even seem to notice anymore when Farrah is screaming at her. She has a surprise for her daughter, which turns out to be a weird pillow that tells Farrah that she's basically turning into her mother.
Hahaha, good one, Deb! Hit her where it hurts!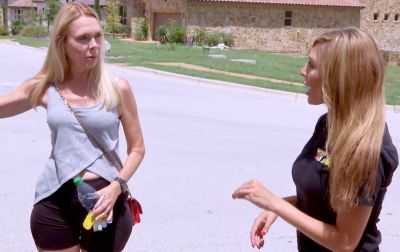 The next day, a "gorgeous" furniture truck has arrived for Farrah. She asks Deb where the gas goes in the truck, and when Debra starts to explain it, Farrah gets all tarty and starts yelling at her mom. If I were Debra, I'd march my belly-shirt-wearing self back in the house and tell Farrah to shove that truck up her backdoor!
Farrah is flipping out. She calls her mom a "f**k face" and tells her that "listening to you talking to me dumbs my f**king brain. God bless America."
Whoop. There it is– the rambling Farrah quote we've been waiting for all episode.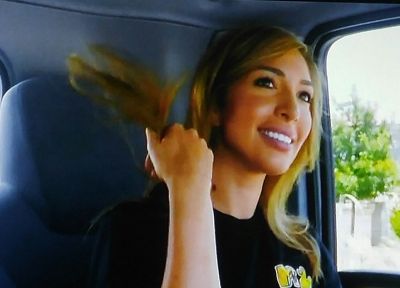 On the way over to the furniture store, Farrah is no longer mad. Instead, she's complimenting herself for being so smart, successful and great.
"Thank God I was blessed with a brain," she says.
They pull up to the store and Farrah is getting emotional.
"Aww!" she exclaims. "I made it to my backdoor."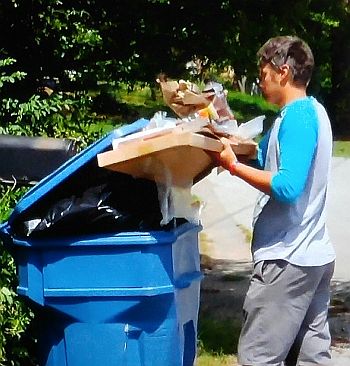 TOO.FREAKING.EASY.
It ain't gonna get any better than that, folks. Let's end it on that note!
Until next week!
To read The Ashley's recap of the previous episode of 'Teen Mom OG,' click here!
(Photos: MTV)