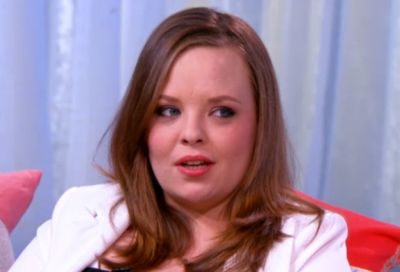 Catelynn Lowell has expressed her desire to have "lots of kids" with her husband, Tyler Baltierra, but don't expect a pregnancy announcement from the reality star any time soon.
The Teen Mom OG star set the record straight after it began circulating around The Internets that she was expecting her third child. Apparently, there will be no more Baltierra babies in the near future.
"After all of the rumors started circulating, I wanted to make this very clear," Catelynn told Real Mr. Housewife. "After just recovering from postpartum depression coupled with the fact that I'm on birth control, Tyler and I are not and will not be expecting for a few more years."
The current season of 'Teen Mom OG' has shown Catelynn struggling to cope with her postpartum depression and anxiety issues, so it's no surprise that fans were shocked when she posted something on Instagram that made it sound as if she was announcing a pregnancy.
Like many of the other 'Teen Mom' stars, Catelynn posted a pitch for the "#ThxBirthControl" campaign to her Instagram account earlier this week. One of the slogans for the campaign, which promotes safe sex by talking about what people can accomplish thanks to birth control, is "Nine months from now, the only thing I'm expecting is to be more awesome. #ThxBirthControl."
When Catelynn accidentally mixed up the wording of the slogan, though, it lead many fans to believe Catelynn had just announced that she was expecting. (Catelynn posted "Nine months from now I plan on being more awesome!")
During a recent episode of 'Teen Mom OG,' Catelynn expressed her desire to be pregnant again before she and Tyler celebrated their second wedding anniversary in August 2017. Tyler, however, made it clear that he did not want another baby so soon. Catelynn and Tyler are already parents to one-and-a-half-year-old Nova, and birth parents to seven-year-old Carly.
(Photos: MTV, Instagram)