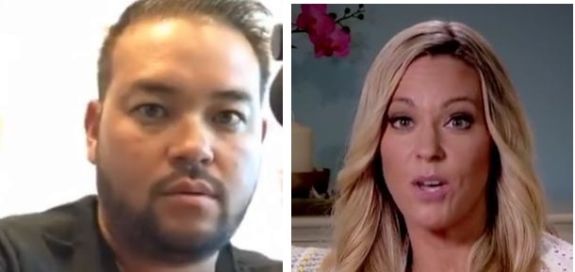 Get ready for Jon v. Kate Round 750!
The exes and former stars of Jon and Kate Plus 8 had yet another verbal spar via the press this week. Kate Gosselin gave Extra an update on Collin, her 12-year-old son with Jon whom she claims has special needs. Jon was much appreciative of the public update, as it is apparently the first he's heard about his son in a while. In his own press interview, Jon stated that he doesn't actually know where Collin is.
"I have an idea where he is but I don't really know where he is," Jon told Entertainment Tonight of Collin, who lives separately from Kate and his seven siblings. "I mean, I ask but she doesn't tell me. She doesn't answer any of my texts."
In previous interviews, Kate has stated that Collin lives away from home because he's enrolled in a "program to help with his behavioral issues."
During her interview with Extra, Kate said that Collin is "chugging along."
"It's a family experience that we are dealing the best we can with. Everyone's got their stuff. Another bump in the road and we're all doing the best that we can with it," Kate said. "I am confident he is in the best hands and receiving the best of what's being offered for his situation."
Kate admitted that she does not talk to Jon, and that some of their kids don't see their father.
"I don't have a relationship with [Jon] — I've moved on," she revealed. "I support the kids and their relationship [with him] — some visit, some choose not to, some visit sometimes. I support them and what they want so they can be happy and whole."
During his Entertainment Tonight interview, Jon stated that, although he is supposed to have joint physical custody of Collin and his seven siblings, he has not seen Collin in over a year-and-a-half. He added that he is considering taking legal action against Kate if she continues to keep him in the dark on Collin and his whereabouts.
Jon told ET that, while Collin "always wants it his way," he "seemed fine" the last time they were together.
"He's the smartest [of the kids]," Jon added. "He's very particular, which could be bothersome. But he's very loving too."
Collin will not appear on Kate's reality show, 'Kate Plus 8' when the new season premieres on November 22. He was not seen in the new season's trailer, and it's unknown if Kate will discuss Collin's issues and/or location during the new season.
Kate and Collin were recently in the headlines when it was revealed that Kate had been investigated for child abuse over the summer, due to some statements allegedly made by Collin about his mother.
(Photos: Facebook, TLC)