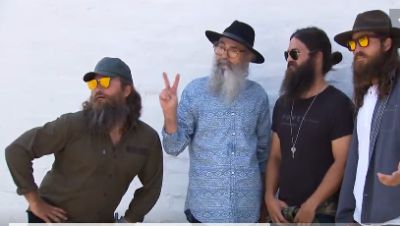 After 11 seasons of duck calls, family issues and scandals, Duck Dynasty is finally coming to an end. The Robertson Family has announced that the current of their hillbilly-themed reality show will be the last…but this may not be the last we'll see of them…
The Robertson family, who first came to fame when 'Duck Dynasty' premiered in 2012, has promised their fans that the show's final season will be the "quackiest" season yet.
Season 11 will be broken into two parts. The first part of Season 11, which is already being aired, will end in January, but then resume on March 1. The last episode of the series is set to air on April 12.
Through its 11 seasons, the show has been in and out of the press due to various scandals. The Robertson boys, as well as their father, uncle and other family members have made their "real" redneck humor and Christian values main points of the show, but their religious views have gotten the family into hot water over the years.
In 2014, Phil Robertson caused the show's first big scandal when he made racist and homophobic comments during an interview with GQ magazine. After Phil compared homosexuality to bestiality and made comments claiming that African Americans were happier during the slave days, A&E suspended Phil indefinitely from the show. However, his suspension only last nine days. .
Over the years, many conservative stars have rallied to the families' defense and fans are sad to see the show go. While the show is being cancelled, there is some hope for fans who want more 'Duck Dynasty!'
A&E and the Robertson family have stated that there is a possibility for future specials featuring the cast of 'Duck Dynasty.'
After the news of the series finale circulated, Willie and Korie Robertson both tweeted their appreciation to their fans.
"Well the news is out! This our final season of Duck Dynasty. It's been a blast! We are so grateful for yall's love and support," Korie said.
Willie reiterated his wife's thanks.
"Thanks to everyone for the past 5 years! They've been awesome! This last season will be great," Willie tweeted.
The family even posted an "official goodbye" video on their website.
"May God bless each one of you," Uncle Si can be heard yelling at the end.
Watch the family's announcement video below:
SPOILER ALERT: The Robertsons made a big quacking announcement. Join your #DuckDynasty family for new episodes Wednesdays at 9/8c on @AETV. pic.twitter.com/uw7Ei0y3xL

— Duck Dynasty (@DuckDynastyAE) November 17, 2016