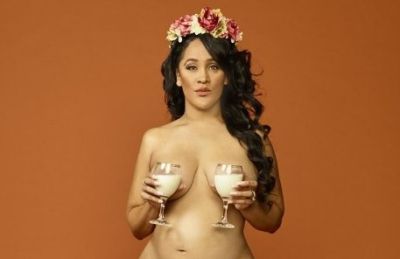 Natalie Nunn just announced that she's pregnant, but instead of posting a photo of her baby bump to make the announcement (like many reality TV stars do), Natalie announced her big news via a risque nude photo shoot…as you do.
Natalie, who got her start on Bad Girls Club but recently starred on The Mother/Daughter Experiment, told Oxygen that she is almost into her third trimester of the pregnancy.
She and her husband of four years, arena football player Jacob Payne, announced via Instagram that they are having a baby girl.
The reality star shot a series of playful nude photos, which were used to announce the pregnancy. In the photos, Natalie bears her bump (and basically everything else)! In one photo, she wears only a hat and a smug look; in another, she holds two glasses of champagne in front of her chest, with her baby-maker in full view. In another slightly disturbing photo, a naked Natalie pretends to ride a baby's rocking horse.
Again, as you do…
Natalie's 'Mother/Daughter Experiment' co-star Heidi Montag posted a sweet message on social media to the parents-to-be.
"Congratulations the most amazing couple and soon to be parents @missnatalienunn & @MrJacobPayne! We are so happy for you! Love you!"
Natalie, who suffered a heartbreaking miscarriage in 2015, used her Instagram account to discuss how thankful she is for this pregnancy.
"The first loss I didn't understand. But God told me he had a plan. Jacob held me and told me we would get through it," she wrote in the caption of a photo of her husband kissing her baby bump. "Now we're having a baby girl."
During her interview with Oxygen, Natalie said that she would be OK if her daughter grows up to be a "Bad Girl" like her.
"I will raise her to speak out in what she believe's in and to always stand up for herself," Natalie said. "I want her to walk to the beat of her own drum! Be you! Cause mommy and daddy will love you no matter what. If she's a bad girl she'll be a really successful, empowering, and strong bad girl!"
Click here to see all of Natalie's NSFW maternity photos!
(Photo: Oxygen Media)