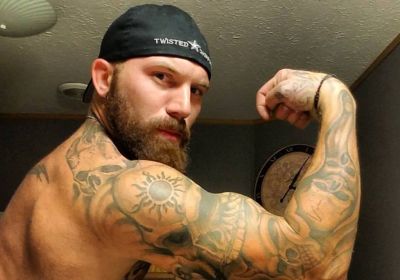 Teen Mom 2 star Adam Lind is still maintaining that he will not appear on the next season of the show– no matter how much money MTV throws his way.
Adam, who is the father of Chelsea Houska's daughter Aubree, has been outspoken since last season about not wanting to continue doing the show any longer. On Thursday, Adam took to his Facebook page to discuss why he has quit the show, while also revealing how much cash MTV has been allegedly trying to throw his way in order to get him to sign back on.
After Adam posted a photo of himself with Aubree and his other daughter Paislee, Adam's friends commented that MTV should show him in a better light. That comment spurred a rant from Adam.
"They wont… which is why I ended the show," he replied. "Won't give them what they want anymore… [I don't care] how much money they offer."
Adam then revealed the insane amount that he had reportedly been offered to do another season of the show.
"Season stacked up to be $285,000 a year….. told em keep your f**king money I don't want the s**t anymore," he wrote. "I wasn't raised that way I'd rather have a 9-5 and a mortgage struggling with bills… people say I'm crazy for turning it down… well I say they are crazy for wanting that kind of attention trust me… it's not worth it."
(Just to note: the season in question is not the one premiering in January. As The Ashley previously told you, this upcoming season is reportedly being billed as "Season 7B" instead of "Season 8." The cast, including Adam and fellow 'Teen Mom 2' quitter Jeremy Calvert, were still under their Season 7 contract and had to film. They would have to sign new contracts for Season 8 but not 7B.)
Of course, this is not the first time that Adam has declared his disdain for 'Teen Mom 2,' its editors and producers. Back in March, he ranted about the show on Instagram, and even exposed what Chelsea made for the most-recent season.
Adam is featured in the 'Teen Mom 2' Season 7B trailer that was released earlier this week. It is not yet known how much he'll appear in the upcoming episodes, but The Ashley highly doubts he'll get much screen time.
(Photo: Facebook)