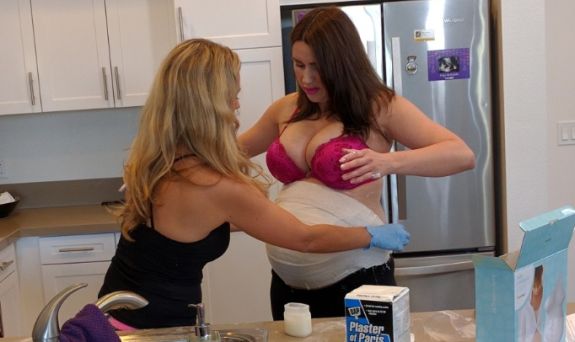 Ready for an adult version of MTV's hit show 16 and Pregnant? Well…Lifetime's got you covered!
Knocked Up, a new reality series premiering Tuesday, December 6, will showcase the lives of three adult women who had their party days cut short by an unexpected pregnancy.
"Carefree and enjoying being single ladies, the lives of Akiitha, Katie, and Audra are turned upside down when they discover they are pregnant after one night of fun," the official synopsis of the show reads. "As they prepare for their special deliveries, they must all make major life decisions as they deal with their surprise pregnancies and get ready for life's greatest adventure, motherhood."
Instead of the pregnant gal telling us all about how she got pregnant after a little hanky panky in their Hello-Kitty-wallpapered bedroom, we will now hear stories about gals getting knocked up after a few too many cosmos at the TGI Friday's.
The show will cover a lot of the same topics as '16 and Pregnant' did, though– everything from uninterested baby daddies, to substance abuse problems, to the pregnant moms making the mandatory baby bump molds.
The people behind 'Knocked Up' know a bit about creating maternity television. After all, it is being produced by 11th Street Productions, the same production company that brought us '16 and Pregnant,' and the 'Teen Mom' franchise!
Watch a preview for 'Knocked Up' below:
(Photo: Lifetime)