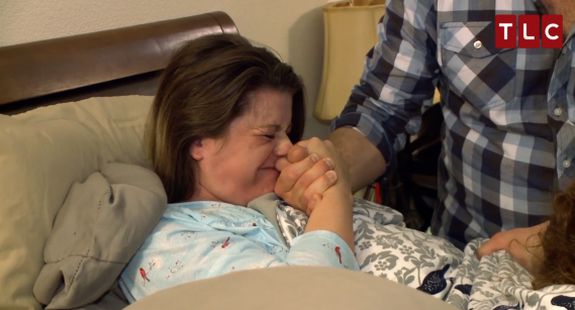 Many will remember 2016 for all of the celebrity deaths it brought, but this year wasn't all doom and gloom. 2016 brought many new reality TV babies into the world!
Here, The Ashley has provided a complete listing of all of the babies born to reality TV stars in 2016. (If you see a reality TV star's baby that was missed, please include it in the comments section.)
Don't forget–there are still a few days left to take The Ashley's "Best of 2016 Reality TV" survey. Vote for your favorite reality stars, shows and moments of the year!
On with the baby boom…
(The clickable birth dates provide links to stories about the baby's birth.)
January: 
January 6: Ace Wells (Parents: Kandi Burruss & Todd Tucker, 'The Real Housewives of Atlanta')
January 10: Ariella Mae (Parents: Robyn & Kody Brown, 'Sister Wives')
January 15: Matthew Milton (Parents: Matt McCann of 'Teen Mom 3' & Lekota Koch)
January 29: Marley (Parents: Chloe Patton & Jordan Edwards, 'Teen Mom UK')
February:
February 16: Harper Delaney (Parents: Madison Walls & Tony Raines, 'The Real World: Skeletons')
March:
March 1: Austin Michael (Parents: DeAnna Pappas & Stephen Stagliano, 'The Bachelorette')
March 2: Minka Jagger (Parents: Daymond John of 'Shark Tank' & Heather Taras)
March 27: Theodore James (Parents: Ivanka Trump of 'The Celebrity Apprentice' & Jared Kushner)
March 31: Scarlett Elizabeth (Parents: Nicole Fokos of '16 and Pregnant' & Kenny Navarro)
April:
April 7: Brooks Hartman (Parents: Ashley Salter of  'The Bachelor' & Austin Brannen)
April 8: Adora Borealis (Parents: Rachel Reilly & Brendan Villegas, 'Big Brother')
April 12: Remington Alexander (Parents: Kelly Clarkson of 'American Idol' & Brandon Blackstock)
April 19: Odin Reign (Parents: Nick & Lauren Carter, 'I Heart Nick Carter')
April 19: Marliya (Parents: Mia Boardman & Manley Geddes, 'Teen Mom UK')
May:
May (Date Unknown):  Name & Gender Unknown (Parents: Maria & Christian Miller, 'Arranged')
May 5:  Greyson Valor (Parents: Jenni Farley & Roger Mathews, 'Jersey Shore')
May 18: Cayson Jack (Parents: Melissa Rycroft of 'The Bachelorette' & Tye Strickland)
May 26: Ernie William (Parents: Stephanie Izard of 'Top Chef' & Gary Valentine)
May 31: Maverick Reed (Parents: Maci Bookout & Taylor McKinney, 'Teen Mom OG')
June:
June (Date Unknown):  Xavier & Kairo (Parents: Elena & Preston Gant, 'Little Women: LA')
June 1: Walt (Parents: 'Survivor' winner Kim Spradlin & Brian Wolfe)
June 7: Connor Mace (Parents: Summer & DJ Rewis, '16 and Pregnant')
June 11: Ace Thomas (Parents: Spike Mendelsohn of 'Kitchen Sink' & wife Cody)
June 18: Rosie Elizabeth (Parents: 'American Idol' winner Kris Allen & wife Katy)
June 20: Kaci Lynn (Parents: Whitney & Zach Bates, 'Bringing Up Bates')
June 22: Maverick Jax (Parents: Briana Manson & Matt Ericson, 'Little Women: LA')
June 24: Kirra Max (Parents: Audrina Patridge of 'The Hills' & Corey Bohan)
July:
July 2:  Samuel Thomas (Parents: Catherine Giudici & Sean Lowe, 'The Bachelor')
July 3: Desmond (Parents: Dan Gheesling of 'Big Brother' & Chelsea Gheesling)
July 6:  Molly Sullivan (Parents: Ali Fedotowsky of 'The Bachelorette' & Kevin Manno)
July 19: Ernest Zhang (Parents: Ernie & Cindy Halvorsen, winners of 'The Amazing Race' Season 19)
July 27: Cedric (Parents: Kayla Jackson of '16 and Pregnant' & Matt Neyers)
August:
August (Date Unknown): River Rocket (Parents: Jamie Oliver of 'Jamie Oliver's Food Revolution' & Juliette Oliver)
August 1: Grayson Vincent (Parents: Terra Jole & Joe Gnoffo, 'Little Women: LA')
August 5: Leo (Parents: Jillian Harris of 'The Bachelorette' & Justin Pasutto)
August 6: Brooklyn Elise (Parents: Erin & Chad Paine, 'Bringing Up Bates')
August 8: Forest Leonardo Antonio (Parents: Holly Madison of 'Girls Next Door' & Pasquale Rotella)
August 15: Broncs Weston (Parents: Mackenzie & Josh McKee, 'Teen Mom 3')
August 30: Cameron Hendrix (Parents: Ashlee Holmes & Peter Malleo, 'The Real Housewives of New Jersey)
September:
September 3:  Zaire William (Parents: Vaughn Copeland of 'Married at First Sight' & Jenny Faber)
September 11: Forester Bruce (Parents: Elissa Reilly Slater of 'Big Brother' & Brent Slater)
September 17: Gibson Kyle (Parents: Emily Maynard of 'The Bachelorette' & Tyler Johnson)
September 19: Holland Rose Madeline (Parents: Erica Rose of 'The Bachelor' & Galen Gentry)
September 21: Dusty Rose (Parents: Model Behati Prinsloo & Adam Levine of 'The Voice')
September 22: Sutton Joseph (Parents: Angela Simmons & Sutton Tennyson, 'Growing Up Hip Hop')
October:
October 9: Bowen Michael (Parents: Michael Stagliano of 'The Bachelorette' & wife Emily)
October 13: Lawson Keith (Parents: Jordan Lloyd & Jeff Schroeder, 'Big Brother')
October 19:  Asher Wrigley (Parents: Desiree Hartsock & Chris Siegfried, 'The Bachelorette')
October 21: Cleo James (Parents: Nev Schulman of 'Catfish' & Laura Perlongo)
October 25: Monroe Christine (Parents: Jeff Lewis & Gage Edward, 'Flipping Out')
October 27: Valentina Angelina (Parents: Danielle & Kevin Jonas, 'Married to Jonas')
November:
November 4:  Essex Reese (Parents: Ashley Hebert & JP Rosenbaum, 'The Bachelorette')
November 5: Gavin Donal (Parents: Ashleigh & Zac Baker, '60 Days In')
November 11: Dream Renee (Parents: Blac Chyna & Rob Kardashian, 'Rob & Chyna')
November 14: Isla Rose (Parents: Alyssa Giacone & Tony Raines of 'The Real World: Skeletons')
November 19: Lyla James (Parents: Chris & Peyton Lambton, 'Yard Crashers' and 'The Bachelor')
November 21: Nora Elizabeth (Parents: Kelsey Nixon of 'Kelsey's Essentials' & Robby Egan)
November 24: Aspen (Parents: Meghan King Edmonds & Jim Edmonds of 'The Real Housewives of Orange County')
December:
December 5: Anna Carina (Parents: Marcella Valladolid of 'The Kitchen' & Fausto Gallard)
December 16: Prince Francis (Parents: Frankie Delgado of 'The Hills' & Jennifer Delgado)
December 24: Phoenix Robert (Parents: Nick Lachey of 'The Sing-Off' & Vanessa Lachey)
To see The Ashley's list of reality TV babies born in 2015, click here.
(Photo: TLC)