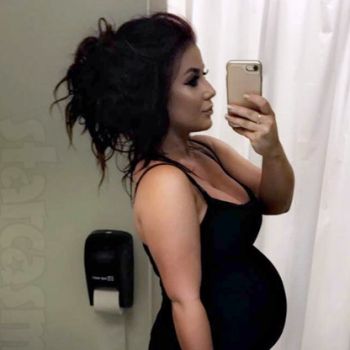 Chelsea Houska and her husband Cole DeBoer are just months away from welcoming their baby boy, and the Teen Mom 2 stars seem to have most of their baby prep completed, including the important task of choosing the baby's name.
In a recent interview with WetPaint, and on Twitter, Chelsea discussed the name that she and Cole have chosen for their son, who is due on February 14.
While Chelsea and Cole have not revealed the actual name they are giving their son, Chelsea did tell WetPaint that none of the names circulating the tabloids and the Internet currently are the name they have chosen.
"We do have a name picked out but we're not going to announce it until he's born but yeah, it's been pretty funny to see the names people come up with," Chelsea told the site. "Cole Jr., Randall–that's not even my dad's name, it's Randy, it's not Randall!"
(For the record, the name Adam is also out of the running, for obvious reasons.)
On Twitter, Chelsea wrote that, while she loves the name Knox, Cole vetoed it for the baby. It appears that Baby DeBoer will be getting a unique name, though.
"Last names as first names are my favorite!" Chelsea wrote on Twitter. "The name we picked is actually a fairly common last name that we've seen but rarely [heard as] a first name…We want something that we don't hear much."
The only other hint that Chelsea has provided is that the baby's name does not start with a "C," which, unfortunately rules out the name that Chelsea's daughter, Aubree suggested: Coconut!
To find out how much of Chelsea's pregnancy will be shown on the upcoming season of 'Teen Mom 2,' click here!
(Photo: Snapchat)