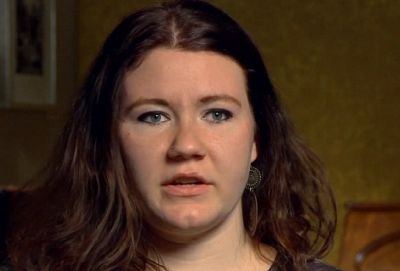 Warning: Do not read below if you do not want to know what happened on Sunday's episode of 'Sister Wives.' You have been warned…
For several weeks, TLC has been teasing that Sister Wives star Mariah Brown had a big secret to reveal to her parents, Kody and Meri Brown (as well as her father's other three wives Christine, Janelle and Robyn). On Sunday night's episode, Mariah, did, indeed reveal a big secret to her parents.
Many fans of the show thought that Mariah would be revealing that she was courting a guy, or that she was engaged. Mariah's parents seemed to believe this too, as Kody even teased Mariah that if she was, indeed, engaged it better be to someone that he likes. (Ugh.)
Mariah's announcement had nothing to do with her being engaged, though.
"I'm gay!" she announced to the room of shocked family members.
The announcement also came to a shock for the show's viewers, as Mariah had never even hinted that she was attracted to women. For years, she was the only one of the older Brown family children who wanted to live polygamy, although she changed her mind about that once she went to college.
Although her parents were shocked, they were very supportive of Mariah, even Meri, who seemed sad that she had not figured out Mariah's secret sooner.
"We're not happy Mariah's gay; we're happy Mariah knows herself," Kody says in the episode.
"Wow okay y'all making me cry with your support," Meri tweeted after the episode aired on Sunday night. "Thank you thank you thank you thank you."
Janelle also took to Twitter to discuss Mariah's revelation.
"We love and support @mariahlian," Janelle tweeted. "She is our daughter. Love love you Mariah!"
The 'Sister Wives' stars have always been openly supportive of gay marriage.
"I think we should be able to marry who we love," Christine said in 2012. "As a Christian, I believe it is my duty, responsibility and desire to love everybody regardless of their choices. I don't know how I could raise my children in this world without raising them open-minded and if I want my children to be open-minded, then I have to be open-minded as well."
To read our recap of this episode of 'Sister Wives,' click here!
Watch a clip from 2012 in which the Brown adults discuss the subject of gay marriage.
(Photo: TLC)